A look behind the scenes
- Louey Sumners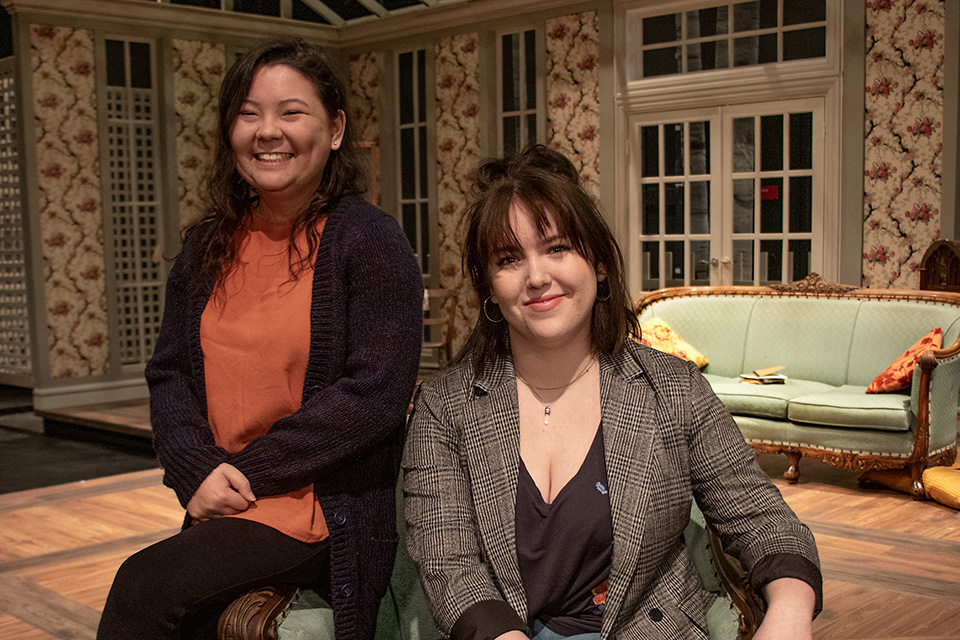 Second-year theatre student Louey Sumners shares her experiences working behind the scenes as well as acting in The Children's Hour. She credits the dramatic set designed by fourth-year student Emily Friesen as helping her find her inner school girl character.
Mainstage shows at the Phoenix Theatre push students' backstage work into the spotlight
As a second year theatre student, I'm excited, nervous, and sometimes even terrified to be performing in my first Phoenix play this month. In addition to preparing myself to perform, I've also assisted with the play's marketing, as part of a course that puts students in leadership roles for our mainstage productions. That work will all come together for audiences when the Phoenix presents Lillian Hellman's The Children's Hour—a 1930's drama about the power of words set in an all-girls boarding school.
Our behind-the-scenes marketing preparations began in the fall, months prior to rehearsals, and gave me a new perspective on my stage role in the spring. I started by researching The Children's Hour and its place in history. The play has often been controversial, beginning in 1934 when it was slighted by the Pulitzer Prize committee and later banned in many cities for its inclusion of a then-taboo same-sex relationship. I also studied how a resurgent 1950s Broadway also brought scandals for Hellman, who was embroiled in anti-communist hearings— discord that reminded me of current political events. Many audiences, if they're familiar with The Children's Hour at all, only know the 1961 Oscar-winning movie. Nevertheless, the play continues to be regularly produced—including in London's West End in 2011—and remains controversial to this day.
Next, I interviewed the director, theatre professor Peter McGuire, about his vision and intentions for staging The Children's Hour. This is when I first learned more about my character as one of the school girls, what my costume might look like, and how close-knit friendships were at the heart of this play. Completing this research for class way before beginning to investigate my character's background for the role helped me enter into my first rehearsal process with more confidence and a strong understanding of what the play was about—what  it stood for, and why it was important. 
While researching previous productions, I had formed an idea about what the set would look like and how it might feel to work in the space. However, when we were introduced to fourth-year student Emily Friesen's bright and homey set design, it changed my ideas about this boarding school being a home versus a traditional classroom. It made me reflect on headmistress Martha Dobie's line from the play: "This is their home and things shouldn't be said in it that they can't hear."  
Our production is set in 1937 in an old converted farmhouse with cheery flowered wallpaper, comfy period furniture, and spectacular nine-feet-tall windows that are nearly twice my height. As an actor on stage, Friesen's set makes the space feel huge, in turn making me feel shrunk down, like a doll in an out-of-scale room. This made it easier for me to feel like a child again, and with this came the childhood perspective where everything seems possible and limitless.
As the cast prepares to transition from rehearsal to performance, my work on the marketing team is also coming to a close.
This production has opened up opportunities to explore new marketing skills and put into practice the communications concepts that we learned in class; from audience research to media relations and – particularly enjoyable for me – to design the play's advertisements. Learning about how much thought goes into each part of the show's promotion gave me a new appreciation for the work that is needed to put an audience in front of all of us actors.

—Louey Sumners, second-year theatre student
This journey and the work of setting the stage from start to finish is shared by all theatre students at UVic and honestly, this story could have been written by anyone at the Phoenix. We all appreciate not only the different skills we've gained, but also the importance of collaborating and bringing these skills together for the opportunity to make great theatre. 
The Children's Hour 
UVic Phoenix Theatre
March 12–21, 2020
phoenixtheatres.ca
Preshow lecture on Friday, March 13 at 7 p.m. with Dr. Michael Nowlin, Chair of the Dept. of English:  "The bigger the lie, the better, as always: The Children's Hour yesterday and today".
Photos
In this story
Keywords: theatre, art, creativity, student life
Publication: The Ring