Syrian guitar quartet completes fellowship at UVic
- John Threlfall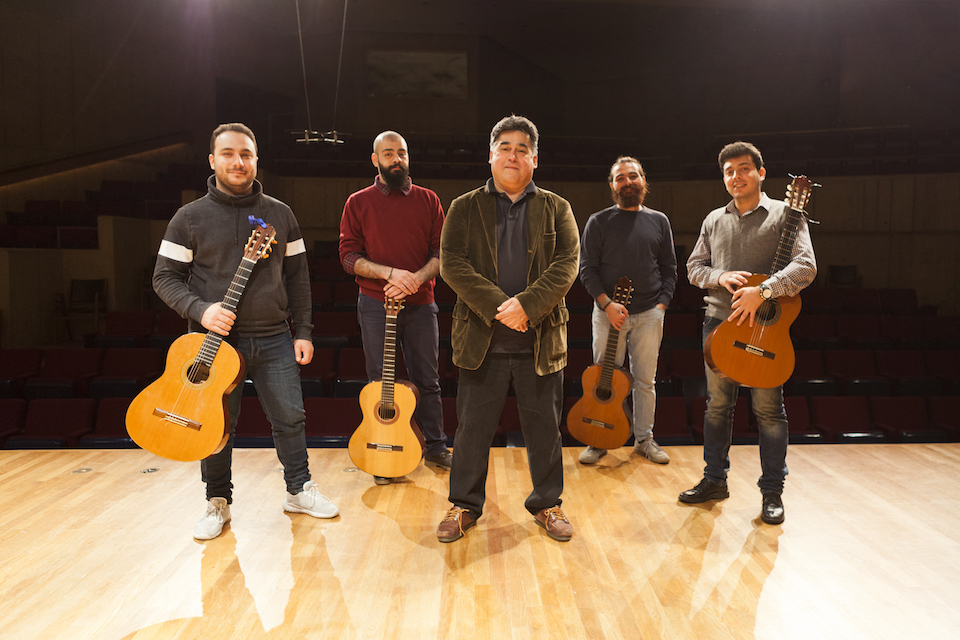 When the Orontes Guitar Quartet were welcomed as visiting artists to UVic last November, it was a momentous occasion not only for the Syrian musicians themselves but also the international guitar community. The Orontes are celebrating their time in Canada with a gala downtown finale at the Alix Goolden Performance Hall on Oct. 18. 
At the time of their arrival on campus, the Orontes Quartet—Gaby Albotros, Orwa Alsharaa, Nazir Salameh and Mohammed Mir Mahmoud—offered a remarkable message about the power of music, hope and determination in the face of the ongoing violence of the Syrian civil war. In the 11 months since, they have continued to spread that message with appearances on campus and performances across Canada. 
We got to know a lot of good people and had the chance to travel through the country and perform in many places, which allowed people to know more about Syria and Syrian musicians.
—Orontes Guitar Quartet member Orwa Alsharaa
Overcoming hurdles
After the classical guitar ensemble were denied entry to the US in 2017 due to the ongoing travel ban, School of Music guitar instructor Alexander Dunn stepped in and spent nearly 18 months working with two US-based organizations—the Artist Protection Fund (APF), an innovative initiative of the Institute of International Education, and the non-profit organization Remember the River—to secure the Orontes a placement at UVic.
Dunn, who received a 2019 Provost's Advocacy and Activism Award for his work in bringing the Orontes to UVic, describes it all as "an exhilarating experience".
"Knowing that a group of musicians on the other side of the world—connected by common interests but separated by the chasm of human rights abuses and the outrages of war—was life-changing," he says. "Suddenly the abstraction of religious and cultural conflict occupied my thoughts in a very real way."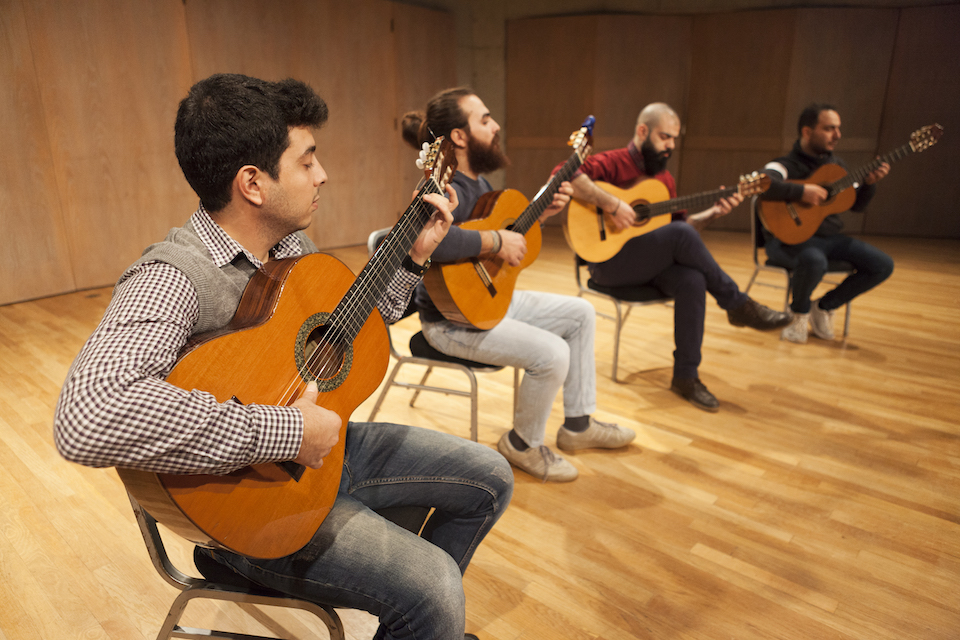 While in Canada, the Orontes took their universal message of peace through music to cities large (Vancouver, Calgary, Winnipeg), small (Port Alberni, Salmon Arm, Gibsons) and in-between (Kingston, Sudbury, Red Deer). "We were surprised at how huge is Canada, and how long it takes to travel from one part to another," says Alsharaa. "Everyone was friendly and welcoming, but the beauty of each city and its own character was the most beautiful thing."
Musicianship and learning
In addition to their travel and concerts, the Orontes also met with students, faculty and other professional musicians, and recorded some new material using the School of Music's facilities—which, says Dunn, was all part of their APF Fellowship.
"They learned that a high degree of musicianship and learning is the norm here," he says. "They were exposed first-hand to a stream of virtuoso players that showed not only how inspiration could directly affect their craft, but that international standards and expectations—which may not have been a part of their everyday experience at home—are readily available here."         
With their APF Fellowship ending in November, the Orontes still have a pair of concerts in Toronto and Montreal with the Canadian Arabic Orchestra and Choir—but the Oct. 18 performance is their final performance in Victoria: Syrian Encounter will feature a thematic night of not only the Orontes Quartet, but also Brazilian musician Celso Machado and a reading by UVic writing prof Deborah Campbell, author of the award-winning book, A Disappearance in Damascus.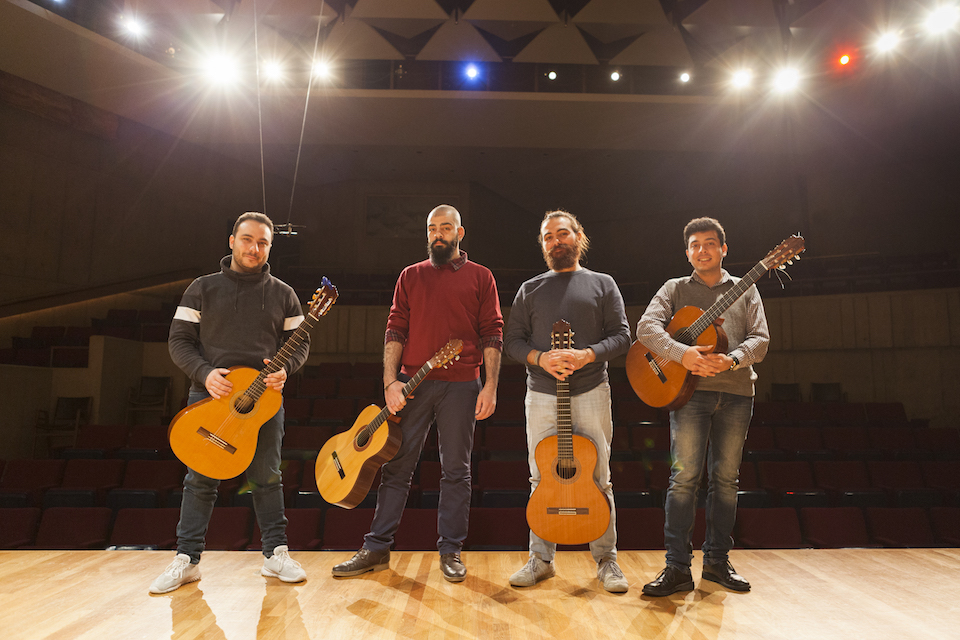 As for the future, the guitarists are hoping for extensions to their work permits while they apply for study permits and Canadian citizenship.
"The most important experience for every musician is to perform as much as possible, which is something we were able to do thanks to the APF, Alexander Dunn and, of course, UVic," says Alsharaa. "We want to thank all the people who made our trip to Victoria possible. We are really lucky to be here in Canada, especially in Victoria—which is one of the most beautiful places on earth."
Photos
In this story
People: Gaby Albotros, Orwa Alsharaa, Nazir Salameh, Mohammed Mir Mahmoud
Publication: The Ring