Panych at the Phoenix
- John Threlfall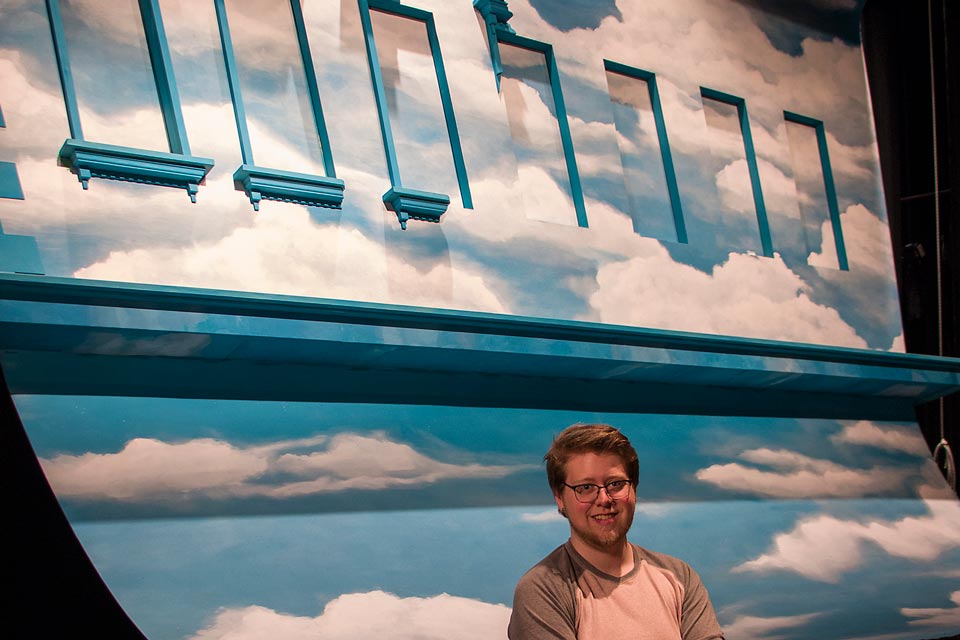 Student designer reconstructs a storied legacy for latest Phoenix production
Every play needs a set, whether the audience realizes it or not. From a bare wood floor to a drab apartment that slides open to reveal a musical fantasy land, the set is the canvas upon which the actors come to life. So what happens when a director asks, rather than creating a set from scratch, to simply adapt a design that's 30 years old? The short answer, as student designer Conor Farrell discovered, is that there's nothing simple about it. 
Running March 14–23, Phoenix Theatre is presenting 7 Stories by Canadian playwright Morris Panych as the final production of their mainstage season. Given that the play is currently celebrating its 30th anniversary, director and theatre professor Fran Gebhard wanted to see the original set design brought back to life for her production in Phoenix's Bishop Theatre.
"Ken MacDonald's original set—inspired by the fabulous art of René Magritte—is iconic and adds an important layer to the meaning of the play, with the surreal elements of Magritte's work perfectly underscoring Panych's existential themes," says Gebhard. "I really couldn't see the play with any other design." 
For Farrell, that meant adapting the 2009 version of MacDonald's set—which was originally designed for the 1989 production at Vancouver's Arts Club Theatre, before needing a few modifications for a 20th anniversary mounting at Theatre Calgary—into one cohesive construction that works with the Bishop's entirely different stage shape.
"Ken's original design was built for a very different space, so we're changing it slightly," explains Farrell, the fourth-year design student credited with "design adaptation" for this challenging production. "We're taking the base design and trying to keep all the integral parts. We've spoken with him about how we need to change it and gotten his okay for that."
Given that 7 Stories happens entirely on the ledge of an apartment building, Farrell's set is a massive 23-foot-tall facade, shooting up from below the stage's edge and melding into a sky of clouds. As we talk in the audience of the 208-seat Bishop Theatre, we get quick glimpses of the set crew through the faux-windows; swinging hammers and laughing as they work, the students create mini-stories of their own as they assemble the massive design. 
"It's a new kind of challenge," says Farrell. "At the end of the day, it doesn't matter if I would do something differently, because it needs to keep the spirit of the original design alive."
Farrell's design work started with Vectorworks, a drafting program, and building a traditional maquette or set model. "The maquette helps people visualize how big the set is, whereas Vectorworks is about sizes and sightlines." Farrell also did a fair bit of research into 7 Storiesitself—writing a research paper about three-decade's worth of productions of this now Canadian classic, meeting with director Gebhard and design professor Patrick Du Wors, working with the all-student creative team, overseeing the actual set construction, and having a Skype call with MacDonald himself. "He wasn't 100 per cent sold on it at first, so we had a small back-and-forth and adapted our design," he chuckles.   
With no real theatrical background before moving from Saskatoon to attend UVic, Farrell seems incredibly confidant about undertaking this project, thanks to the skills he's developed while at the Phoenix. "The best thing about the theatre department is all the practical experience on offer," he says. "You can go have a conversation with any professor or talk to the production staff about a problem and figure out how to solve it together."
As for 7 Stories, Farrell is looking forward to seeing it come to life on opening night. "That's the fun of the show: how to act with very limited space," he says. "This set is a challenge that the actors have to solve."
Tickets at the Phoenix Box Office
—
The public is also invited to a free preshow lecture with award-winning playwright and fine arts alumnus Mark Leiren-Young at 7 p.m. Friday, March 15. Currently an instructor with the writing department, Leiren-Young will discuss the significance, history and secret origins of Morris Panych's modern masterpiece. 
Photos
In this story
Keywords: theatre, creativity, literature
People: Conor Farrell
Publication: The Ring