Gitxsan designer creates urban regalia
- Tara Sharpe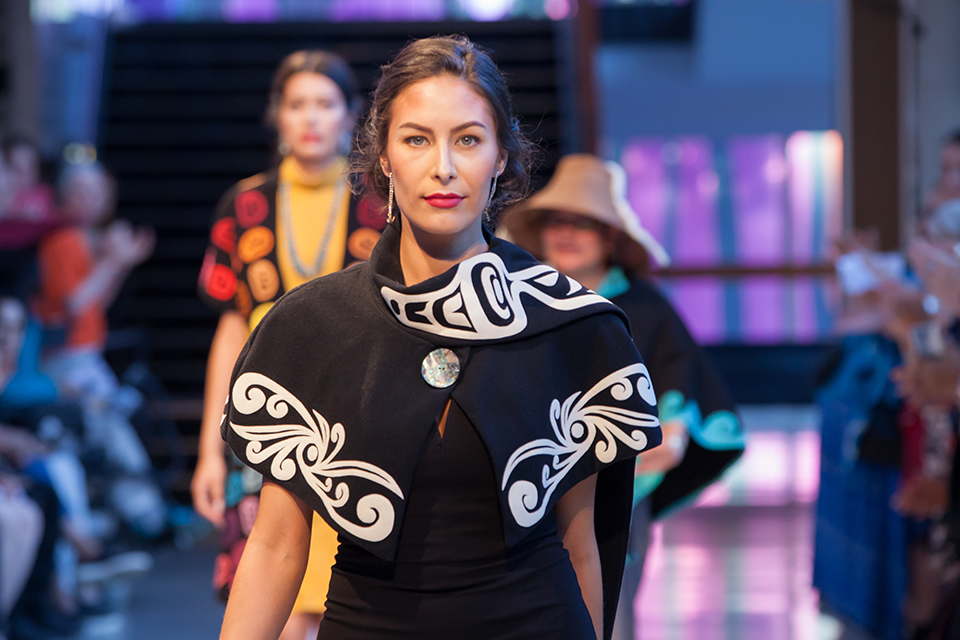 A new exhibit, running through Dec. 21 at UVic's free public downtown art gallery, puts the achievements of an Indigenous fashion designer—who has shown her work on runways in Vancouver and Paris—in the spotlight again and showcases the idea of fashion as art for itself.
Traditional Indigenous regalia with a contemporary flair
Urban Regalia: Contemporary Fashion by Sug-ii-t Lukxs features traditional button blanket robes by Gitxsan couturier Yolonda (Loni) Skelton, whose traditional name is Sug-ii-t Lukxs, updated with her unique contemporary touch. This exhibit grew out of years of informative collaboration between Sug-ii-t Lukxs and UVic's Legacy Chair in Modern and Contemporary Arts of the Pacific Northwest Carolyn Butler-Palmer (art history and visual studies).
The exhibit also caught the attention of CBC Victoria, with a national online story by the news network.
Sug-ii-t Lukxs told the CBC last month that her designs are part of reconciliation:  "They empower the person who wears them to tell the story. To have the strength to be able to share our cultural knowledge with other people so we don't have those prejudices and things happening. If we understand each other's cultures, then it's so much easier for things to come together."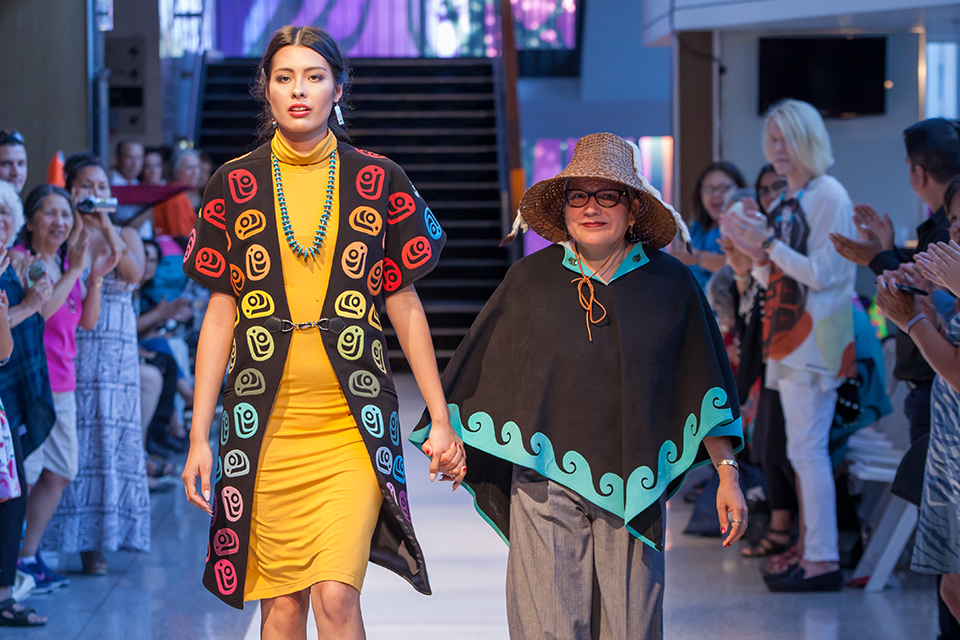 Sug-ii-t Lukxs is a textile artist from the Gitxsan Nation and the House of Hax-be-gwoo-txw of the Fireweed Clan. Her fashion designs are inspired and created from traditional oral stories told to her by her late maternal grandmother Na-gwa (Lily Jackson), who was a fan of the 1960s movie star Audrey Hepburn. So it is no accident that the designer's own mother—Audrey Lundquist, who joined Sug-ii-t Lukxs for the artists' talk at Legacy Downtown on Oct. 10—shares the first name of the famous actress.
The one-of-a-kind modern robes of power created by Sug-ii-t Lukxs combine the aesthetic beauty of her culture with her love of fashion, as well as furthering her vision to strengthen private cultural property rights and share teachings that benefit Indigenous knowledge and oral traditions.
From fashion runways to school-based teachings
Sug-ii-t Lukxs is also a special-education teacher in the Westshore School District. Over the years, she has worked closely with Butler-Palmer to introduce high school and university students to Indigenous teachings of traditional knowledge, textile art and design.
This new exhibit, curated by Butler-Palmer in consultation with Sug-ii-t Lukxs, provides inspirational opportunities for visitors to Legacy Downtown to experience Indigenous creative fashion firsthand and also to students and Westshore school teachers who have incorporated aspects of the project in the classroom.
"It's been a wonderful experience," says Butler-Palmer. "The project renews and enriches the connection that we established several years ago with the Biggest Button Blanket in the World."
Two Indigenous art exhibits at Legacy Downtown
Also exhibited this season at Legacy Downtown is We Carry Our Ancestors: Cedar, Baskets and Our Relationships with the Land, weaving together the work of generations of Indigenous women through cedar basketry. UVic alumna Lorilee Wastasecoot (BA 2017) of the Peguis First Nation is currently the BC Arts Council intern at the gallery. Her recent research helped inform this exhibit, which honours the resilience of Indigenous women who have carried their cultures forward by passing down the art of cedar basketry to future generations. Exhibit info
Legacy Downtown (630 Yates Street) is in a prime spot in Victoria's urban core and continues to bring artistic dynamism and dynamic learning into the heart of the city.
UVic's Legacy Art Galleries reflects the university's extraordinary academic environment, with distinctive strengths in Pacific Northwest Coast and contemporary Indigenous art and international decorative arts.
Photos
In this story
Keywords: Indigenous, art, fashion, art history and visual studies
People: Sug-ii-t Lukxs, Carolyn Butler-Palmer
Publication: The Ring