Complete Shostakovich cycle to mark quartet's anniversary
- Kristy Farkas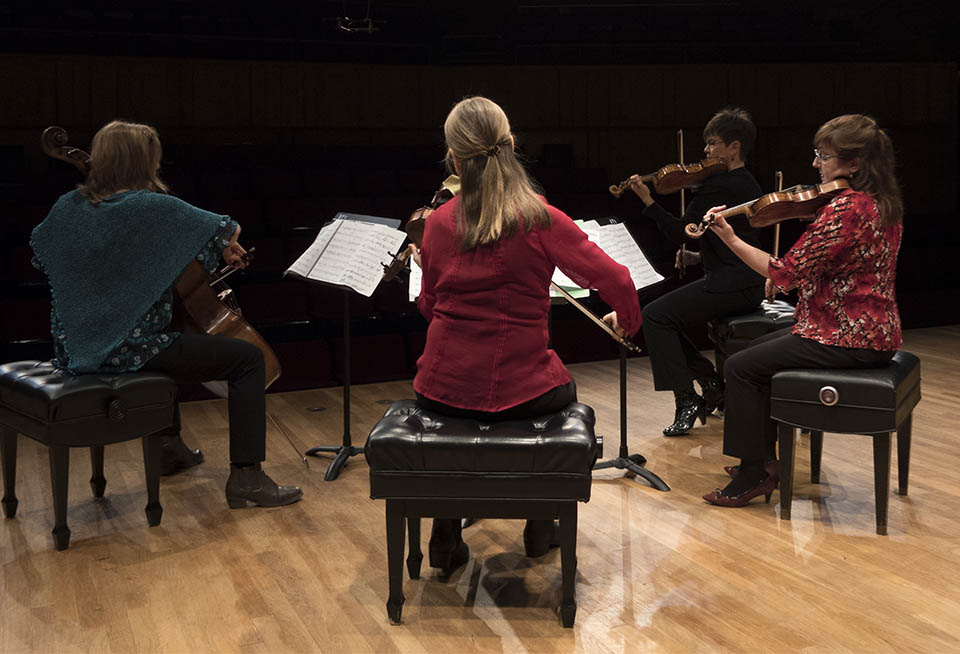 When it comes to passing on their skills, the Lafayette String Quartet believe in playing it forward.
Learning an instrument is largely guided by both oral and aural tradition. From one generation to the next, teachers pass along the skills and techniques instilled in them by their mentors. Now, the School of Music's internationally acclaimed Lafayette String Quartet—violinists Ann Elliott-Goldschmid and Sharon Stanis, violist Joanna Hood and cellist Pamela Highbaugh Aloni—will honour their own mentor, Russian violinist Rostislav Dubinsky, with a rare performance cycle of all 15 string quartets by 20th century Soviet composer, Dmitri Shostakovich.
More than three decades ago, as graduate students at Indiana University, members of the LSQ were coached by Dubinsky, the founder of the famed Borodin Quartet. The Borodin Quartet had the unique opportunity of working directly with Shostakovich and, as a member of the Borodin for over 30 years, Dubinsky performed 13 of the 15 Shostakovich quartets before emigrating to the west in 1976.
"Studying with Dubinsky transformed the way we play Shostakovich," says Hood. "His style of teaching—his use of the bow, concept of sound, the way the quartet works together—came from a tradition passed on from his previous generation."
Dubinsky's techniques are so ingrained that they have become automatic for the LSQ, and these skills—only one step removed from Shostakovich himself—have become an essential part of their teaching and performance repertoire. "Our origins are deeply connected with Dubinsky . . . his connection with Shostakovich, and his patient teaching of this music in our formative years, proved to be the foundation upon which we have built this cycle," explains Elliott-Goldschmid. "His adamant words to us—'Keep the Quartet'—have been our burden and joy."
Indeed, the LSQ see it as their responsibility to share the intense and rigorous coaching of their "musical father," who continued to support and encourage the quartet until his death in 1997. "We have a unique contribution to these quartets," says Hood. "It's important that we pass this down to our students and to share it with our audiences."
Over the five concerts, running Feb. 3–9 in the School of Music's Phillip T. Young Recital Hall, the LSQ will perform the complete cycle in chronological order, alongside a series of pre-concert talks presented by some of the world's most distinguished musicologists. "Hearing all of the quartets in the order they were composed is a great way to experience Shostakovich's own journey," says Hood.
The cycle of 15 quartets documents Shostakovich's life during an important period of history, spanning his compositional career from the late 1930s until his death in 1975. His creative life was profoundly influenced by Soviet communism and the Cold War—two factors that dictated and regulated intellectual freedom in Russia. Shostakovich was twice denounced before joining the Communist Party in 1960.
"He withheld some of his compositions from publication and public performance—often at the advice of his friends—until the regime changed, for the very reason that he feared for his life and for the safety of his family," says Elliott-Goldschmid. "So terrible were the times that even music had the power to threaten the governing regime."
Unfortunately, the composer's health began to deteriorate in the 1960s and his later work reflects an increasing preoccupation with his own mortality. "Every single one of Shostakovich's quartets stands with the greatest string quartets ever written," says Elliott-Goldschmid. "Each quartet tells its own story with its own personalities and expressive colours. This is why his music is so powerful and why we love working on it so much. Every day we discover something new and remarkable."
While a massive undertaking for the performers, as well as a significant commitment for any listener, the timing for the concert is ideal, given that the LSQ are currently celebrating both their 25th anniversary as UVic's quartet-in-residence and their 30th anniversary as a quartet—still the only all-female string quartet in the world to feature all four original members.
Ironically, recent political events have also added a fresh dimension to these works. "When we were planning this cycle a couple of years ago we could never have known how fitting and relevant this music would be in these extraordinary times, rife with 'alternative facts'," says Elliott-Goldschmid. "Shostakovich warns us and challenges us to cherish and to protect our freedom."
Detailed schedule of concerts and pre-concert talks: lafayettestringquartet.ca
Photos
In this story