National symposium addresses methods and new horizons in theatre education
- John Threlfall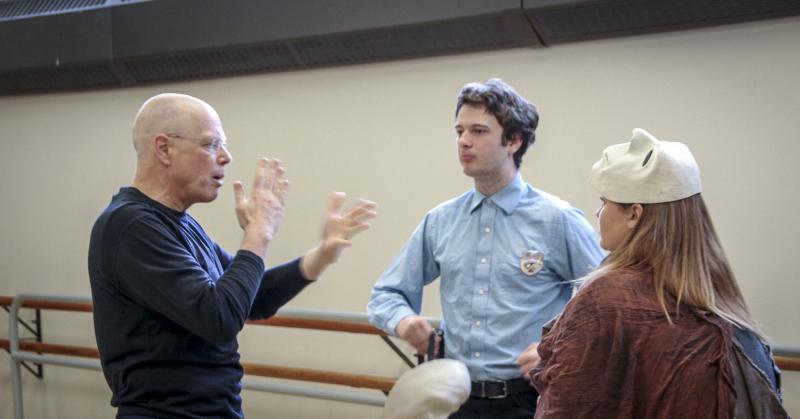 Canadian drama instructors gather at UVic to make sure they're giving students far more than just their next few lines.
If you've ever seen actors at work—on stage, on screen, on the street or on television—you've seen the results of the kind of pedagogy happening daily in the Department of Theatre. But now a first-of-its-kind national symposium co-organized by theatre professor Conrad Alexandrowicz is questioning and examining traditional acting methods, as it addresses what's been described as "the crisis of actor training in Canada."
From March 6 to 8 at UVic, Acting Training in a Shifting World will welcome 34 instructors from the majority of Canadian post-secondary drama institutions, ranging from universities and colleges to conservatory programs. "Basically, we're looking at who we're teaching and what we're actually training people to do," says Alexandrowicz.
Following up on the October 2014 issue of the journal Canadian Theatre Review, which was dedicated to changes in actor training, the UVic symposium will address issues ranging from diversity in gender, sexuality, physicality and ethnicity to funding challenges, new teaching methods and philosophies, postgraduate and company-based training models, and the gap between acting institutions and the professional world.
"We want to reflect a much broader picture: who's actually living in Canada and what kind of theatre people are making across the board, not just what goes on at festivals and mainstream stages," he continues. "We're training people to do a range of things and we need to include a whole different set of approaches to realize that goal."
For his part, Alexandrowicz specializes in innovative performance techniques that address issues central to the human journey—relationships, gender, power and the nature of the performance event itself. "Realism is only one style of theatre," he says, "yet we treat it as though it's a given, as though it's the sine qua non, when it's not." Rather than accept conventional theatrical procedures and forms, Alexandrowicz instead draws from a number of genres and disciplines, deconstructing and recombining them in startling ways—as seen in his direction of last month's widely lauded Phoenix Theatre production of Lion in the Streets and 2014's Mother Tongue, his SSHRC-funded interdisciplinary work based on the poetry of Lorna Crozier and Erin Moure.
Admitting that both the US and the UK are ahead of Canada in these study areas ("I hate to say it, but it's true," he grumbles), Alexandrowicz is keen to affect change from within. "Why are university acting programs simply reproducing all these discriminatory and oppressive patterns that operate in the larger culture?" he asks. By way of a positive counter-example, Alexandrowicz points to Diana Belshaw, head of acting at Humber College and co-editor of the 2014 CTR issue, who notably reconfigured Humber's theatre department into a performance lab and workshop for creating new work. "We need to diversify our approach so we're covering more bases."
As a member of one of Canada's leading theatrical training institutions, Alexandrowicz is also excited the symposium is coming here. "It's good for UVic to host a discussion where we're questioning all the things we've taken for granted for decades—that acting always comes out of a printed script," says Alexandrowicz. "We're under a lot of pressure to think of theatre training as a greater part of a liberal arts education, so we should be including people from all across campus, people who want to learn about performance but have no interest in professional acting per se."
He points to the potential performance benefits to be gleaned by forging connections with faculties like law and business, and the increasing popularity of events like TED Talks and UVic's own IdeaFest, where scientists and thinkers need to be able to effectively communicate their ideas and research. "I really want us to offer this kind of experience to students across campus; we need to democratize how we teach acting to make the experience of learning about performance available to a whole range of people from other disciplines."
Alexandrowicz pauses and chuckles. "One person even asked if we should still be teaching Shakespeare, so pretty much everything is on the table right now."
Photos
In this story
Keywords: theatre, education, film, teaching
People: Conrad Alexandrowicz