Literature springs to life at 2015 WordsThaw
- Patrick Grace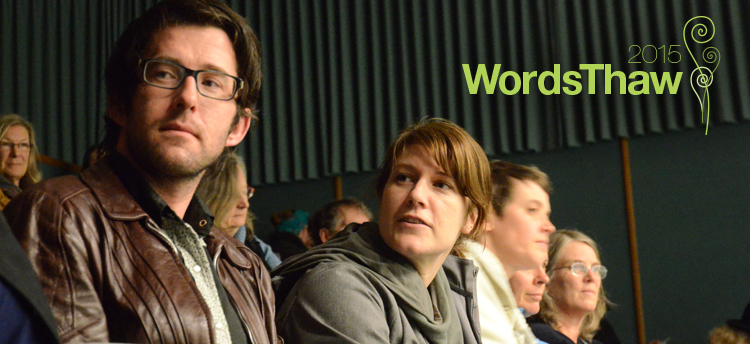 Lovers of literature can shed their winter woes at the third-annual WordsThaw 2015 from March 20-22. Hosted by The Malahat Review, the event brings 36 poets, novelists, short-story writers, and journalists together for a spring symposium-one of the biggest writing festivals in Victoria.
WordsThaw opens with "Words on Ice" on Friday, March 20, an evening reading celebrating eight Canadian authors. All literary genres will be well-represented, from poetry to fiction, and creative nonfiction to drama. Readers include Governor General's Award winners Kevin Kerr and Arleen Par&e#180;, Matt Rader, and D. W. Wilson-all notables from UVic's writing department-as well as Karen Enns, Peter Midgley, Fiona Tinwei Lam, and Victoria's fourth poet laureate, Yvonne Blomer.
Starting in the morning on March 21, WordsThaw attendees will choose from four panel discussions: Natural Divide or Shape-Shifting Chic: Negotiating Creative Nonfiction's Extremes, with panelists Fiona Tinwei Lam, Mark Leiren-Young (Southam Lecturer at UVic), Jane Silcott, and moderator, Acting Dean of Fine Arts Lynne Van Luven; Young Adult Fiction: All Grown Up?, with panelists Sarah Harvey, Robin Stevenson, Kirsten Andersen, and moderator Christine Walde (UVic collections librarian); Vanity or in the Vanguard: Self-Publishing's Makeover, with panelists Mary Hughes, Patrick O'Connor, Sid Tafler, and moderator David Leach (UVic Writing department chair); and Has It Got Better: Minority Voices or Major Talents, with panelists Hanna Leavitt (UVic Writing alumna), Janet Rogers (former Victoria poet laureate), Daniel Zomparelli, and moderator Aaron Devor (former dean of grad studies at UVic).
During the lunch hour, pass holders can sign up for a "Brief Encounters" blue pencil session to get useful comments on a writing sample. Six authors-Ross Crockford, Lorne Daniel, Missie Peters, Julie Paul, Matt Rader and Pamela Porter-are available to offer critiques of journalism, creative nonfiction, poetry, spoken word, fiction, or kid's literature.
On Sunday, March 22, acclaimed poet and multi-award winner Phil Hall will lead a sold-out Master Class poetry workshop on poetics at the downtown Greater Victoria Public Library (there's still room on the wait list!).
WordsThaw passes may be purchased in advance for $35 ($20 for students) or during the symposium for $50 ($25 for students); Words on Ice tickets may be purchased at the door for $10 ($5 for students). New this year are individual panel tickets, sold at the door to each event for $18 ($12 for students).
For more detailed information, go to malahatreview.ca/wordsthaw, email WordsThaw at malahat@uvic.ca, or call 250-721-8524.
Photos
In this story