Brian Hendricks: a life lived well in the classroom and through the screen
- John Threlfall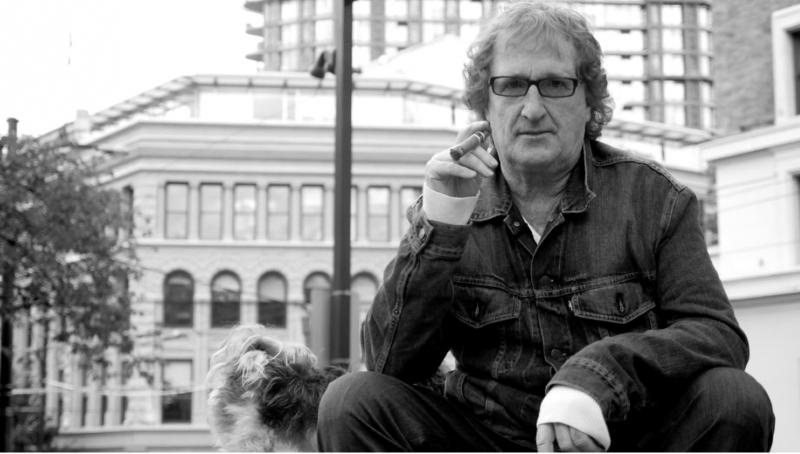 Longtime and much-loved instructor, filmmaker and writer Brian Hendricks passed away on August 11 at the age of 57.
An alumnus of UVic's Creative Writing program (he won the Petch Prize on his 1979 graduation), Brian taught at UVic as a Continuing Sessional from 1992 to 2011 in the Department of Writing and in the Department of Germanic and Slavic Studies.
"Brian was one of the friendliest and most upbeat people you'd ever meet," says longtime writing department colleague Bill Gaston. "His students loved him, and many remained his friends. Like so many Canadian artists, he was also a regular guy. We'd bump into each other and talk hockey, beer, and our kids—then guffaw about some weird Polish film we'd both seen. Here at UVic his presence is greatly missed."
As was noted by former student and personal friend Brick Blair, Brian "taught 12,000 students in over 180 courses and 2,000 classes. He marked 20,000 essays, oversaw 100 film festivals, and watched 5,000 other short films and assignments from his students . . . . He changed the course of my life."
That's typical of the kind of praise and memories Brian engendered in his students.  As local Times Colonist film writer Michael Reid noted in his August 15 memorial piece about Brian, "Hundreds of former students have posted notes of appreciation online for the beloved curly-haired redhead whose passion for philosophy and cinema was matched by his enthusiasm for golf, hockey, photography, skiing, barroom banter and Sophie, his cherished Shih Tzu."
Not surprisingly, given his cinematic passions, Brian's battle with cancer was being documented on the website The Beauty of Certainty. "I went out to the backyard and took a deep breath and felt this ridiculous sense of peace that I hadn't felt since I was a child," he wrote on the site. "From this moment forward, all I had to accomplish out of the 700 things that typically come into my mind every day is stay alive . . . . it gave me a sense of being present. And I realized that I was well-armed for this. I had written about the beauty of uncertainty, about how it prepares us to face life in the face of death. I had written about Carl Jung and his statement that most people spend the first half of their lives afraid to live and the second half of their lives afraid to die."
Indeed, one of his most popular courses was Film on the Mythological Journey, based on Joseph Campbell's archetypal studies. Writing 412 was his perennially popular "signature" class, offering a rotating look at different film topics each semester—Film on the Future or The Mythology of Hollywood, for example, as well as looking at influential directors like Alfred Hitchcock and David Lynch.
"Brian had a generous spirit with his students and always maintained an innocent exuberance about creativity, his own and others'," says Dr. Lynne Van Luven, Acting Dean of Fine Arts and another longtime departmental colleague.
In addition to his teaching, Brian wrote many scripts for film, television and businesses, as well as government videos. He was an early champion of digital filmmaking, and worked as a freelance screenwriter, script consultant and editor, film judge and critic. He was also the senior editor of Hobo, the internationally acclaimed Vancouver-based travel, culture, and literary magazine that was actually started under his mentorship.
 "Follow your bliss" was one of his greatest lessons to his students, and it could well stand as the epitaph to his own life. Brian will be missed, but his legacy will continue to inspire former students and colleagues alike.
Photos
In this story
Keywords: in memoriam, film, writing
People: Brian Hendricks