The building blocks of sustainable concrete
- Shari Stewart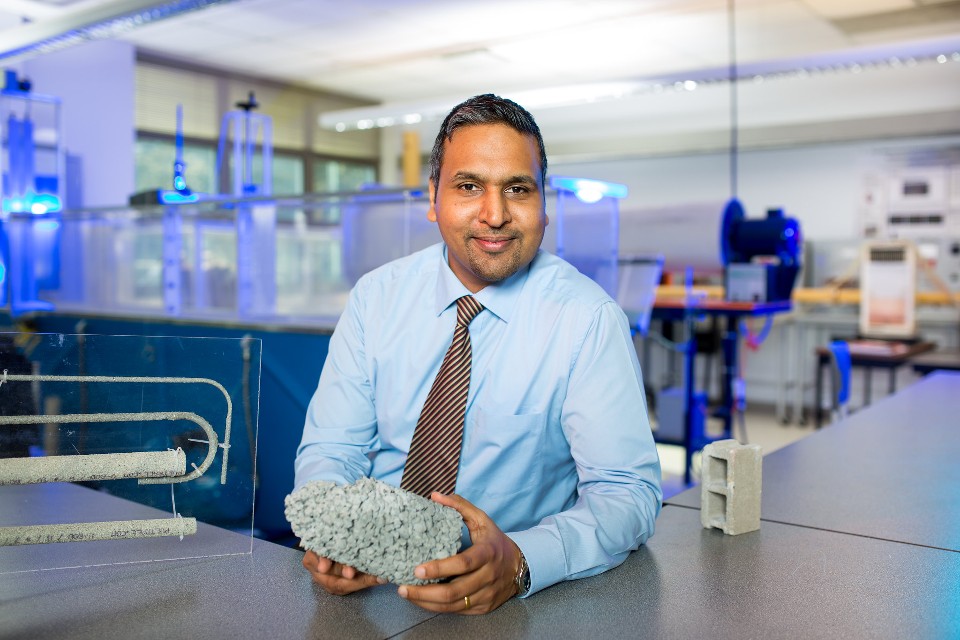 Eight per cent of the world's carbon dioxide (CO2) emissions comes from cement, a key ingredient in concrete, the most commonly used construction material globally. But what if construction materials like concrete didn't contain any cement, resulting in a low carbon footprint?
Rishi Gupta, engineer and professor in UVic's Civil Engineering department, thinks this may be one way to combat carbon emissions. Gupta and his team in UVic's Facility for Innovative Materials and Infrastructure Monitoring (FIMIM) are pushing the boundaries of what can be done with concrete by replacing cement with other sustainable binding materials, providing an alternative to carbon dioxide sequestration.
One approach is to use precast products like alkali-activated concrete paver blocks for pavements and parking lots, including those for remote and rural communities. This is done through Gupta's work with India-Canada Impacts Centres of Excellence (IC-IMPACTS), of which UVic is an affiliate partner. IC-IMPACTS develops, tests and scales up local solutions for India and Canada.
The infrastructure theme of IC-IMPACTS led to Gupta's first project on geopolymer concrete. Instead of ending up in a landfill, fly ash gets collected from coal-powered plants and then alkali activators are added to make it harden like concrete, producing geopolymer concrete that can be used for applications such as paver blocks. "Geopolymer concrete is technically cementless, as it doesn't contain Portland cement, which is attributed to global greenhouse gas emissions," says Gupta.
Although geopolymer concrete was already in use when Gupta and his team started their research nearly 10 years ago, they took things further by also incorporating the ash that sits at the bottom of coal-burning thermal power plants—a byproduct that would also sit in a landfill. "We wanted to take the difficult and less-travelled route of dealing with the bottom ash—in addition to fly ash—as another sustainable option," he adds.
Then there's the issue of heat. "Geopolymer concrete needs heat during the initial curing period to make it stronger. But heat means energy and producing energy can be a sustainability issue due to associated greenhouse gas emissions," he explains. Using local bottom and fly ash from both countries, the international research team demonstrated a sustainable technology using 50 per cent fly ash and 50 per cent bottom ash and cured the concrete at ambient temperature conditions.
From there they produced paver blocks. "What we are doing is using sustainable technology and demonstrating its application in the real world. The fact that our geopolymer mixes require little-to-no heating of concrete during production is the greenest part of our research," says Gupta.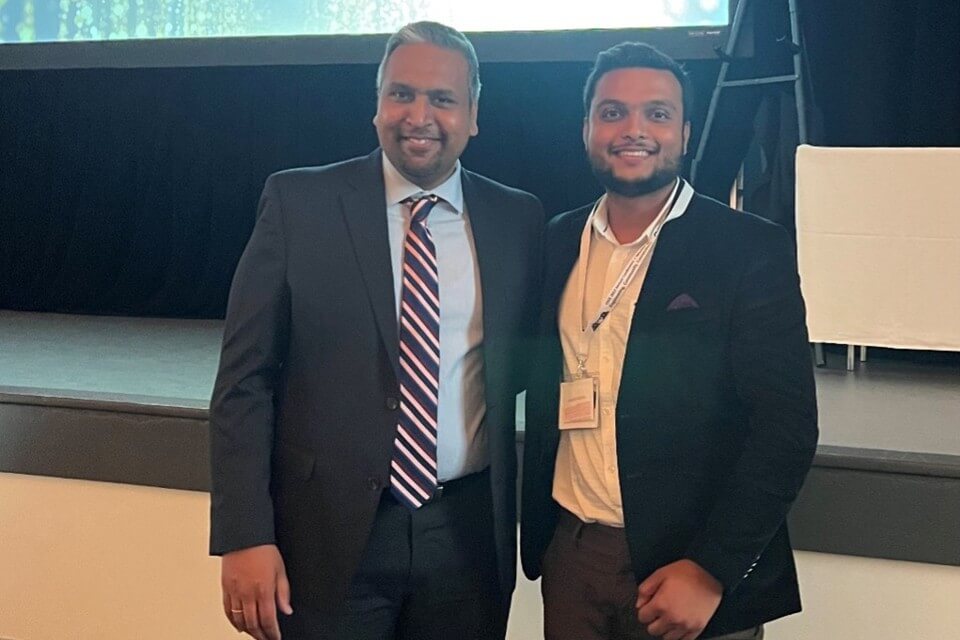 A draw for international student recruitment
Not only is Gupta's cementless concrete better for the environment, it's also helped to strengthen UVic's global connections, leading to a stream of UVic-bound international students excited to be making a difference with climate action research. "It started with a student coming here for an internship, then moving on to complete graduate studies," adds Gupta. "We've had at least six to eight grad students coming to UVic solely from one university in India. Some students were still studying at Nirma University and came here to do the research, and some eventually came back here to do their PhD." Gupta's research group also sees students from various parts of the world, including Iran and China.
Advancements in CO2 sequestration
Gupta and his team are also examining the long-term effects of CO2 sequestering, looking closely at durability—including corrosion resistance—as well as integrating special types of green fibers in CO2-sequestered concrete to make it crack-free and self-healing. This will ultimately result in full service life of structures, reducing the overall lifetime carbon footprint.
Through thoughtful research and innovative techniques, Gupta and his students are paving the way to reducing nearly four billion tonnes of CO2 every year from cement—a huge step to combatting carbon emissions.
UVic is a catalyst driving change and meaningful impact on a global scale through strong partnerships at home and internationally. In our teaching, research and operations—and through our local, national and international partnerships—the University of Victoria proudly supports and works to advance the United Nation's Sustainable Development Goals (SDGs). UVic's commitment to climate, environmental change and sustainability measures up—we are second in the world among universities for climate action as ranked against the SDGs. Learn more about UVic's 2022 ranking by the Times Higher Education Impact Rankings. 
Photos
In this story
Keywords: People Place Planet, administrative, civil engineering, climate, climate action, research
People: Rishi Gupta