Healing technology
- Michael Kissinger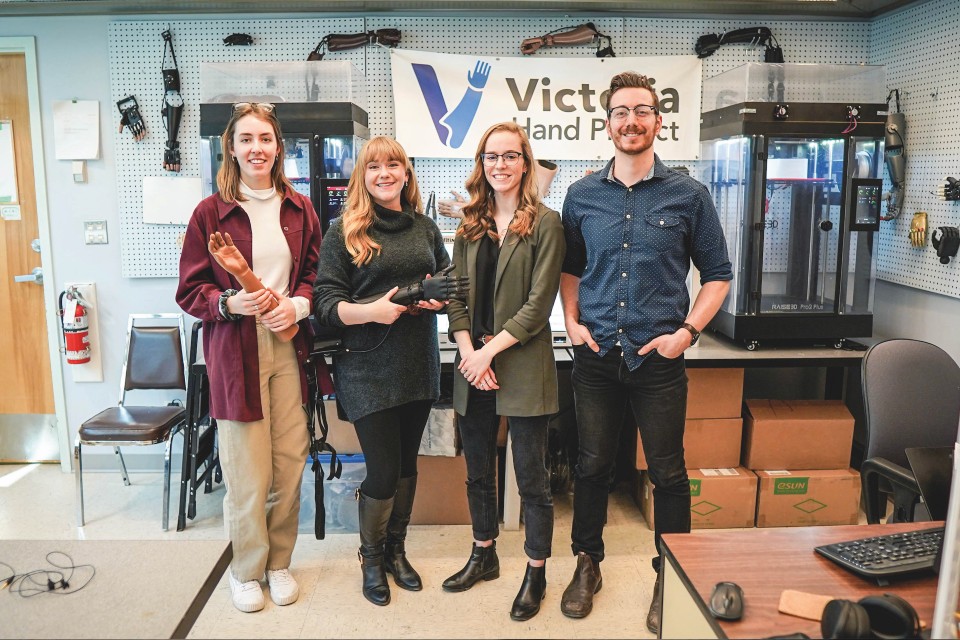 University of Victoria alumnus Michael Peirone has witnessed the impact that receiving a prosthetic device can have on a person. In February 2020, he helped set up a clinic in Kenya and recalls a visit from a seven-year-old boy named Bin-Amin. When Bin-Amin was three years old, he fell into a pile of burning goat dung, resulting in severe burns and partial amputations to all four limbs. He had to rely on his mother for most tasks, including feeding himself. After trying on the custom-made prosthetic, he immediately began walking around the room, smiling and shaking hands with his mother.
"It's one of those stories where it just shows you how helpful this prosthetic hand can be to someone, and he just wanted play around, pick up things around the workshop and just see that he had a hand again," says Peirone, BEng '16, who is CEO of the Victoria Hand Project (VHP), which designed the device.
Located down an unassuming hallway of UVic's Engineering Lab Wing, the VHP is abuzz with activity. Prototypes of prosthetic limbs and photos of smiling recipients line the pegboard walls, while staff click away at their computers and talk on the phone. Boxes line the perimeter of the room alongside clear plastic tubs marked "fingertip supplies" and "demo sockets."
Amidst the workshop clutter, a bank of 3D printers and scanners methodically thrum back and forth, whirring and blipping like a symphony of fax machines. It's a strangely pleasant hum that Peirone has grown used to hearing since he was a biomedical engineering student in 2014.
"What really drew me in was the excitement of 3D printing, 3D design," says Peirone, who started as a co-op student and now oversees the day-to-day operations of the charity organization. "As a student who hadn't seen 3D printing before, I thought it was really cool. But it was working with the patients that showed me how amazing the work can really be."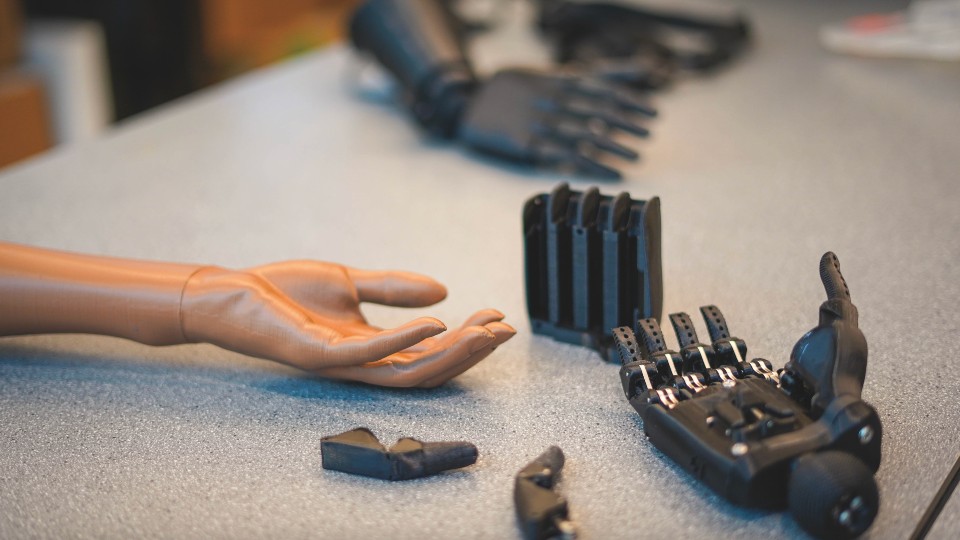 Life changer
Originally launched as a research project by UVic mechanical engineering associate professor Nikolai Dechev, the Victoria Hand Project now works with partners in 10 countries, designing and developing low-cost 3D-printed prosthetic devices for amputees in need. VHP helps set up clinics with their own 3D-printing equipment in regions where clients can get fitted and receive their prosthetic device in a short amount of time at little to no cost.
Thanks to advances in 3D printing and declining costs, it takes approximately 36 hours to make all the components that go into a single Victoria Hand, at a price tag of $100 US.
"This technology is changing so rapidly—the materials, the 3D printers, the software—it's just all getting cheaper, quicker, faster," Peirone says. "Fortunately, there's also a lot of materials that are becoming more environmentally safe and recycled. I think that's one of the big things with 3D printing is people are thinking, 'Oh, all this plastic,' but the plastic type that we are using is derived from starches, like corn, and it can be recycled."
The devices come in four different models to meet the needs of users. To date, VHP has provided 200 prosthetic devices, instantly transforming the lives of those on the receiving end.
"Someone receiving a prosthetic arm can really change their life—it can allow them to get better work, to be able to go to school, to provide for their family a lot better," Peirone says, adding that the device fosters more self-reliance, boosting confidence.
Where help has been limited
The focus until now has been on countries like Kenya, Guatemala, Nepal, Haiti and Cambodia, where there is a gap in prosthetic healthcare—due to cost, scarcity of trained technicians or lack of infrastructure. Thanks to a $1-million TD Ready Challenge award, VHP is now extending its reach across North America. The goal is to help children with scoliosis and upper-limb amputees in remote and under-served communities in the US and Canada where where income and access to prosthetic care can be a barrier.
"That was really big for us," Peirone says. "Something that people have been asking us a lot is why we aren't helping Canadians. And primarily we were saying, well that's because Canadians have coverage. And something that we learned is that not all Canadians actually have coverage. It differs from province to province—there are prosthetics and orthotics centres only in major cities," says Peirone, adding that coverage in the US can also be inconsistent.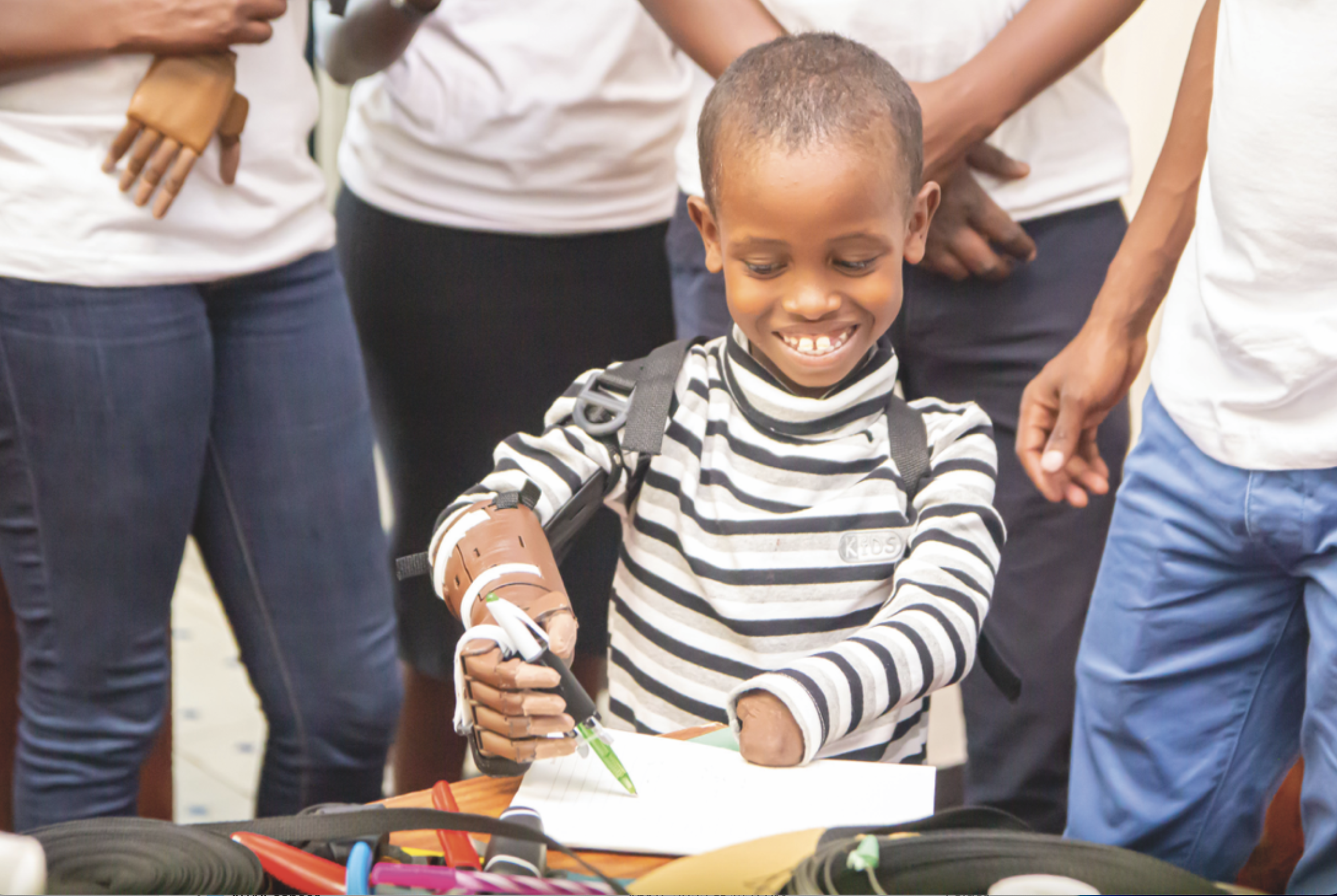 VHP also serves as an important training ground for UVic students looking to gain experience and skills. Peirone's team includes fellow biomedical and mechanical engineering alumni Kelly Knights, Kim Arklie and Jacqui Moreland, two co-op students and approximately 20 volunteers each semester. He estimates that 40 to 50 UVic grads have worked for VHP over the years. In addition to the feedback from prosthetic users, the VHP team values the connection with students.
"It's also really great when we hear of students who have worked with us and developed a passion for giving back in other ways, like trying to go to school to become a prosthetist or other sorts of charity or non-profit work to give back," Peirone says. "It definitely feels good to know that they came through VHP and developed that passion."
For more details on this project visit the Victoria Hand Project. You can also watch the latest project video on YouTube.
Photos
In this story
Keywords: adaptive technology, health, mechanical engineering, alumni, co-op, international, community
People: Michael Peirone, Nikolai Dechev, Kelly Knights, Kim Arklie, Jacqui Moreland
Publication: The Torch