Camera ready
- John Threlfall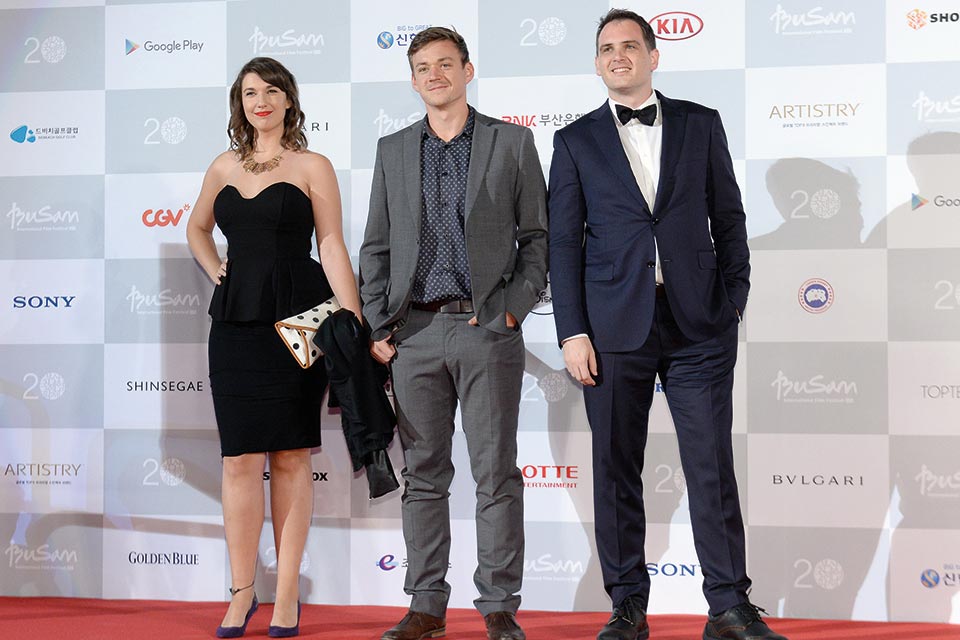 UVic contributes talent, technical and creative power to Victoria's burgeoning film industry.
Connect to any streaming service and it's not hard to find UVic alumni on screen, thanks to busy actors like Erin Karpluk (The L Word), Peter Outerbridge (Orphan Black) and Emily Piggford (Umbrella Academy). Less obvious is the behind-the-scenes talent, like visual-effects artist Michelle Lo (Black Panther) and production coordinator Amanda Verhagen (Jurassic World: Dominion).
Yet while Vancouver's Hollywood North casts a mighty shadow over Vancouver Island, alumni filmmakers continue to contribute technical and creative power to Victoria's steady and growing TV and film industry.
Writing the life of an independent director
In many ways, award-winning director Connor Gaston (MFA '14) is typical of the quiet talent UVic produces. After directing a string of short films, his 2015 debut feature—The Devout—premiered at Korea's Busan International Film Festival. It then earned him the BC Emerging Filmmaker Award at the Vancouver International Film Festival before it went on to receive Best Picture and six other honours at BC's own Leo Awards. Gaston, who is also a graduate of Norman Jewison's Canadian Film Centre, is currently working on his second feature film.
"Getting your first feature made is never easy—but it's really difficult to make your second," he admits. "Your first film really has to blow people out of the water to activate the next round of funding, which is usually a big step up, budget-wise." By way of comparison, The Devout came in at $150,000, while his in-progress feature, Baby Tooth, is budgeted at $1.7 million: still a bargain compared to typical Hollywood productions.
"Even at $1.7 million, it's almost like having no money again—all your budget goes to paying people very little for what they're actually doing… and then all your money is gone," he says. "But most people work on independent films because they want to be there—to learn, to help—so some money for them is better than no money at all."
While BC's film and digital-media industry generates $3.2 billion and 71,000 jobs annually, the vast majority of that work remains in Vancouver. The Island received roughly $55 million in direct spending of that amount and about 800 jobs in 2021, with 40 different productions shot across the region.
But a typical day in Gaston's life mainly involves a lot of writing, not bean counting. "Working on the screenplay, writing grants… it's very much a slog," he says. Gaston keeps his cinematic chops in shape with short films—2022 saw him direct both Year of the Tortoise and The Cameraman Chapter II (a sequel to his 2016 short The Cameraman, inspired by the book of the same name by his novelist father, Bill Gaston). But unlike some directors, he doesn't work on other peoples' films. "I'm actually quite useless," he laughs. "I wish I could do something more practical."
While it's a medium he clearly loves, Gaston acknowledges being a filmmaker comes with serious challenges.
Directing is so strange. If you're a painter, you can paint every day, but with directing you need money to even practise your art. Writing helps, but you can only envision your screenplay so much."

—UVic grad and director Connor Gaston
Snapshot of a working filmmaker
As a self-described "working filmmaker," Chen Wang, BFA '18, is on the move. After a "quick" visit home to China in February 2020 turned into a two-year, COVID-restricted stay, Wang is happy to be back on campus to both complete his MFA in screenwriting and continue his work as cinematographer on the interdisciplinary research documentary Four Stories About Food Sovereignty. The project started in 2018 and includes UVic professors Elizabeth Vibert (history), Maureen Bradley (writing), Matthew Murphy (business), Astrid Pérez Piñán (public administration) and a team of international partners.
It was specifically thanks to his involvement with Four Stories that he was finally able to leave China in 2022 to film the latest installment, Aisha's Story, in Jordan. "Aisha is a Palestinian woman who lives in the Baqa'a refugee camp," Wang explains, "and she's trying to keep her Palestinian culture alive through food: growing, cooking and passing that knowledge along to the next generations."
Wang also shot the short film about UVic's Voices In Motion intergenerational choir for adults with memory loss—one of the many pre-pandemic projects that kept him hopping on campus and in the community. As an undergrad, he founded the UVic Film Club, joined the CineVic Society of Independent Filmmakers, started his own commercial production company and created over 20 commercials with CHEK TV's production team, as well as crewing on both professional and independent-film productions. "Before COVID, I was quite busy: features, shorts, documentaries, music videos… generally, I do camera, cinematography, director of photography, sometimes directing," he says.
In addition to completing his MFA, Wang is also keen to finish the international Four Stories, which has shot in Sooke, Jordan and South Africa, with only Colombia remaining. "We've captured such an amazing story, I now want to complete it," he says. "Not only is it the project that got me back to Canada, but I was so fascinated by what I saw in Jordan: I want people to see this film."
Despite the proximity of Vancouver's studios, Wang likes the idea of staying in Victoria. "I could shoot in other cities, but I like it here," he says. "I like the environment, and there are so many talented people who work very hard."
Mentoring future filmmakers
If you want to get a feel for the homegrown film scene, look no further than the CineVic Society of Independent Filmmakers. Founded in 1991, the artist-run society provides affordable professional-grade equipment, facilities, training and screening opportunities to local filmmakers and media artists; previous members—like South Island Film Commissioner Kathleen Gilbert and longtime Victoria Film Festival director Kathy Kay—make a clear case for CineVic's importance as a local training ground.
Current executive director David Geiss (MFA '13) has spent the past six years furthering the cinematic ambitions of CineVic's 125 members. "I realized it was actually more satisfying to help other people with their work than spend an inordinate amount of time and money to make my own short films, which then may—or may not—be screened at a film festival," he says, with a chuckle.
Geiss is no stranger to the indie film world: his films and documentaries have been broadcast nationally and seen worldwide, he's taught screenwriting and served as programmer for the likes of the Short Circuit Pacific Rim Film Festival, National Student Film Festival and Queer City Cinema Film Festival, among others. But it's only by running CineVic that his past experiences and skills have really been spliced together.
"In many ways, it feels like this was the job I was born to do," he admits. "I realized I actually like the support work—the planning, the advising—more than making short films. I no longer wake up at three in the morning with 'Eureka!' ideas… As an arts administrator, I now just get a good night's sleep."
Geiss says CineVic has a diverse membership from students to hobbyists, and from people looking to break into the film industry to those already working—like local photographer and director Arnold Lim, whose award-winning 2020 feature film debut All-In Madonna was penned by screenwriter and UVic alumna Susie Winters, BFA '16.
Daniel Hogg, BFA '04, is another local filmmaker who focuses on both teaching and creating. Currently completing his screenwriting MFA at UVic, he has twice been part of Telefilm Canada's Talent to Watch program and his credits as producer include the award-winning feature film Two 4 One (the world's first transgender romantic-comedy, directed by writing professor Maureen Bradley) and both the animated feature Esluna: The Crown of Babylon and the original nine-episode animated web series Esluna: The First Monolith. He was also executive producer on Connor Gaston's The Devout.
Hogg is an experienced cinematographer and screenwriter as well as producer and has been teaching the Writing department's film-production classes for years. The class is modelled on a professional film set, and students take on all the individual roles in a production—from director, producer, camera operator to editor, sound work and even catering.
"It's not a production program per se, it's a screenwriting program—it's just supposed to give them a taste of the industry," Hogg says. "Certainly, we've had students move into film and TV where they work as production managers, assistant directors or screenwriters." (All-In Madonna's Susie Winters is a good example of students making this leap.)
Hogg is excited for the future of Victoria's burgeoning film industry.
It's growing and will continue to grow, but a lot of the community aren't necessarily connected and integrated: not everyone knows everybody else.A lot of people are doing things independently while others are connected through organizations like CineVic. But either way, we're living in a time where people are actively trying to find ways to tell their stories."

—MFA student and filmmaker Daniel Hogg
Putting Indigenous stories on screen
After spending 30 years producing and directing hundreds of live plays, UVic grad Leslie Bland, MFA '99, started his own film company—Less Bland Productions—in 2011. "I felt like I was hitting the ceiling of what could be accomplished with live theatre, but film and television offer a bigger, broader canvas," says the producer of popular documentaries like Gone South: How Canada Invented Hollywood and the all-female comedy series She Kills Me. "There's a complexity in working with film that I really enjoy."
Sporting a solid track record of film-fest screenings and experience with broadcasters CBC, Discovery Networks, Super Channel, Knowledge Network and Télé Quebec, Bland has partnered with fellow producer Harold Joe, a member of the Cowichan Tribes, in a joint venture, Orca Cove Media, which focuses exclusively on celebrating First Nations storytelling.
So far, the producing pair have had hits with hot docs like Dust n' Bones (examining the preservation and rededication of First Nations remains and artifacts) and Tzouhalem, a cinematic investigation into the story of legendary Cowichan Chief Tzouhalem. "Orca Cove's mandate is to allow Indigenous creators to tell the stories they want to tell," says Bland. "A lot of the stories are hyper-local, but they also have broader appeal and a point of authenticity."
That broad appeal can either come through subject matter—their current documentary, A Cedar Is Life, explores the cedar tree's pivotal role in the cultural life of coastal First Nations from Alaska to California—or narrative approach. The team has completed filming The Great Salish Heist (starring Dances with Wolves' Graham Greene and Battlestar Galactica's Tricia Helfer), set to be the world's first comedic Indigenous heist film; also in development is Pow Wow Summer, a coming-of-age romance set on the Canadian pow-wow circuit.
Talent on the rise
With alumni talent both on- and off-screen, and the next generation of young filmmakers being mentored to tell their own stories, the future looks bright for Victoria's film scene. As plans for production facilities continue to evolve with hoped-for studios in both Saanich and Langford, director Connor Gaston's optimism is reflective of the local industry as a whole. 
"In film, there are so many things that need to go right and so many elements you need to put it all together, but I still have fun doing it," he reflects. "Being on set is still my favourite thing. I can't imagine doing anything else."
One to watch: Letay Williams
New grad Letay Williams (MFA ' 22) is a screenwriter who is intentional about creating stories that resonate with a global audience but are also infused with the diverse, vibrant culture of her Jamaican heritage. In 2021, her project Traytown won the Audience Choice Award at the Creators of Colour "Big Pitch at TIFF" competition, and she was one of only eight writers chosen to participate in the 2022 Toronto-based BIPOC TV & Film Episodic Writers' Lab.
In May 2022, she produced a live public reading of her as-yet-unproduced MFA script, Inheritance, a feature-length film set in both Jamaica and Canada. Described as a "heartwarming, LGBT/family drama," the script was read by a cast of local and out-of-town talent (Kelowna, Toronto) who said they've "never read a story like this" and that it's "the movie intersectional communities are longing to see on screen."
Photos
In this story
Keywords: alumni, arts, film, Indigenous, writing
People: Connor Gaston, Chen Wang, David Geiss, Susie Winters, Daniel Hogg, Maureen Bradley, Leslie Bland, Letay Williams, Amanda Verhagen, Erin Karpluk, Peter Outerbridge, Emily Piggford, Michelle Lo
Publication: The Torch