New podcast airs unheard Indigenous stories and histories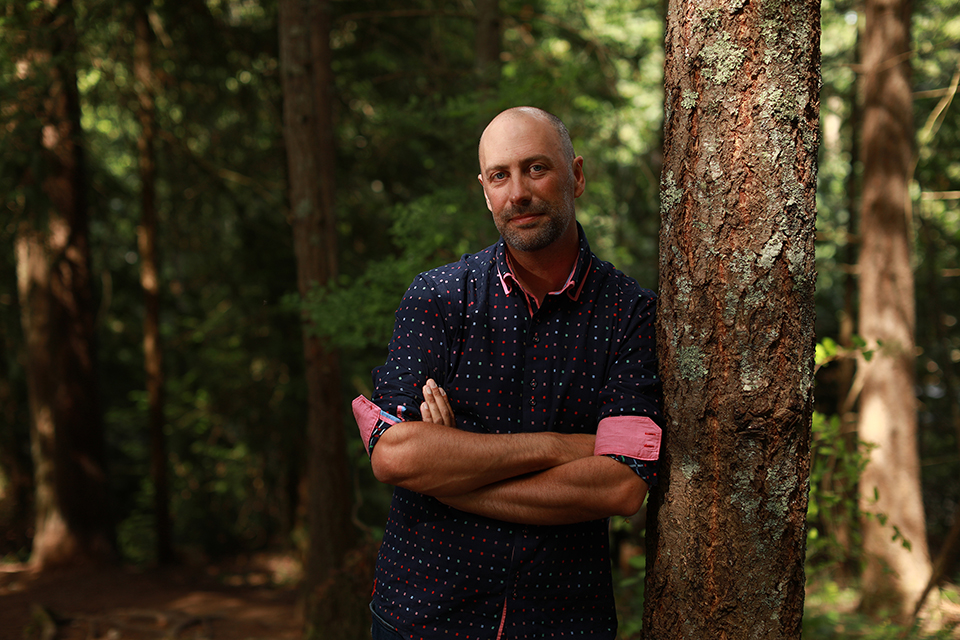 A new podcast about memory, power and the journey to find truth launched today from the University of Victoria Libraries. The eight-episode series, Taapwaywin: Talking about what we know and what we believe, features deep conversations and analysis with Survivors, Elders, Knowledge Keepers and others on seeking truth before reconciliation can begin. Hosted by Ry Moran, associate university librarian – reconciliation at UVic and founding director of the National Centre for Truth and Reconciliation, this provocative series explores themes that originate from Indigenous knowledge systems and are reinforced by solid facts and broad human-rights principles.
Canadians still have many questions about what has happened in this country. They also have been called upon to learn more. This podcast is an effort to dig deeper, fill in some of the gaps and place particular emphasis on the voices of Indigenous Peoples.

—Ry Moran, podcast host, a member of the Red River Métis and the inaugural associate university librarian – reconciliation at UVic
"It is an effort to help share the knowledge and wisdom that exists both with Indigenous communities and within scholarly communities—in recognition of that fact that we need as many good ideas circulating as possible given the scope and scale of some of the challenges collectively faced," says Moran.
The series will highlight the stories and experiences of Indigenous Peoples, underrepresented populations, UVic scholars and memory keepers from around the world. Founded on a deep well of truth, reconciliation and decolonization, the podcast will explore questions of knowledge creation, dissemination and preservation, examining the consequences of how and why certain knowledges and worldviews have dominated political, social and economic discourse while others have been silenced.
"This podcast is unafraid to ask hard questions that unearth the necessary truths of our country. It is exemplary storytelling, based in respect, honour, humility and truth. Taapwaywin asks us to listen not only with our minds, but with our hearts. One of the richest listening experiences I have ever had," says featured podcast advisor Shelagh Rogers, the CBC radio journalist, former UVic chancellor, a Truth and Reconciliation Commission (TRC) honorary witness and champion of truth, healing and a new relationship between Indigenous Peoples and non-Indigenous peoples in Canada.
It's an honour to work with Ry Moran and watch how he so eloquently guides and directs into very courageous conversations that 'dig deeper' in the history of Indigenous People in Canada. We all know that this is how respectful relations with Indigenous People must begin. As we launch this new podcast series, I raise my hands to Ry, with the deepest of respect, hy'ch'q'u Siem for your amazing work and spirit.

—UVic Vice-President Indigenous Qwul'sih'yah'maht Robina Thomas 
In creating the podcast, Moran wishes to honour and celebrate Indigenous knowledges while exploring connections to stories and topics from around the world.
One of the stories focuses on Master Carver Carey Newman (Hayalthkin'geme) and his Witness Blanket, an art installation that incorporates objects from every residential school in this country. The episode evaluates the layers of memory and history that exist at sites of human-rights abuse like residential schools. "I'm convinced that we need to give enough space to the truth so that it becomes part of who we are, it becomes part of what it means to be Canadian," says Newman, UVic's inaugural Impact Chair in Indigenous Art Practices. "And once we get to that level of engagement with truth, then we can start on the reconciliation, because the truth has fundamentally altered who we are and how we understand this country."
With the launch of Taapwaywin, Moran hopes to open the minds and hearts of listeners who may not be familiar with the TRC's calls to action, and to create a global community of truth-tellers who become informed and engaged.
The series is available on major podcast platforms and on the website, Taapwaywin.ca.
Read more in the campus article.
-- 30 --
A media kit containing two high-resolution photos of Moran, an mp3 file for radio journalists, transcripts, as well as audiograms, is available on Dropbox. 
Photos
Media contacts
Ry Moran at 250-721-8269 (main line) or rymoran-aulr@uvic.ca
Lisa Abram (Libraries Communications) at 250-418-5766 (cell) or lisaabram@uvic.ca
Tara Sharpe (University Communications + Marketing) at 250-721-6248 or tksharpe@uvic.ca
In this story
Keywords: community, Indigenous, administrative, faculty and staff, reconciliation, truth, decolonization, history
People: Ry Moran, Karina Greenwood