Connecting language, land and education
- Clayton Sheldon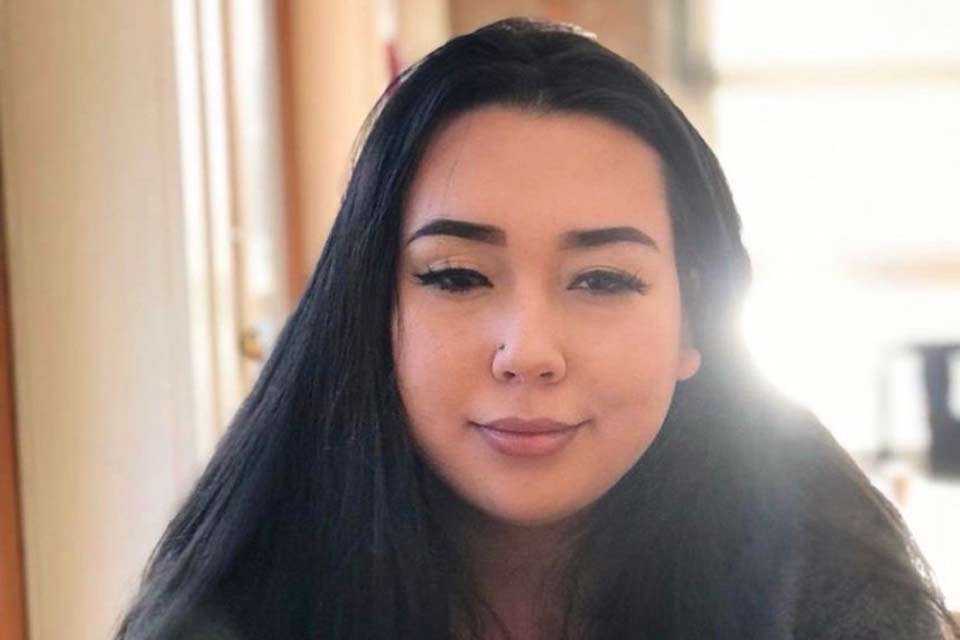 "ÍY, SȻÁĆEL SIÁM MEQ SÁN! STOLȻEȽOT I, Adelaide Elliott TŦE NE SNÁ. ĆSE LA,E SEN EṮ WJOȽEȽP I, lək̓ʷəŋən. Good day everyone! My name is STOLȻEȽOT my English name is Adelaide Elliott. I am from WJOȽEȽP community which is located on W̱SÁNEĆ territory."
STOLȻEȽOT Adelaide "Addie" Elliot is graduating this November with a certificate in Indigenous Language Revitalization, a partnership program between UVic's Department of Indigenous Education and the W̱SÁNEĆ school board. 
Both of Addie's great grandparents were residential school survivors, and her father is a survivor of an Indian Day School. Growing up on reserve, Addie witnessed and heard about unremitting attempts to steal culture and language away from future generations of Indigenous peoples. She developed a strong sense of resolve in reclaiming her identity—a birthright—through language.
"I feel like I'm regaining and relearning ways of being," she says. "A lot of that is through the language. Everyone has their own ways of reclaiming identity, and learning the language is a big part of that for me."
Addie's experience in this program was unique in that several of her family members doubled as her instructors. She comes from a long line of Indigenous educators: Her older brother and sister-in-law both hold master's degrees in Indigenous education. Her father has two doctorates. Growing up around these influences proved that hard work could pay off and that a successful future in Indigenous education was possible for Addie. "There's something special about learning beside the people you grow up with," she said. "Nothing beats that."
Embodied language learning
The SENĆOŦEN word W̱UIȻEN means "kindness." Addie explained that the root of the word means 'good' and the suffix refers to 'being inside of'—making the direct translation 'being kind inside.' Addie's father explained it to her as being 'kind inside of your soul,' or 'having a kind soul'.
"This gives you a glimpse into the SENĆOŦEN worldview. It shows how strong the word is to their culture and community, and how their ancestors used it with one another. It can be easy to throw around the word 'kind', but what does it really mean? It's to have kindness deep within yourself."
Even though Addie grew up in an Indigenous community, she began to connect with her homeland in a new way once she began learning the language. Many words in SENĆOŦEN, especially place names, have reasons for why they were chosen. Learning these stories, many of which are sacred and go back thousands of years, has largely contributed to her reclamation of identity through the language.
A future for land-based education
"Land-based learning has been a huge innovation that's been added to our learning in this program" Addie notes. "I can see that being beneficial for students in all areas of study. Just grounding yourself through land-based learning and connecting on the community level is such a huge game changer in my opinion."
Addie believes in knowing the system to beat the system. After graduating, she plans to continue her formal education and use her teaching certificate to work within the community, bringing language learning into spaces outside traditional classrooms. She encourages other students to "Speak your truth. Be honest when you're having discussions in class and don't be afraid to ask for support. Just always be honest with yourself and who you are in your learning journey. It's not a competition with anybody else. So, whatever you have to do to make yourself feel comfortable and take care of your mental health, make that a priority."
Photos
In this story
Keywords: convocation, Indigenous, student life, languages and linguistics, education
People: Addie Elliott
Publication: The Ring