Hishuk ish tsawalk—everything is one
- Suzanne Ahearne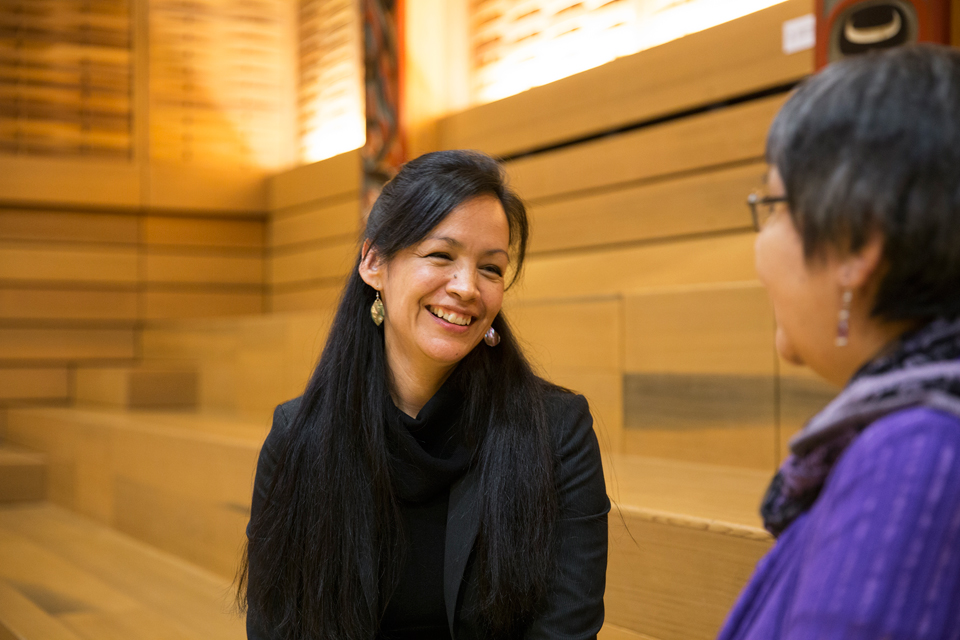 "There's a concept in Nuu-chah-nulth culture called hishuk ish tsawalk," says Marcena Wika Louie, one of the first cohort of the Indigenous Communities Counselling Psychology (ICCP) program graduating in November. "It means everything is connected, everything is one."
"That's the basis of my holistic approach to counselling," Louie explains from her office in the University Centre where she interned and is now a counsellor for Indigenous students at UVic, along with her mentor and ICCP instructor, PhD candidate Roger John.
The need for Indigenous perspectives
When Louie studied psychology at UVic in the early 1990's, she was often the only visibly Indigenous person in her classes, she recalls, and theory was based almost exclusively on western mainstream perspectives. "My world view wasn't reflected in the curriculum."
Louie went on to work in Indigenous communities on Vancouver Island and at Camosun's Eyēʔ Sqȃ'lewen–Centre for Indigenous Education and Community Connections as community liaison, Indigenous advisor and faculty member. She took what she calls an "eclectic approach" to supporting people using elements of western psychology theory and practices that fit with her Nuu-chah-nulth worldview. "It's clear that mainstream methods weren't adequately meeting the needs of Indigenous community."
"I wanted more skills and knowledge to work in Indigenous community to help people work through their challenges. I have a core belief in the value of education that my grandparents encouraged because they saw it as a tool to be able to help us navigate through these two worlds that we walk in," Louie says. "I've had the experience of seeing how education is healing, and healing is education."
When she heard about UVic's first intake of the Indigenous communities counselling program—a pilot cohort that was offered from 2008 to 2011 through the department of Educational Psychology and Leadership Studies in partnership with Indigenous Education—she thought, "that's exactly what I want to do." Several years later, she applied and was accepted into the first cohort of ICCP, Canada's only graduate-level program focused on Indigenous community counselling leading to provincial and national certification.
A program to fill the gap
The part-time community-based program created in consultation with community, and designed for people already working in mental health and helping fields within Indigenous communities takes place on weekends and in intensive summer institutes on campus and in community locations. The ICCP program has been guided by a community advisory committee initiated by Faculty of Education co-chairs Anne Marshall and Lorna Williams, Wanosts'a7 (Lil'wat). The sacred and spiritual dimensions are integral to the curriculum; drumming, singing, ceremony and the inclusion of elders are an integral part of the program.
"What was really exciting about our program was that the majority of our instructors were Indigenous, working from a strength-based focus," Louie says. "They were powerful role models, they shared their stories, were encouraging and they understood our reality, being Indigenous students in a western institution."
Funding from the Counselling Foundation of Canada has supported several elements that integrate traditional Indigenous ways of learning and healing into the program. Since day one of the pilot, this significant support has been a critical factor in the success of the program and its students.
"It's really important to know how colonization has impacted the wellness in our community. We discussed concepts of historical trauma versus the western concept of post-traumatic stress disorder, which doesn't adequately describe the impact of hundreds of years of colonization and residential school," Louie notes.
As an academic, she says, it was "inspiring and exciting and invigorating" to read the growing body of literature by Indigenous scholars around the world looking at how to facilitate wellness.
Louie points out that across cultures, the common theme is a holistic, cultural, strength-based approach to counselling, rather than a medical approach focused on deficits. "What we all have in common is that we've all experienced colonization . . . so you can see similar challenges in each of the communities," Louie adds. "As Indigenous scholars, we ask what is going well, what's helped us survive, and why are some communities doing better at maintaining their cultural identity and sharing it."
"For my masters project, I tried to access as many Nuu-chah-nulth resources as I could and find as many examples of wellness and how my culture continues to support well-being. Although we're dealing with the aftermath of colonization and residential schools, there are many people in my community who still have cultural knowledge, and who promote wellness from a cultural way," she observes. "I started with a Nuu-chah-nulth cultural framework to examine the strength, resiliency and healing practices that facilitate wellness and identity development noting that that Indigenous communities have a holistic perspective of wellness and can contribute to both their own community and western therapeutic practices."
"I really value the cohort model because inevitably the students create a support system and a level of understanding with each other because we're peers and we've gone through the same lived experience. At times that cohort support can help you get through the rigors of academia while balancing the rest of your life as well."
"I'm passionate about effecting change in education," says Louie, whose grandfather, the late George Wikinanish Louie, was a UVic honorary degree recipient who worked with UVic linguist Thomas Hess in the creation of an Ahousaht dictionary. "Knowing who I am, knowing the history of what's happened to my community and having an understanding of how that's affected everyone, I can support students in their identity development. I have a holistic approach to supporting a person, to look at their life and look at what their strengths are and help them find balance in all realms of their self."
Photos
In this story
Keywords: convocation, student life, graduation, alumni, Indigenous, community, counselling