Ratana and Arran Stephens named 2022 DEYA recipients
Peter B. Gustavson School of Business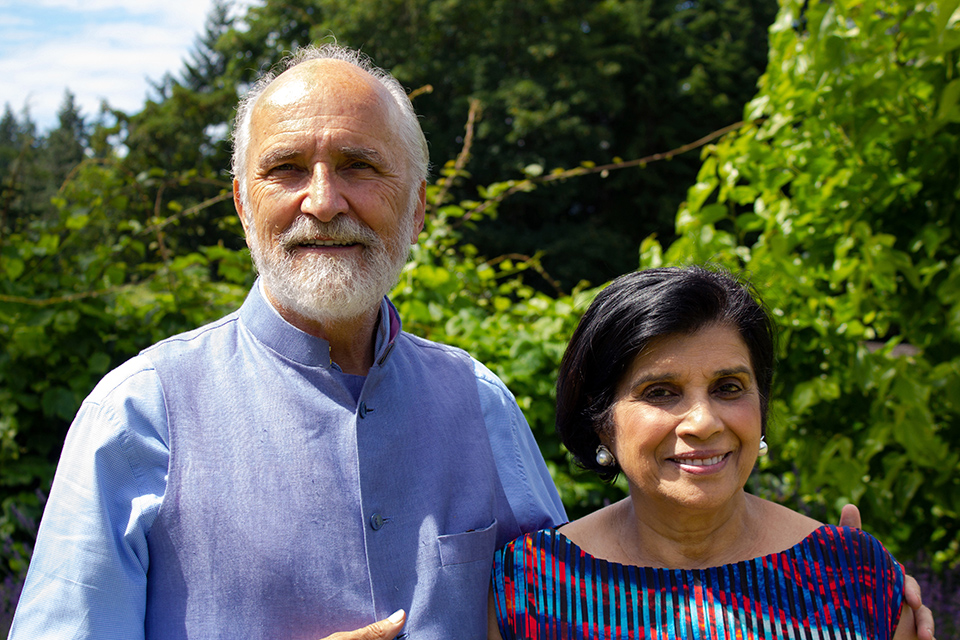 Nature's Path Food co-founders and organic food visionaries Ratana and Arran Stephens are the Peter B. Gustavson School of Business 2022 Distinguished Entrepreneurs of the Year (DEYA).
"We are thrilled to recognize Arran and Ratana Stephens as our 2022 recipients," says Peter Gustavson, chair of the DEYA committee. "They have built a thriving enterprise while leading positive change in their industry and community. The Stephens have shown what can be accomplished with an unwavering focus on leading with values."
Arran and Ratana will receive their award at the Distinguished Entrepreneur of the Year Gala at the Victoria Conference Centre, on Oct. 19.
The Stephens co-founded Nature's Path in 1985, but the seeds were planted many years before, during Arran's childhood growing up on a berry farm on Vancouver Island. 'Always leave the earth better than you found it,' his father said. These words have been a pillar for the Stephens' entrepreneurial ventures, beginning in 1967 when Arran had seven dollars, a $1,500 loan, and a dream that came to life in the form of Canada's first vegetarian restaurant.
Today, Nature's Path is the largest independent, certified-organic breakfast and snack food company in North America. Consistently recognized as one of Canada's top—and greenest—employers, Nature's Path employs more than 750 people and offers more than 150 products in more than 40 countries. Despite this growth, the company remains true to its mission by exceeding organic certification standards, using no GMOs and operating with a triple-bottom-line perspective (people, planet, profit). Nature's Path is still privately held and family run, with Arran serving as chairman, Ratana continuing as CEO and two of their children fulfilling leadership roles.
"Ratana and Arran Stephens have been incredibly influential in the organic food industry," says Saul Klein, dean of the Gustavson School of Business. "They have woven their entrepreneurial vision with their values to build a hugely successful business that is serving its community and regenerating agriculture for a more sustainable future."
Recipients of the Order of British Columbia in 2021, the Stephens have each been recognized with numerous accolades over the course of their careers. Arran received the Ernst & Young Entrepreneur of the Year Award (2002), an Organic Pioneer Award from Rodale Institute (2018), and was inducted into the Business Laureates of BC Hall of Fame (2020). Ratana received the YWCA Women of Distinction Award for entrepreneurship and innovation (2009) for her impact on business and sustainability, was named one of Canada's 100 Most Powerful Women by the Women's Executive Network (2013), and she received an Influential Women in Business award by Business in Vancouver (2020).  
Full biography of Arran and Ratana Stephens and list of previous DEYA award recipients:
https://www.uvic.ca/gustavson/faculty/community/entrepreneurs/
-- 30 --
Photos
Media contacts
Sasha Milam (Gustavson Communications) at 250-516-2611 or bizcomm@uvic.ca
Suzanne Ahearne (University Communications + Marketing) at 250-721-6139 or sahearne@uvic.ca
In this story
Keywords: agriculture, award, business, entrepreneurship, community, environment, sustainability
People: Saul Klein, Peter B. Gustavson, Ratana Stephens, Arran Stephens