Mapping the health of kelp forests
- Anne MacLaurin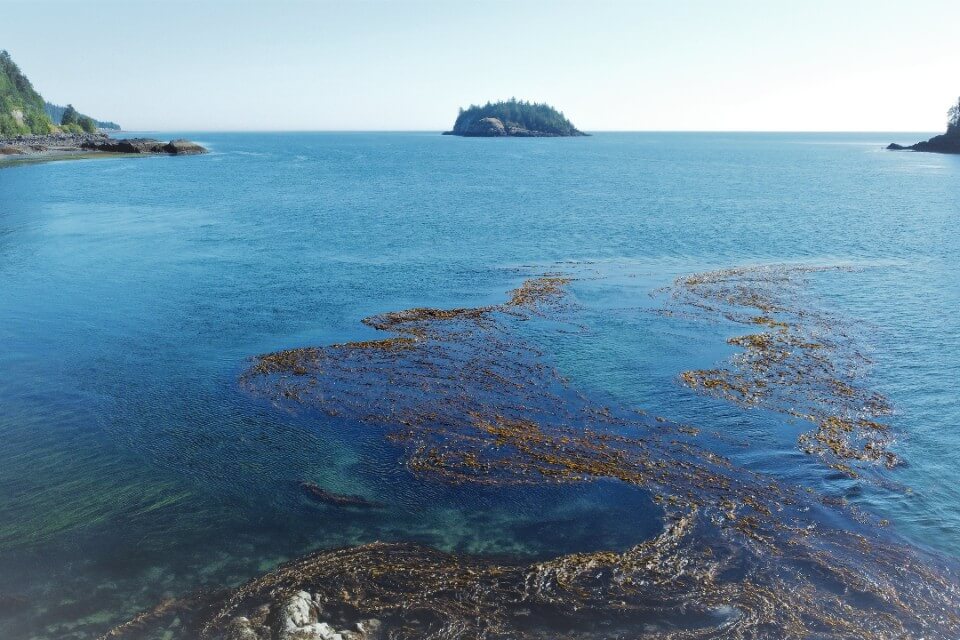 Canopy-forming kelp forests are a vital lifeline for spawning herring and juvenile salmon, but a raft of environmental stressors make the future of those underwater forests uncertain. A new research alliance is examining the resilience and decline of bull kelp along the BC central coast due to warming ocean temperatures, in hopes of identifying areas of potential protection and possible restoration.
"Kelp are the rainforests of the ocean and we need to know more about its decline," says UVic geographer Maycira Costa. "They transfer a lot of carbon from the atmosphere to the ocean and are habitat for many vital species."
Costa is collaborating with Indigenous communities and the Pacific Salmon Foundation, Hakai Institute, Fisheries and Oceans Canada, Island Trust Conservancy, Parks Canada, the Council of Haida Nations and the Marine Plan Partnership for the North Pacific Coast (MaPP) to learn more about the resilience of kelp forests, through a NSERC Alliance grant, the British Columbia kelp resilience project.
Using historical charts from the 1800s, Indigenous ecological knowledge and satellite imagery, Costa and UVic graduate students and postdocs are building a cohesive historical atlas to map the past, present and future of kelp resilience on the coast. Researchers, coastal managers and communities can use this information for enhancing marine planning with ultimate benefit to the marine ecosystem, coastal communities and industry.
Satellite imagery can further pinpoint areas where kelp beds have been resilient or where they might decline or disappear, as well as associated changes in ocean conditions. The satellite data will allow for different governance management strategies to protect and restore this important coastal habitat.
"This is only possible when the communities are integrated into how to use this technology effectively," says Costa, who is working with First Nations to integrate satellite technology into their kelp monitoring programs.
"Kelp is highly vulnerable to ocean conditions and increases in temperature," says Costa. "Cool ocean temperatures allow kelp to thrive and recover, but a warmer ocean is certainly a contributing factor to kelp decline—alongside a sea urchin population that feeds on kelp."
Costa explains that the identification of "hot spots" of kelp resilience, areas of high risk for kelp loss and areas of potential restoration will be integrated into an ecosystem-based strategy that will inform federal Marine Protected Areas, First Nations spatial marine planning, kelp harvesting, fisheries habitat management, and kelp aquaculture industry.
"Our framework can be expanded to other coasts in the East and Arctic, and fuel the development of a sustainable, ocean-based blue economy, as part of Canada's Blue Economy Strategy," adds Costa.
Costa's kelp research Alliance does not only address how changes in ocean conditions impact kelp's long-term resilience on the British Columbia coast—directly contributing to United Nations Sustainable Development Goals (SDGs) on climate action and life below water—but also addresses the need for strong cooperation to access science, technology and innovation. 
UVic is a catalyst driving change and meaningful impact on a global scale through strong partnerships at home and internationally. In our teaching, research and operations—and through our local, national and international partnerships—the University of Victoria proudly supports and works to advance the United Nation's Sustainable Development Goals (SDGs). UVic's commitment to climate, environmental change and sustainability measures up—we are second in the world among universities for climate action as ranked against the SDGs. Learn more about UVic's 2022 ranking by the Times Higher Education Impact Rankings.
Photos
In this story
Keywords: sustainable partnerships, climate action, life below water, sustainable impact, research, sustainability
People: Maycira Costa
Publication: The Ring