UVic helps shape early childhood education in Japan
- Chris Fevens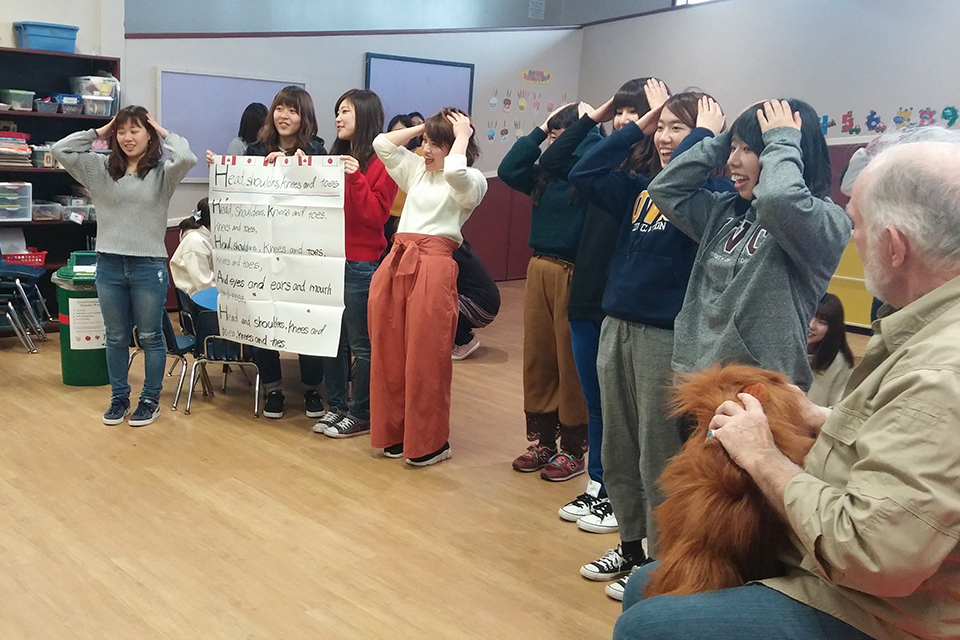 When it comes to vital impact, an educational opportunity that enables students to see the world through a different lens can be one of the greatest learning experiences that many people will ever encounter. In February 2018, 31 young education students from Japan had an opportunity to enjoy experiencing early childhood education (ECE) from a Canadian perspective.
Since 2016, UVic has hosted ECE students from Yasuda Women's University in Hiroshima, Japan. Supported by two units within UVic's Division of Continuing Studies—the English Language Centre and the Department of International Education—the program is designed to provide intensive English instruction, while simultaneously offering experiential learning opportunities related to ECE.
Students in this program explore and engage with educational communities on campus and beyond. As a key component of their program, they visit local schools and childcare centres in Victoria to observe classes in progress and to meet in-service teachers and school administrators.
An invaluable experience
For most of the participants in this program, coming to Victoria to study at UVic is their first opportunity to travel abroad. It's an opportunity the latest cohort took full advantage of.
Mizuki Yamauchi and Seika Okimura were aware of the significance of their time at UVic and in Canada. Yamauchi believes that "this program gave us a once-in-a-lifetime chance to see ECE in a different country."
Okimura adds, "This will be a moment none of us will ever forget."
Being here at UVic has reminded me that there is so much we still have to learn about teaching small children before I become an ECE teacher.
—Seika Okimura, visiting Japanese international student at UVic in Feb. 2018
Next steps in putting theory into practice
On March 3, the program concluded with participants returning to Yasuda Women's University for three more years before they become teachers themselves.
It's UVic's hope that through programs like this, this group of young women, and future groups from Yasuda Women's University, will leave with not only improved English skills and a new set of teaching abilities, but also a stronger passion for helping young children grow in Japan.
—Tania Muir, Director of International Education
Find out more
UVic's International Plan (2017-2022)
Photos
In this story
Keywords: international, student life, education, children, teaching
People: Tania Muir