Melia Belli Bose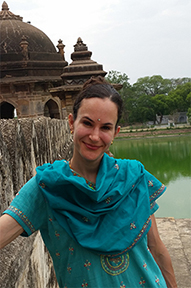 Position
Associate Professor
Art History & Visual Studies
Contact
Office: Fine Arts 141
Credentials
MA University of London, PhD University of California, Los Angeles
Area of expertise
Visual cultures of early modern and contemporary South Asia
Melia Belli Bose is a specialist in the visual cultures of early modern and contemporary South Asia. She received her PhD in 2009 from the University of California, Los Angeles and her undergraduate and master's degrees from the School of Oriental and African Studies, University of London. Melia has spent several years in different parts of India, Pakistan, and Bangladesh, studying languages, conducting research, and hiking in the Himalayas. Her research and language study have been supported by the American Institute of Indian Studies, the Asian Cultural Council, and the American Institute of Bangladesh Studies.
Prior to joining the Department of Art History and Visual Studies at UVic in 2016, Melia taught at several colleges and universities throughout Southern California and was an Assistant Professor of Asian Art History at the University of Texas at Arlington, where she was awarded tenure.
Melia's first book, Royal Umbrellas of Stone: Memory, Politics, and Public Identity in Rajput Funerary Art (Brill, 2015) examines chhatris (funerary memorials) commemorating members of the royal Hindu Rajput community in northern India. The chhatris' formal, decorative, and ritual programs work in concert to announce the legitimate sovereignty of the memorialized king and his successors. Royal Umbrellas of Stone is particularly concerned with how chhatri patrons commissioned larger and more lavishly decorated chhatris of costlier luxury materials in times of political upheaval to belie the crisis. Royal Umbrellas of Stone also considers the chhatris' sacred functions-- several remain active sites of worship, loci of Rajput hero cults.
Melia holds an interest in the arts of death and memorialization throughout Asia. In 2014 she guest-edited and contributed to an edition of the journal Ars Orientalis titled "The Arts of Death in Asia," which included articles on the subject from China, Japan, India, Thailand, and Central Asia. Another of Melia's research interests is intersections of gender, power, and art throughout Asia. She edited and contributed to the volume Women, Gender, and Art in Asia ca. 1500-1900 (Routledge, 2016), which offers essays on women's roles as makers, subjects, collectors, and commissioners of art from across Asia. She has also published refereed articles and book chapters on Maratha painting and architecture; recent Buddhist art and architecture in the Indian state of Uttar Pradesh; contemporary Bangladeshi art, and Rajasthani folk songs.
Although her research focuses on South Asian art, Melia also greatly enjoys teaching a diverse range of undergraduate and graduate courses on the arts of China, Korea, Japan, and the Islamic World. 
The Arts of Death and the Afterlife in South Asian Traditions | Gateway to Art