Our graduate programs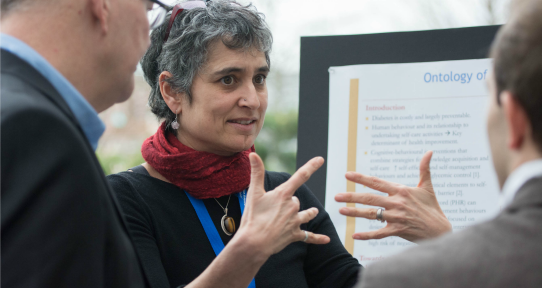 What is health information science?
It is the study of the nature or principles of information and its application or power within healthcare delivery systems.
We offer four graduate degree programs:
We offer our graduate students an optional co-op opportunity which provides paid, hands-on employment experience in health informatics.
If you need advice regarding eligibility for our graduate programs, course selection or choosing a supervisor, please contact our Graduate Adviser.
If you need other assistance including course registration or obtaining forms, please contact our Graduate Program Assistant.
If you are a current student and have had a journal paper or indexed conference proceeding accepted or published, please share this information with our office so we can recognize your achievement. Please send the full citation in APA format to the Graduate Program Assistant.
Below is a list of some publications that our students have authored or co-authored papers accepted for publication.
Abrahamson K, Anderson JG, Borycki EM, Kushniruk AW, Malovec S, Espejo A, Anderson M. (2015). The Impact of University Provided Nurse Electronic Medical Record Training on Health Care Organizations: An Exploratory Simulation Approach. Studies in Health Information Technology and Informatics, 208, 1-6. doi: 10.3233/978-1-61499-488-6-1

Kushniruk AW, Monkman H, Tuden D, Bellwood P, Borycki EM. (2015). Integrating Heuristic Evaluation with Cognitive Walkthrough: Development of a Hybrid Usability Inspection Method. Studies in Health Information   Technology and Informatics, 208, 221-225. doi: 10.3233/978-1-61499-488-6-221

Lau F, Barwich D, Hilliard N, Partridge C, Hobson B, Price M, McGregor D, Bassi J, Lee D, Kim J, Pyke J, Randhawa G. (2015). A Knowledge Translation Project on Best Practices in End-of-life Care. Studies in Health   Information Technology and Informatics, 208, 237-241. doi: 10.3233/978-1-61499-488-6-237

Kushniruk AW, Monkman H. (2015). A See Through The Future: Augmented Reality and Health Information Systems. Studies in Health Information Technology and Informatics, 208, 281-285. doi: 10.3233/978-1-         61499-488-6-281

Kushniruk AW, Monkman H. (2015). Optimizing the Efficacy of Multimedia Consumer Health Information. Studies in Health Information Technology and Informatics, 208, 286-290. doi: 10.3233/978-1-61499-488-6-286

Kushniruk AW, Monkman H. (2015). Using Personal Health Records to Scaffold Perceived Self-Efficacy for Health Promotion. Studies in Health Information Technology and Informatics, 208, 291-295. doi: 10.3233/978-   1-61499-488-6-291

Thompson C. (2015). Health Information Needs for Child-in-Care. Studies in Health Information Technology and Informatics, 216, 886 doi: 10.3233/978-1-61499-564-7-886