UVic is more than a top research university in a breathtaking location. We're a university of achievement, a university of curiosity, a university of real-life learning, and so much more. Learn more about what makes UVic unique.

---
Events and important dates
Campus information sessions
VP Academic and Provost Reeta Tremblay and VP Finance and Operations Gayle Gorrill invite you to participate in the next campus information session:
Monday, April 7, 2:30-3:30 p.m.
David Strong Building C103
The session will provide an overview of the University's 2014-15 Planning and Budget Framework document, a status report on Enhanced Planning: Making Choices, an update on the provincial government's core review process and an update on work completed since our last information session in December 2013.
For more information visit the Budget planning website.
Follow us
Jim Dunsdon's ALS Ice Bucket Challenge
UVic's Associate-Vice President of Student Affairs, Jim Dunsdon, accepts the #ALSicebucketchallenge and nominates staff members at Simon Fraser University and UBC! Which school can raise more for ALS during orientation?
View more videos on the UVic YouTube channel or recommend additional videos to youtube@uvic.ca.
Check out these UVic students on Instagram to follow their summer adventures, from studying abroad in Nepal to hanging out on Vancouver Island's beautiful beaches.
Follow us on Instagram. Tag your campus pictures with #uvic and we'll share our favourites.
View all UVic social media.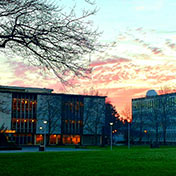 The July snapshot of the month is Fountain of Knowledge by RedArmada. Show us your UVic! Submit your own photos to snapshots@uvic.ca or via our Flickr group. Your photo could be next month's winner.
View all UVic social media.
Like us on Facebook to keep up to date on student stories, UVic research, campus events and lots more!
View all UVic social media.