Future staff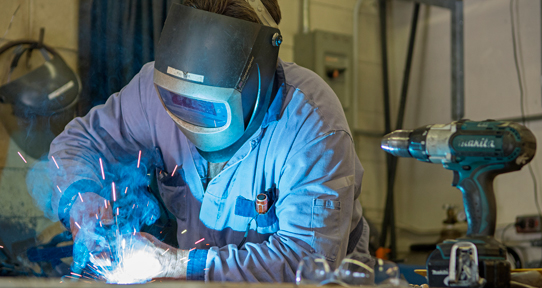 Why join UVic?
Together we are more than 2,200 dedicated staff supporting the University of Victoria's diverse academic programs, world class research and commitment to civic engagement.
We are office workers, managers, horticulturalists, trades, nurses, physicians, IT professionals, library assistants, cooks, cashiers and housekeepers. Each and every one of us plays a vital role in enabling UVic to fulfill its mission.
A total rewards philosophy
When you work at UVic you become part of a community in a campus setting that offers faculty, staff and their families access to all of its social, athletic and cultural amenities. Our campus is unsurpassed for its gardens, trails, green space and an overall environment that promotes engagement and healthful work-life choices.
In addition to competitive salaries, UVic contributes to your and your family's health and security through its comprehensive medical, dental and pension benefits plus:
generous vacation time off
equity and diversity support and initiatives - Indigenous counselling office, religious observances and more
career development funding
a diverse range of learning and development opportunities
on-site child care
discounted athletic facility membership
sustainability initiatives, including discounted transit passes and offering a pedestrian- and bike-friendly campus
The University of Victoria is one of Victoria's largest employers. UVic was chosen as one of Canada's best diversity employers (2012–14).
We hope you'll come to UVic to grow, to make an impact, and to stay. See our current job postings.
fullWhat we offerNoYesCareers at UVicWith over 2,000 employees, there's a wide range of jobs on campus. We're office workers, horticulturalists, physicians, technicians, graphic designers, library assistants and more. At UVic you'll have the opportunity to explore different types of jobs during your career. What working at UVic is like Life in Victoria Getting settled in Victoria Read profiles of some of our staff members /Compensation and benefitsWe offer a total compensation and rewards package: career development opportunities career mobility a generous benefits package staff pension plan access to tools and resources to support you in finding work-life balance /What makes UVic uniqueThe University of Victoria is one of Canada's leading research universities. People make our university. We're a community of: 886 faculty members 530 sessional instructors 955 specialist/instructional staff 2,246 administrative, professional and support staff 3,406 graduate students 17,407 undergraduate students (2014 numbers) We offer over 76 degree programs in 12 faculties/divisions and 40 schools and departments. UVic is also home to over 20 cutting-edge research centres and institutes. Get more UVic facts and figures. Nestled between the ocean and the forest with stunning mountain views, UVic enjoys an enviable location. Our campus is located on 402 acres of beautiful, park-like property, just 15 minutes from downtown Victoria and within walking distance of the Pacific Ocean, as well as many shops and restaurants. Excellent students are attracted to UVic by the engaging faculty, relatively small class sizes, intimate community atmosphere and the many experiential learning opportunities. Seventy per cent of our students come from outside of Victoria, making UVic a destination university full of people living away from home and invested in creating a community together. The co-operative education program, one of the largest and most diverse in Canada, provides students with relevant, engaging and practical learning experiences beyond the classroom./Top 10 things to do at UVic Hike through Mystic Vale. Enjoy Friday Music in MacLaurin. Wander around Finnerty Gardens. Browse the bookstore. Catch a movie at Cinecenta. Get cultured at the Phoenix Theatre. See the exhibits at the art galleries. Work out at the gyms. Enjoy the food and beverage outlets. Take a campus walking tour. //future-faculty-staff/staff/fut-staff-offerNavigation LevelUndefinedUVic2012fut-staff-offerYesfullCurrent job postingsNoYesCurrent job postingsSee current job postings for staff positions. Other opportunities on campus include: job postings for leadership positions job postings for faculty and librarians job postings for student opportunities available through UVic Career Services /How to applyAll staff postings at the University of Victoria are posted through our online job management system - UVic Careers. Please view our video tutorial for a system overview (MP4). How to apply Log in to UVic Careers. If you do not have a UVic NetLink ID and this is your first time using this system, you will need to create a new login ID. Search Jobs from the Career Centre. If you see a position that interests you, select the job title to view the job details. Select the Submit your Resumé/CV to this Job button at the bottom of the page. Complete your application. The system saves a plain version of your resumé for easy previewing. It also saves your resumé in PDF format. The original formatting is viewable by the selection committee. Review your application on the Preview screen. It will appear in plain text. However, your formatted resumé will be viewable by the selection committee. Use the edit icon to make changes. When you are satisfied with your application, choose the Finish button to submit your application. You will receive a message that you have successfully completed the application process. More details are available in our Browse and apply for opportunities quick guide (PDF) and searching and applying for jobs video tutorial (MP4). Additional resources are available on our staff careers site./Recruitment process1. CUPE positions The application - Apply online with UVic's recruitment system. You'll need to submit an application cover letter, resume and the names of three references. Closing date and time - CUPE positions are posted to our job posting site, normally for seven calendar days. Positions are also posted outside the Human Resources office in the Sedgewick Building, Vandekerkhove Wing. All competitions close at 4:00 p.m. on the closing date. Late submissions will not be accepted. Internal-only postings - Only CUPE 951, 917 and Exempt Support employees may apply for internal-only postings. If you're a casual (on-call) CUPE employee you may apply as an internal applicant if you've worked in a CUPE 951 or 917 position within the previous 20 working days. The selection process - Human Resources reviews the applications, then forwards them to the hiring department for shortlisting, interviewing, and selection. This process normally takes a week to ten days. The selection criteria for CUPE competitions are seniority, work performance and pertinent qualifications. 2. Exempt positions The university has a small number of secretarial and clerical positions which are exempt from union membership under the provisions of the Labour Relations Code. 3. Administrative and academic professional (PEA) How to apply - Apply online with UVic's recruitment system, before 4:30 p.m. on the closing date. You'll need to submit an application cover letter, resume and the names of three references. Administrative and academic professional (PEA) positions are usually posted for two weeks. Late applications may be considered at the discretion of hiring department. The selection process - After the closing date, Human Resources reviews and forwards all applications to the hiring department for shortlisting and interviewing. This process normally takes at least two weeks. 4. Specialist instructional positions Most teaching and research support positions (specialist/instructional) are temporary, coinciding with the academic term. These positions are usually filled by graduate and undergraduate students recruited directly by individual departments./Understanding employee groups at UVicNote: These are general descriptions of the university's employee groups. Contact Human Resources if you have questions. The numbers for each group represent approximate head counts as of March 1, 2012. CUPE 951 is made up of approximately 693 regular and 90 term office, technical, and child care employees. CUPE 917 is made up of approximately 333 full-time and 108 part-time employees. They work in areas like maintenance and grounds, food and housing services, athletics and recreation, campus security and university auditorium. CUPE 4163 is the University of Victoria Educational Employees' Union. CUPE local 4163 is made up of approximately 1500 members. It represents teaching assistants, second language instructors, sessional lecturers, lab instructors, computing user services employees, music performance instructors, academic assistants, cultural assistants and others. The local is made up of three components: Component one is made up mostly of graduate and undergraduate employees who work as teaching assistants, lab instructors, computer lab assistants, cultural assistants and academic assistants. Component two is made up of second language instructors in the English Language Centre and French language program. Component three is made up of music performance instructors and sessional lecturers, who teach the bulk of undergraduate courses at UVic. Professional Employees Association (PEA) is comprised of approximately 774 full-time and 78 part-time administrative and academic professional employees. Management excluded group - 92 senior management employees are excluded from a bargaining unit. They are governed by a terms and conditions document which is available through Human Resources. Exempt group - 32 employees are excluded from the bargaining unit. Terms and conditions documents applying to this group are available through Human Resources. University of Victoria Faculty Association is made up of approximately 886 faculty members and 40 professional librarians. Please see the faculty framework agreement.//future-faculty-staff/staff/fut-staff-job-postingsNavigation LevelUndefinedUVic2012fut-staff-job-postingsYesfullEmployer of choiceNoYesAwardsThe University of Victoria is one of Victoria's largest employers. UVic was chosen as one of Canada's best diversity employers (2012–14). Nationally, 55 organizations were recognized for a range of initiatives that attract and retain employees from diverse communities. UVic was one of only three universities included on the list, and one of two organizations in Victoria.    /Follow us Connect with us on social media: Twitter (@uvicjobs) Facebook LinkedIn //future-faculty-staff/staff/fut-staff-employer-of-choiceNavigation LevelUndefinedUVic2012fut-staff-employer-of-choiceYes