Feedback invited on student housing and dining designs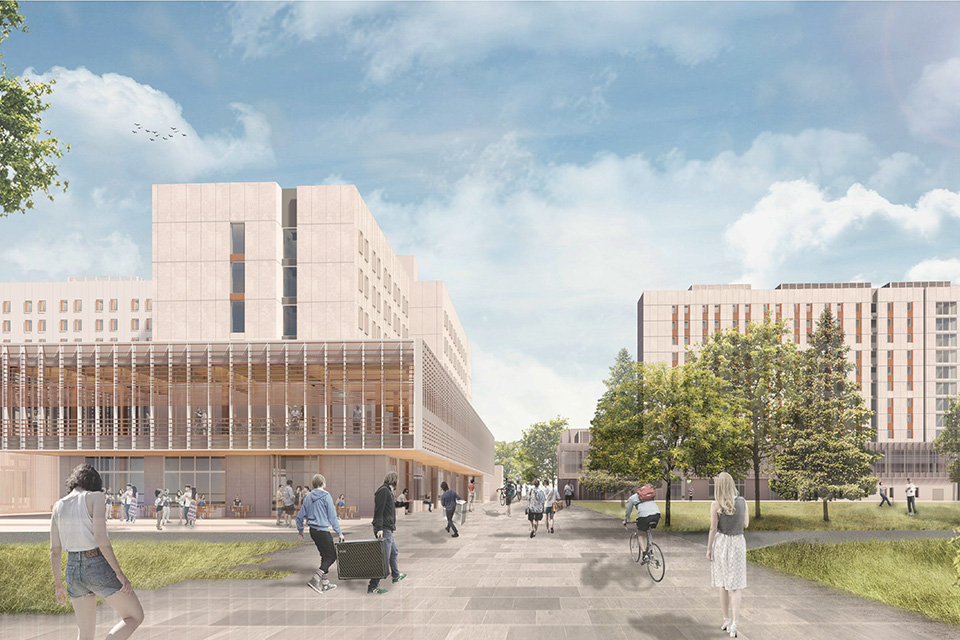 Proposed designs for UVic's newest buildings will be on display at campus and community open houses in November. Following a year of consultations, the designs for the two student housing and dining buildings will be open for comment before the project moves to the municipal approval stage with the District of Saanich.
Situated outside of Ring Road south of the Student Union Building, the buildings will be the tallest on campus, and will feature a variety of room types for more than 600 undergraduate and graduate students, a modernized dining hall, meeting rooms and classrooms. The revitalized residence area will provide welcoming outdoor spaces and be linked to campus via the pedestrian and cycling paths of the Grand Promenade.
"This is our final check-in with the community before applying for a development variance permit," says Mike Wilson, director of campus planning and sustainability. "We appreciate all of the engaged input we've had from students, faculty and staff, which is reflected in the updated building and landscape designs."
Although major construction is not targeted to begin until 2020, the project team is exploring the possibility of tackling early site preparation work in 2019, allowing for an expedited schedule once the project is underway.
The student housing and dining project is the first significant capital project since the renewal of UVic's Campus Plan in 2016. Living on campus assists students with their transition to university, provides academic and social programming and support, and nurtures a strong sense of belonging in the UVic community.
Open houses
Campus open house: Nov. 21 from 11 a.m.–2 p.m. in the McPherson Library foyer
Campus pop-up: Nov. 22 from 11 a.m.–2 p.m. at Cadboro Commons
In the media
On Nov. 15, Premier John Horgan was at UVic to announce provincial financing. Read more:
Updated: Nov. 16, 2018
Photos
In this story