Inspiring student stories illuminate path for others
Engineering, Social Sciences, Science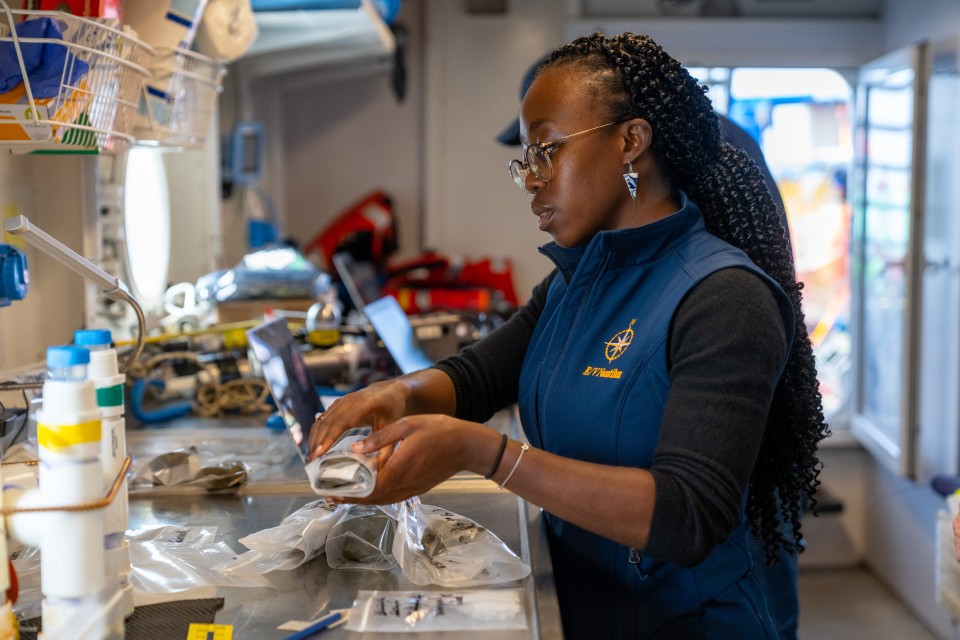 They dive boldly into science and their stories are deeply inspiring. From Moronke Harris, a doctoral candidate (pictured above) who studies communities of microbes on the vents of underwater volcanoes, and Lauren Man, a master's student (pictured below) who delves into kelp forests, to the seven other students featured here, the University of Victoria is celebrating student stories for UN International Day of Women and Girls in Science.
They—and so many others across our campus—inspire women and girls to keep making a big difference in the fields of science, technology, engineering and math.
The annual day takes place Feb. 11 and this year, the UN is focusing on how it relates to the Sustainable Development Goals (SDGs), for which UVic is widely recognized as a global leader.  Internationally, UVic is #2 for SDG 13 (Climate Action), in the top five for SDG 14 (Life Below Water) and #2 for SDG 15 (Life on Land). 
And on March 8, the student-led group UVic Women in Science (created in 2017) will hold its annual research symposium in the Student Union Building from 11:30 a.m. to 5 p.m. This year's theme is transformation and fueling positive change for women and marginalized communities in the fields of science, technology, engineering and mathematics. Free for students, faculty and staff. Find out more about the group
Researching the impact of a warmer ocean
Kelp thrives in cold coastal water; as temperatures rise, so do the risks to kelp survival. Geography master's student Lauren Man researches the impact of a warmer ocean on kelp's long-term resilience on the BC coast.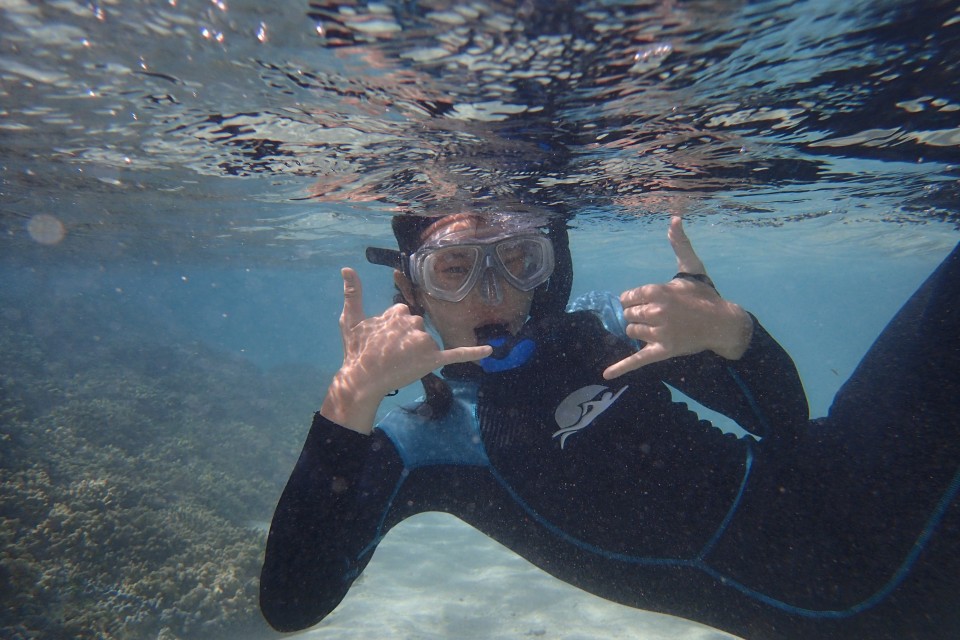 Working alongside UVic geographer Maycira Costa, Man is using satellite imagery and field data to examine the resilience and decline of kelp and to protect juvenile salmon that use kelp beds as their home. They study the presence of sea urchins, sea stars and ocean temperature as contributing factors to kelp's survival or demise.
Costa's remote sensing lab includes grad students like Man who are committed to understanding kelp decline and resilience.
"Collaboration is key to the data collection," says Man, who works with Indigenous communities to integrate her findings into their kelp monitoring programs.
For Man, Feb. 11 is an important day to acknowledge the contributions of all women, as well as non-binary people, to the expanding field of science.
Science needs to be more inclusive of gender. Non-binary people, as well as women of all ages.

—Lauren Man, master's student in UVic's Dept. of Geography and also with the UVic Spectral Lab
As an international student, Man studied in Hong Kong and the US before arriving at UVic. They developed a passion for the ocean and marine conservation from growing up on the Hong Kong coast and during a family scuba diving trip in Indonesia.
Now here on the West Coast of Canada, Man adds, "I am excited to conduct fieldwork this summer. I will collect data in the Broughton kelp forests with First Nations colleagues."
The potential for discoveries deep underwater
Over 1,000 m below the ocean's surface where seawater meets magma, underwater volcanoes erupt, producing hot springs known as hydrothermal vents. Here exists a world that survives and thrives in the absence of sunlight. UVic oceanography PhD student Moronke Harris studies microbial communities around these hydrothermal vents and their eroding mineral deposits.
The most fascinating part of my work is the rarity, the uniqueness of location and the potential for discovery. Thousands of metres under the ocean's surface, we explore areas of the Earth few have seen, and contribute to, the discovery of our "final frontier."

—Moronke ("Mo") Harris, a PhD candidate in UVic's School of Earth and Ocean Sciences and also with Ocean Networks Canada's NEPTUNE observatory
Together with her graduate supervisor Kim Juniper, she uses data from Ocean Networks Canada's (ONC) large regional underwater cabled observatory NEPTUNE (North East Pacific Time-series Undersea Networked Experiments) to study the Endeavour Hydrothermal Vents off the west coast of Vancouver Island. Juniper is Chief Scientist at ONC, an initiative of UVic, and professor with UVic's School of Earth and Ocean Sciences.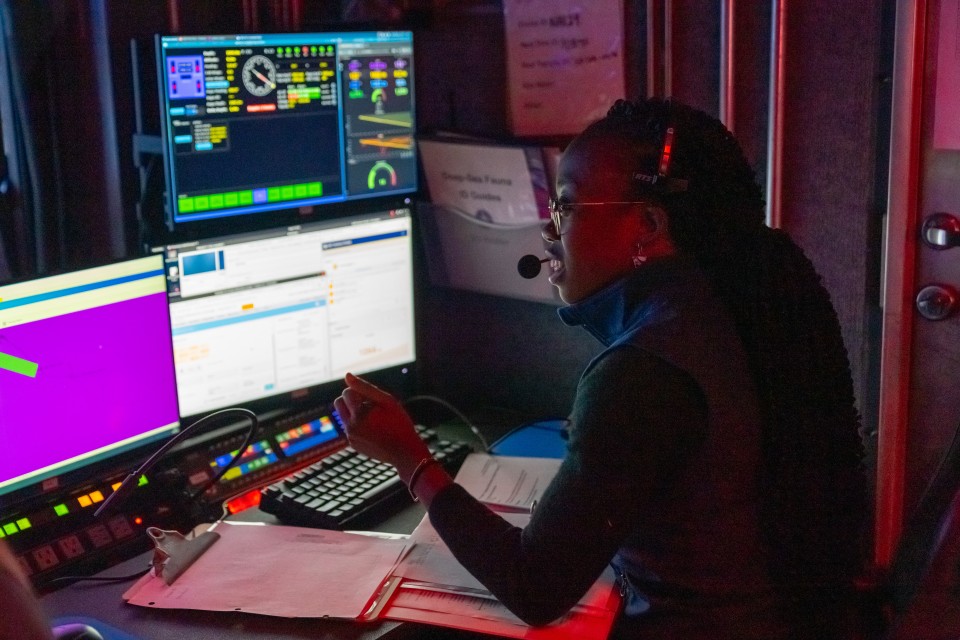 ONC operates world-leading ocean observatories that collect data on physical, chemical, biological and geological aspects of the Pacific, Arctic and Atlantic oceans. These Internet-connected observatories support research on complex Earth processes in ways not previously possible.
Harris' research will inform discussions about the impacts of deep-sea mining at hydrothermal sites in light of interest in the resource potential of microbial biopharmaceuticals.
Harris is a strong advocate for science communications and outreach, and the role both play in supporting science-based solutions for sustainable ocean conservation strategies.
"Environmental appreciation goes beyond believing that our planet is beautiful; it means finding a purposeful way to make a difference," she says. "I hope to make a tangible difference through my outreach work."
Harris is a speaker with UVic Speakers Bureau and online community Women and Color. She has taught courses with UVic's Division of Continuing Studies, presented at numerous conferences, been featured on science podcast and is also a visual artist.  Learn more about her work at moronkeharris.com.
Following the trail of humpback whales
For Rhonda Reidy, her PhD was an extension of her lifelong relationship with the ocean.
"My life has been everything about the ocean—kayaking, sailing, swimming, volunteering for organizations, whale-watching crew, then guiding," Reidy says.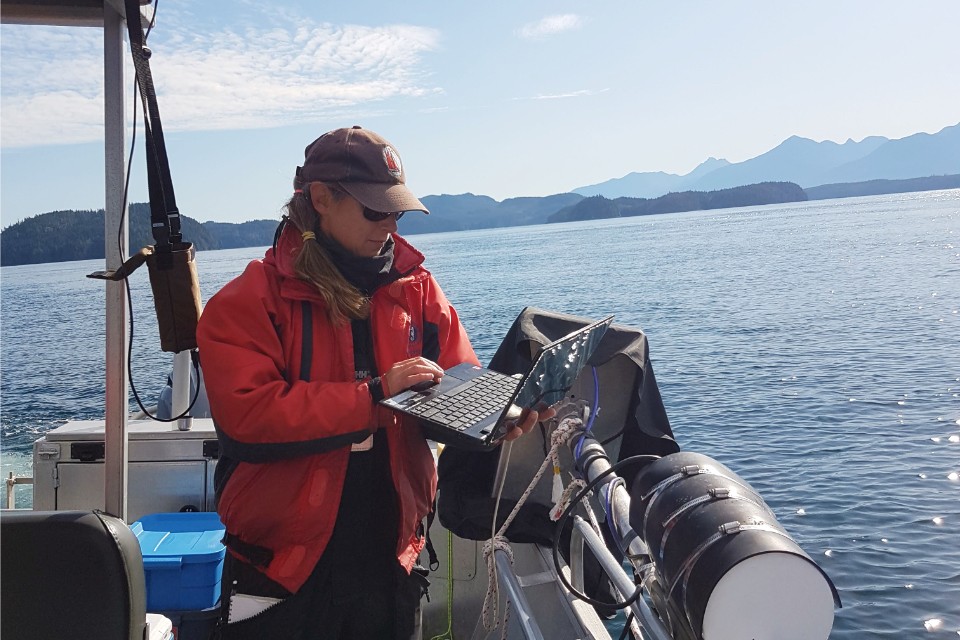 But Reidy's research wasn't a straight path. She had to pivot.
I wanted to statistically model the impact of humpback whale predation on local prey populations. But no one knew what species they were eating underwater. My whole PhD became developing methods to begin to estimate what the whales are eating!

It's been a challenging, gratifying journey.

—Rhonda Reidy, PhD candidate in UVic's Dept. of Biology and with the Juanes Lab at UVic
"I hope people understand from my writing that studying large whales is not easy," Reidy adds. "Observing them at the surface is easy, but to research them, you must remain persistent!"
Reidy approached UVic fisheries ecologist Francis Juanes (biology) and UVic Faculty of Science associate dean of research and ecological statistician Laura Cowen (mathematics and statistics) to co-supervise her research. Reidy even arranged some of her own funding.
"If I could live my life over," Reidy says, "I wouldn't change my experiences on the water. My relationship with the ocean gave me the persistence and strength to push forward in my research. I would change my undergrad to have a more solid core-science grounding: math, statistics, physics, chemistry, computer programming along with biology is needed to study whales.February 11 is a public recognition that reminds us: everyone should have an equal opportunity to participate in science. Stop the nonsense and let go of gender stereotypes!"
And the SDGs give Reidy hope for the future.
"In the past, fisheries management allowed a mess, then tried to manage it. The SDGs indicate that we are moving forward by prioritizing our understanding of the ocean's inner workings. Knowing what a large predator eats is fundamental to protecting it!"
Investigating the building blocks of our universe
Sahar Gholipourverki is peering into the fundamental building blocks of matter, working on her particle physics master's project with supervisors Bob Kowalewski and Michael Roney.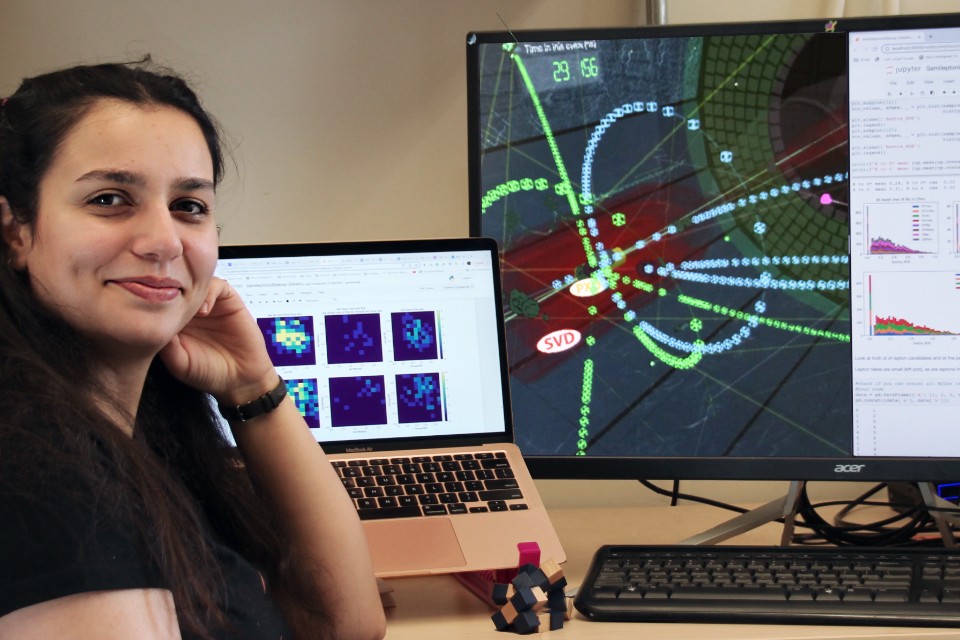 The super-KEKB accelerator in Japan smashes electrons into positrons inside the Belle-II detector. It's like figuring out how clocks work by smashing pocket-watches together and observing skittering gears and springs.
"When they collide, it creates a particle that decays into a pair of B-mesons: daughters—then those decay," Gholipourverki enthuses. "These decays continue until we have particles we can detect. Looking at those great-grand-daughter's paths, we work backwards to learn about the nature of B-mesons."
Coming from Iran, Feb. 11 holds significance.
Growing up, people told me: "Women can't do physics – that's only for boys. You'll just be a teacher." This day reminds us: we can have equality between women and men in science. We're girls, we can be equals. We can be physicists!

I love teaching, but your future can be so much more. Science can be complicated and hard, but we can help people live better by understanding the world around them!

—Sahar Gholipourverki, master's student in UVic's Dept. of Physics and Astronomy and with the Victoria Subatomic Physics and Accelerator Research Centre (VISPA) based at UVic
UVic has one of Canada's most prominent particle physics groups, VISPA. But that's not the only reason Gholipourverki chose to come here.
"UVic is smaller, but the international community here is large—faculty, students and staff are friendly," Gholipourverki says. "It feels like my hometown—I've never felt lonely here. Plus, it's warm!"
Gholipourverki is excited to continue in particle physics.
"I'm so glad I made it here, working with these guys! One of my dreams is to work on my PhD, visiting the Belle-II detector in Japan."
Using technology to initiate positive change
Gabrielle Aparecide Pires Alves is a UVic master's student in computer science from Brazil with extensive experience in user experience and user interface. At the age of 18, she began reaching out to other youth on her blog, writing book recommendations and news on books and literature.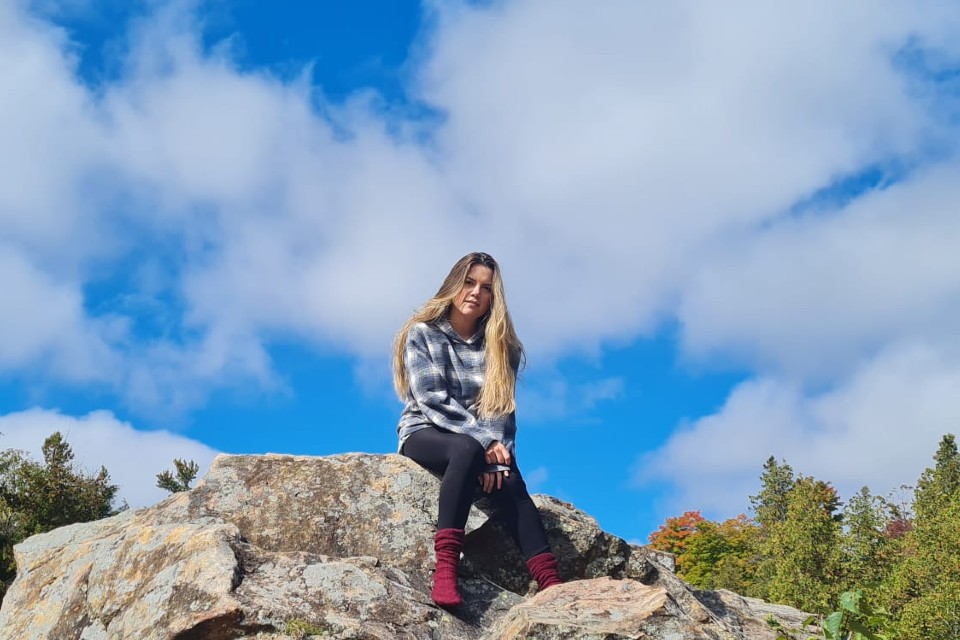 Today, she has more than one million followers on her blog (www.facebook.com/bloglivrosecitacoes) plus 156,000 followers on Instagram (@livrosecitacoes).
With an avid passion for science communications, books and education, Alves believes that youth can create positive change in a fun and engaging environment.
She says, "I'm from Brazil. No one went to school in my family. My father didn't even go to eighth grade. Education is so important. And it's time to use computer science to solve problems."
And she's committed to creating opportunities for such change in the community through research and innovative engineering projects.
For instance, Alves has recently played a lead role in the design and development of a new app rolling out across local high schools in a preliminary test phase. It will "gamify" climate action, encouraging teens to take steps such as tracking their carbon footprints.
People are hoping to go to other planets. But what about our planet now? We need to teach computer science to girls; they really want to be part of all this. Teenagers are the ones who are creating the change.

—Gabrielle Alves, master's student in UVic's Department of Computer Science
Pictured above in Quebec in September 2021, Alves was in the province to receive a scholarship award from the Emerging Leaders in the Americas Program, just another example of how she's helping to lead the way in the field of STEM.
Pooling talent for bold solutions
Connie He, Zhaoqing Ji, Lydia Mekonnen Lulie and Panika Saxena are exceptional undergrad engineering students who share a passion for sustainability and innovation. Together, they pooled their talents on an exciting collaborative initiative, along with fellow undergrad Han Tran, that allows for real-time, remote and autonomous monitoring of environmental conditions at aquaculture farms.
Autonomous Monitoring of Aquaculture Farms won the approval in December 2022 of expert judges at UVic's PitchIt competition.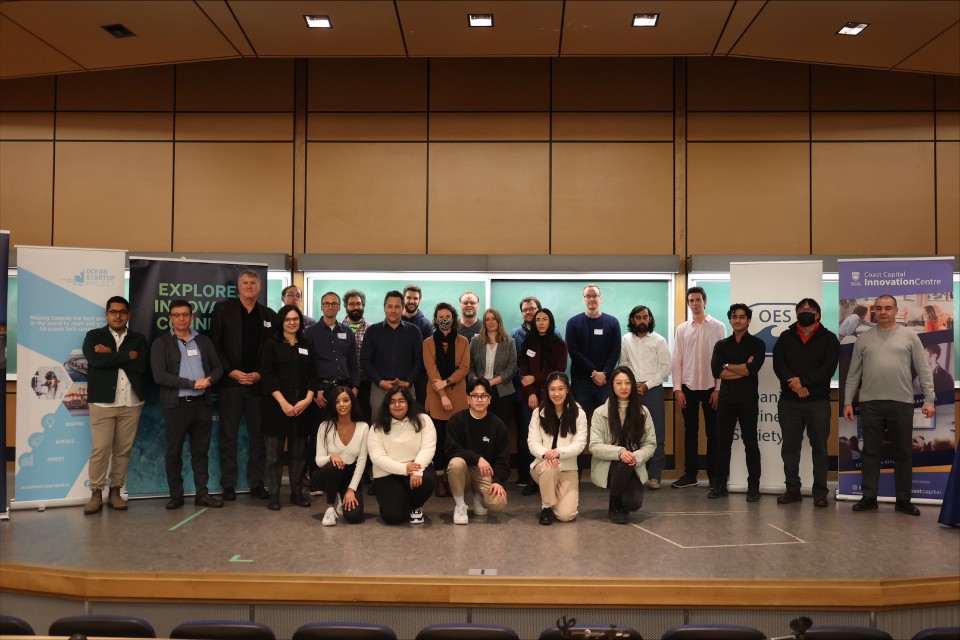 This exciting, fast-paced pitch contest occurs each year as a partnership of the Department of Electrical and Computer Engineering and UVic's Coast Capital Innovation Centre with three local organizations—the IEEE Oceanic Engineering Society, COAST (Centre for Ocean Applied Sustainable Technologies) and the Ocean Startup Project.
The most exciting part about our project is the possibility of making aquaculture farms more cost-efficient by increasing the yield and the impact that it will have on today's world, like making a great source of protein available to people in landlocked poverty-stricken areas at an affordable cost.

—Panika Saxena, an undergrad in UVic's Department of Electrical and Computer Engineering and one of five members of a winning team for 2022 PitchIt at UVic
Inspecting and analyzing data from sensors is time-consuming and laborious. This project uses an Internet of Things (IoT) approach to continuously collect data from existing remote sensors, with a visually appealing and user-friendly web interface that applies AI to analyze data and make recommendations to optimize aquafarming conditions. It means microbiologists don't need to manually collect data from individual sensors; it allows them to do their work remotely and more productively, while focusing on improving sustainability and harvest yield.
"The scope is limitless, and I hope to further work on our project and take it to great heights," Saxena says.
The initiative was cited as a bold solution to urgent, climate-based problems by the PitchIt judges, and on this important day exemplifies the type of industry-leading innovations created by women engineers right here at UVic.
"The international day for women and girls in science celebrates the success of every girl who was able to follow their passion and is thriving in their own ways in science," Saxena adds. "This day promotes equal participation and opportunities for women and girls in the professional world of science and technology."
Find out more
UN International Day of Women and Girls in Science
UVic recognized as global leader for SDGs 
Photos
In this story
Keywords: Change and Transformation, diversity, international, administrative, student life, students, gender, climate, Ocean Networks Canada, Women in Science, NEPTUNE, earth and ocean sciences, geography, biology, physics and astronomy, computer science, electrical and computer engineering, SDG14, SDG13, life below water, climate action
People: Connie He, Gabrielle Alves, Lauren Man, Lydia Mekonnen Lulie, Moronke Harris, Panika Saxena, Rhonda Reidy, Sahar Gholipourverki, Zhaoqing Ji