Co-op Students of the Year
Engineering, Law, Co-op, Peter B. Gustavson School of Business
- Katy DeCoste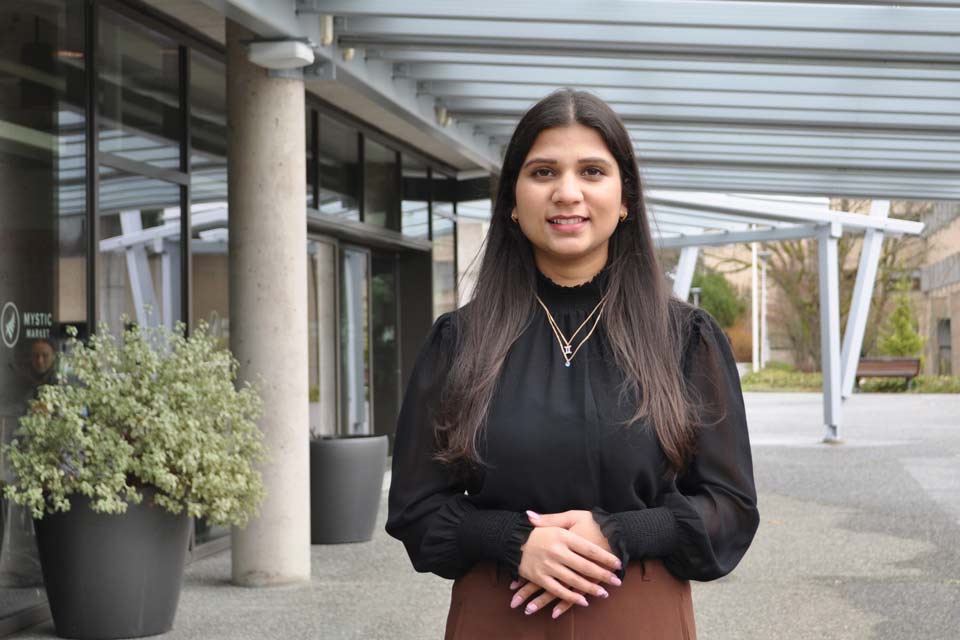 Co-op students recognized for their contributions
From organizing lunch-and-learns about environmental issues at the office to participating in community craft nights and youth dinners and stepping up to contribute to workplace clubs, UVic co-op students are going above and beyond to build community and make an impact in the workplace. Students have been making an impact in workplaces since the co-op program launched in 1976 and have completed more than 100,000 placements around the world.
Each year, three co-op students are recognized for their outstanding contribution to their employer organizations. Congratulations to this year's award recipients.
Lauryn Orme
Commerce
Lauryn Orme brings her passion for continuous learning to everything she does, and her co-op placement at Workday Inc. was no exception. By providing strategic guidance for internal initiatives, Lauryn tackled challenges like supply chain impacts and changing client needs. Her ability to leverage her communications skills, reflectiveness and strategic thinking to adapt to a changing climate led to her being named the 2022 Co-op Student of the Year—Business Co-op.
From creating newsletters to showcase a team's successes and key metrics in highly technical work, to advising VP-level executives on how to frame communications, she was able to bring people together during challenging times.
Whether she was hosting a month-long Movember campaign or organizing a lunch-and-learn about the environmental impacts of fast fashion, Lauryn left an impact on Workday beyond her official duties. She also brought the skills she learned at work back to the Gustavson community, volunteering at events like the Distinguished Entrepreneur of the Year Award gala and hosting financial literacy sessions for students.
"I was thrilled to give back to the community while working," says Lauryn. "I've had so many opportunities to grow and learn, and I'm thankful to be able to do that for others."
Camas Ussery
Law
During her three years in UVic's law program, Camas Ussery spent countless hours studying the Canadian common law system. So, when she began a co-op work term with the South Island Indigenous Authority (SIIA), she committed to learning about Coast Salish/Nuu-chah-nulth law and culture through community engagement at craft nights, youth dinners and a 'Gathering of Aunties.'
I've witnessed the human impact of the law with SIIA. It can seem very abstract in law school. I'm motivated to understand why legal decisions are made and who they impact."

—Law student Camas Ussery
This approach made an impact with her employer, leading to Lauryn being recognized as the 2022 Co-op Student of the Year—Optional and Professional Programs.
Camas's main work term project with SIIA was to develop Indigenous child and family well-being legislation, which involved conducting cross-jurisdictional research on successful legislative development in other Nations. By listening to colleagues and community members about the harms caused by colonial law, as well as stories that contain Coast Salish and Nuu-chah-nulth law, Camas learned the importance of relationship-building in community consultation and taking a holistic approach in legislative development. She also used that knowledge to develop a community consultation guide that will support ongoing work.
Although her work term has ended, Camas will continue to collaborate with the Indigenous Legal Relations group as part of her articling rotation with the BC Ministry of the Attorney General. She also continues to foster her relationship with the team at SIIA. On her last day with the South Island Indigenous Authority, Camas was honoured through a blanket ceremony as a thank you for her contributions during her work term.
"It's important for others to know where you came from and why you're there," Camas says, reflecting on the relationships she built. "Sharing a meal, doing an activity together, getting away from the desk and into the outdoors or another meaningful place makes a huge difference."
Muskan Hans
Computer Science
When international student Muskan Hans began her studies in Canada in 2016, she struggled with physical and mental health issues while far from her home in India. While Muskan had doubts about whether she would succeed in co-op, her first work term with BC Pension Corporation built her confidence and communication skills as she brought her adaptability and technical expertise to the team.
Initially hired in quality assurance, Muskan's diligence and eagerness to learn led to her taking on more responsibility across a number of job roles, from quality assurance to business analyst—by the end of her work term, she even provided coverage for her manager during his vacation. Her employer recognized Muskan's growth and efforts and she has been named the 2022 Co-op Student of the Year—Engineering and Computer Science Programs.
Beyond regular work duties, Muskan took the opportunity to grow her communication and leadership skills by joining the Trestle Toastmasters club at work, taking on meeting roles and being elected as secretary on the club executive.
"I've learned that how you see yourself can really affect your success," Muskan says. "When you say 'yes' to opportunities, it can change your whole perspective. When I look at myself now, I can see my own success and look forward to my future."
Photos
In this story
Keywords: co-op, employment, business, law, computer science, student life
People: Lauryn Orme, Camas Usera, Muskan Hans
Publication: The Ring