Celebrating Pride with UVic Pride, the Gender Empowerment Centre & Chair in Transgender Studies
- Erin King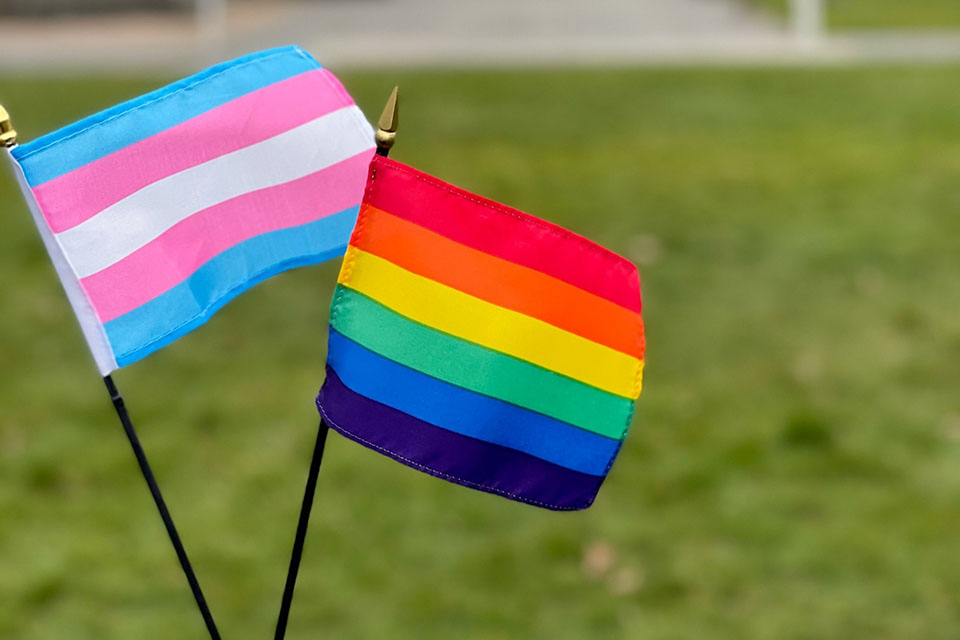 June is Pride month in Canada – a time to celebrate the diversity of LGTBQ2SIA+ communities and to acknowledge their historical and ongoing fight for justice and inclusion. Here in Victoria, the Victoria Pride Society runs a series of events throughout the month, culminating in a parade and festival that draws upwards of 40,000 spectators and participants in a typical year. This year, as Victoria Pride returns to in-person events after two years of virtual programming, some organizations at UVic are joining the celebration.
UVic Pride and the Gender Empowerment Centre (GEM), together with the Native Student Union, Students of Colour Collective and the Society for Students with a Disability, will march in the Victoria Pride parade on June 26. In addition, the Chair in Transgender Studies will lead a Trans+ contingent marching in the parade and will have a table at the festival featuring original historical materials from the Transgender Archives.
"It's important that we go to Victoria Pride since we're active organizations for the 2SLBTQ community and should be represented at the community's largest event," says Peter Underwood, UVic Pride Coordinator. "I also want to give students space to be in the parade to be proud, to celebrate, to protest, or [to be] any way they want to be."
According to GEM Coordinator Cristina Venturin, participating in the parade is an opportunity to show enthusiastic support for Victoria Pride and re-introduce GEM to the community as an organization that actively centres and supports gender and sexual diversity. "GEM has gone through so many changes, moving from the Women's Centre to the Third Space and then in 2019 to the Gender Empowerment Centre," says Venturin. "Under our new name, we have expanded who we service to include non-binary, trans, gender non-conforming and gender diverse individuals, across the gender continuum."
"I welcome Pride as an opportunity for Victorians to come together to celebrate Trans+ people and all the people who make up our vibrant 2SLGBTQIA+ communities," adds Aaron Devor, Chair in Transgender Studies.
Efforts to build an inclusive, anti-oppressive and intersectional community here at UVic and beyond are important, particularly as issues of homophobia and transphobia are on the rise. "After the last few years, and the extreme effects on our connectivity that the pandemic has had, it is more important than ever to create spaces where people can express themselves, be themselves and be uplifted by the people around them," says Venturin.
Underwood adds, "Transphobic violence is still rampant, even in the UVic community and any barrier for part of our community impacts us all. Within the 2SLGBTQ community there is a lot of important education happening around racism, sexism, ableism, fatphobia, and other educational effort to better inclusivity and that's essential to building a healthy community."
Get involved
UVic Pride and GEM invite LGTBQ2SIA+ students, staff and faculty to join them in the parade. Trans+ people and allies are also invited to march with the Chair in Transgender Studies or visit their table at the Pride Festival in MacDonald Park.
Plus, all UVic community members are encouraged to support UVic Pride, GEM and the Chair in Transgender Studies by cheering them on as spectators along the parade route.
GEM and UVic Pride are working hard to create new ways to connect this summer and beyond, including screenings of Rupaul's Drag Race Allstars 7 at Felicita's every Friday night, and an upcoming inclusive recreation program offering movement, wellness and active living events starting this July. And, of course, stay tuned for student-led Pride events in March too. Follow @uvicgem and @uvicpride on Instagram for details on how to get involved.
The Chair in Transgender Studies has in-person and virtual events year round. Sign up for their newsletter or follow them at @TransChair on Instagram to find out more.
And if nothing else, in the words of Venturin, "this pride season support queer art, queer establishments, and most important, queer people. <3"
Happy Pride!
Photos
In this story
Keywords: student life, administrative, diversity, community