Iconic symbol marks momentous occasion
Peter B. Gustavson School of Business
- Richard Dal Monte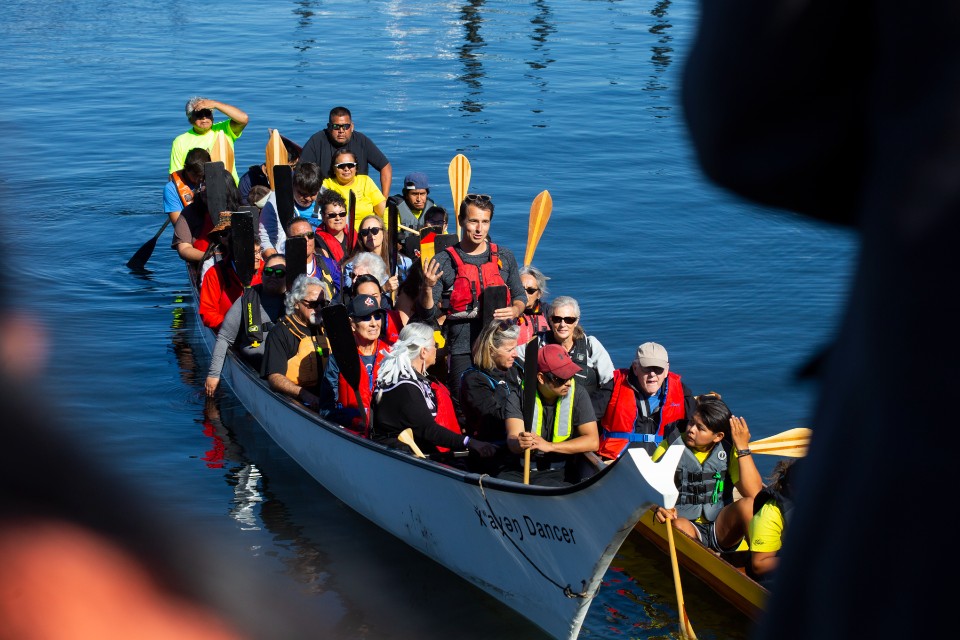 Some visitors to this year's Victoria Forum comprised a canoe family and they were welcomed in ceremony to the traditional territory of the lək̓ʷəŋən people. Moving through the waves required each of them to paddle in the same direction.
These included members of the Commonwealth Games Federation's working group on the Commonwealth lək̓ʷəŋən Sport Declaration on Truth, Reconciliation and Partnership with Indigenous Peoples. They paddled for a short distance across Victoria's Inner Harbour.
One specially designed paddle is at the heart of all. Hand-carved paddles will be gifted to each country and institution ratifying the lək̓ʷəŋən declaration. By accepting the gift, the signatories commit to the principles and actions of the declaration, which compels organizations to challenge the lack of Indigenous Peoples' participation at all levels of sport and dedicate resources in accordance with Indigenous needs and interests to increase the representation and visibility of elite Indigenous athletes and their culture.
"We selected the paddle because the work of reconciliation is a journey and, symbolically, when we paddle, we do better when we paddle together. It fits the metaphor of reconciliation being a journey."

- Carey Newman, Impact Chair in Indigenous Art Practices at the University of Victoria
Newman, who is Kwakwak'awakw from northern Vancouver Island and Coast Salish from Cheam of the upper Fraser Valley, and whose traditional name is Hayalthkin'geme, is leading a team of carvers who are fashioning  paddles from a salvaged yellow cedar log.
It will then be painted with a design, titled "Conquest (Wolf Design)," by artist Darlene Gait of Esquimalt (Xwsepsum) Nation. Colours include red, green and black and the image, which "represents unity, family and protection, was created from a place of great pride for our Indigenous athletes, across Canada and beyond," Gait says in her artist's statement. "Both colours and animal are representative of Esquimalt and our 'Brother Nation,' Songhees."
Read the Honouring power of sport in Indigenous reconciliation news release.
Paddle forward together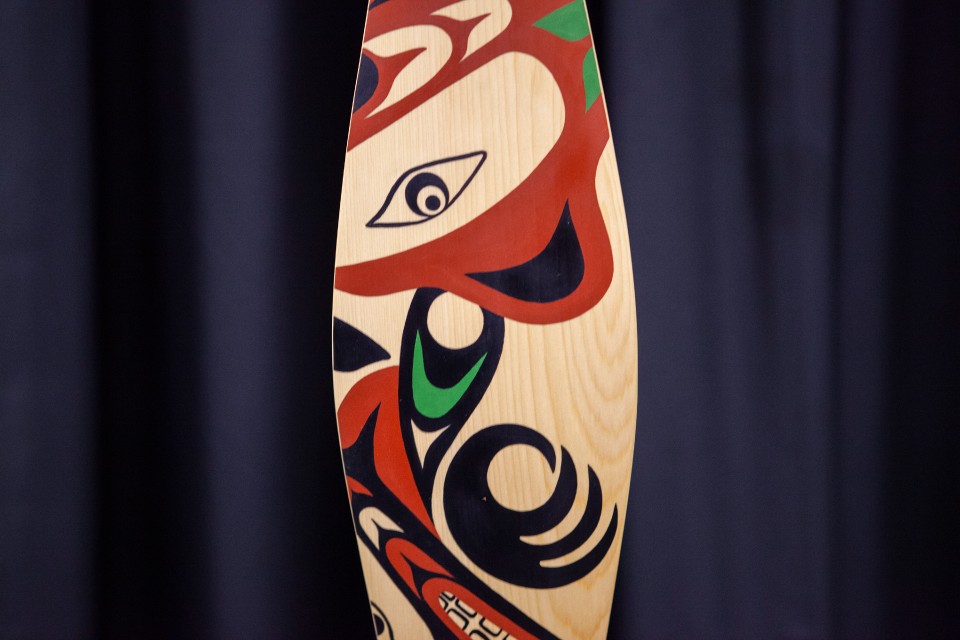 Countries are going to be looking for ways to implement the sport declaration, says Lalita Kines, interim executive director, Office of Indigenous Academic and Community Engagement, at UVic. "We're all working together and we need to paddle together," she says.
A member of K'ómoks First Nation, Kines says the canoe and paddle are powerful symbols—the canoe a symbol of togetherness on water and relationship between all people and Mother Earth, and the paddle of the commitment to the declaration.
The commitment to truth and reconciliation is embedded in the striking, colourful paddles, she says. With guidance from Robina Thomas, UVic professor and vice-president, Indigenous, an adjudication committee sought input from the local First Nations communities and artists before deciding how to commission the paddle artwork. It did so through a competition open to Indigenous artists from lək̓ʷəŋən, W̱SÁNEĆ and other coastal First Nations The lək̓ʷəŋən Artist Collective was given the first opportunity, and six artists submitted their artwork.
"Getting that consultation and actually following that consultation is really meaningful to me. Even calling it the lək̓ʷəŋən declaration is really big. I think it has some big potential to be a learning tool towards ways to implement truth and reconciliation and inclusion of Indigenous People and communities and athletes. It's not just the declaration for the Commonwealth Games. it's the first Indigenous declaration for sports."

- Lalita Kines
Embody the commitment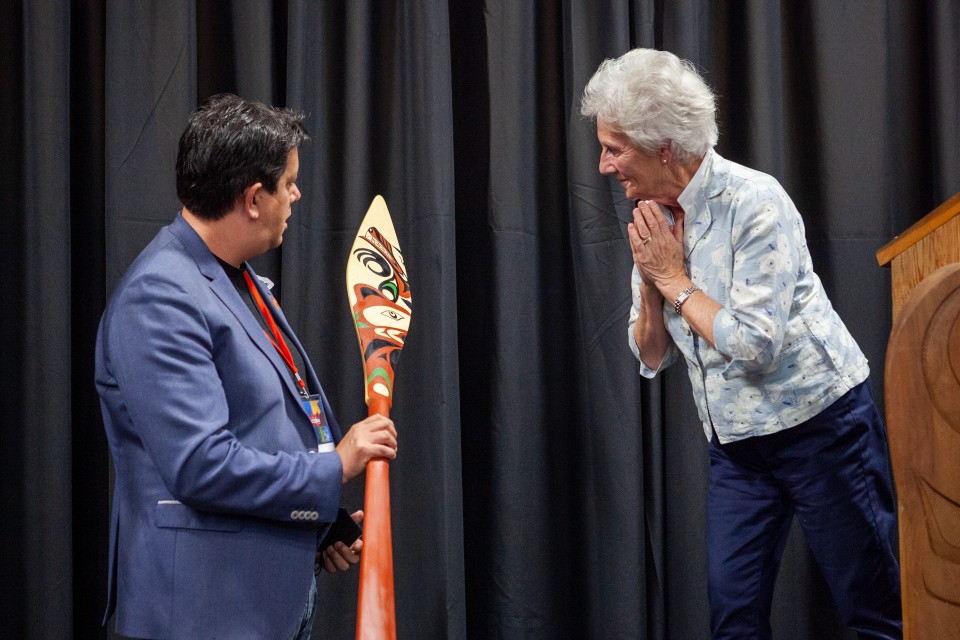 Newman says the paddles and their presentation to delegates represent more than just sport and art. In Kwakwak'awakw culture, he says, history isn't written down so much as it's preserved in oral form, and in the telling, "we keep it more alive because it's relationship based."
As well, in his people's history, "Art isn't seen only as an aesthetic. It's integrated into the practical parts of our lives, and that includes governance, law, agreements, commitments. So, accepting a paddle is similar, in Western terms, to signing a contract. The paddle is the embodiment of the commitment."
Indeed, Adel Guitouni, associate co-chair of the Victoria Forum, says, "accepting the gift of the paddle is, at the same time, accepting the responsibility for implementing the declaration, and that is a powerful symbol."
An associate professor with UVic's Gustavson School of Business, Guitouni hatched the paddle idea with Indigenous colleagues "to create a lasting symbol that would represent the declaration."
That declaration is an opportunity for one of the foremost symbols of colonization, the Commonwealth, to be an agent for change, he says, adding that it's also an opportunity for Indigenous Peoples in Canada to create a role model and empower their counterparts around the world.
In discussions at the recent Commonwealth Games in Birmingham, UK, Guitouni recalls leaders of the Commonwealth Games Federation are truly and fully committed to trying to right the wrongs of the past.
With the world watching, the paddle as an international symbol of truth and reconciliation is powerful. "The paddle is the symbol of our mutual commitment," says Guitouni.
That commitment includes a promise to pull in the same direction and to move forward, together.
--30--
Photos
In this story
Keywords: community, Indigenous, international, sustainability, administrative, faculty and staff, SDG16, SDG17, SDGS, reconciliation, athletics, sports, government, sustainable impact
People: Carey Newman, Darlene Gait, Lalita Kines, Robina Thomas