Reawakening cultural tattooing of the Northwest
- Tara Sharpe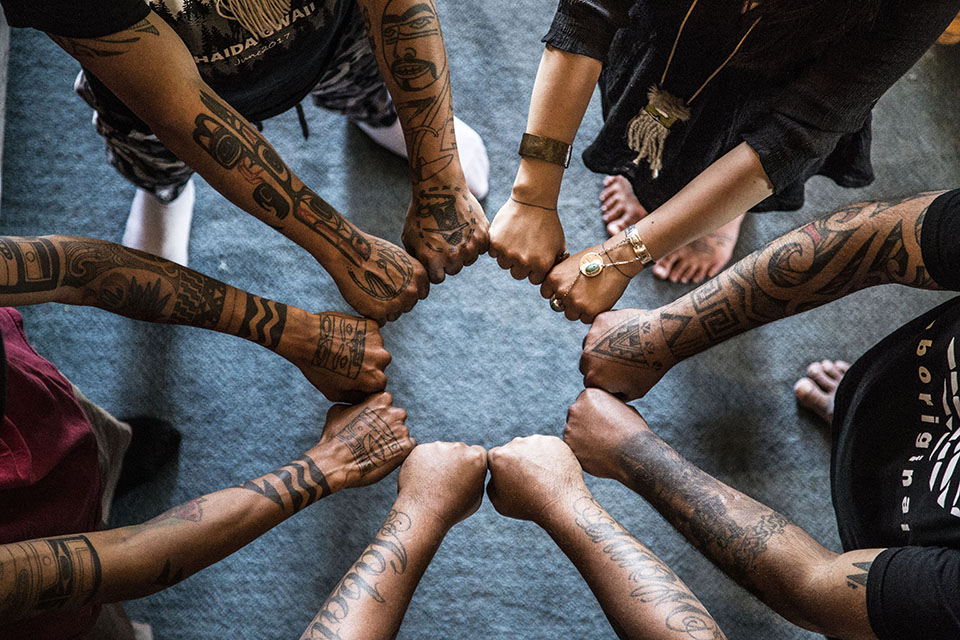 Ink marks paths through skin like rivers across the land. The indelible history of Indigenous tattooing, like the landscapes and waterways of traditional territories, can never be erased. Its significance reaches back through ancient time and ancestral connections, but its practice was banned in Canada in 1885 at the same time as the potlatch.
A growing resurgence in Indigenous tattooing in BC is reclaiming and reviving traditional techniques, as well as traditional rights to be tattooed. Starting today through till April 9, visitors can find out more at UVic's public art gallery at 630 Yates Street in the core of downtown Victoria.
Body Language: Reawakening Cultural Tattooing of the Northwest opens today at Legacy Art Gallery Downtown. This visiting exhibition, which is on loan from the mainland, explores designs on skin—including piercings and adornment—and their relationship to traditional clothing, rock art, jewelry, basketry and weaving to provide healing, protection and a sense of cultural knowledge and belonging.
Caroline Riedel, curator of collections at Legacy Art Galleries, began the work months ago to bring Body Language to UVic's free downtown public gallery.
Also represented is UVic alumna Asia Youngman (BA '13, psychology and sociology), whose film was brought to Legacy Downtown by Wastasecoot as part of this season's programming. Youngman's documentary short, This Ink Runs Deep, further explores the revival of cultural tattooing.
The exhibition officially opens tomorrow evening with a panel discussion. (Update: Approximately 90 people tuned in to the artists' talk on Jan. 13, with opening remarks now below.)
From the perspectives of five artists
Curated by Dion Kaszas (Nlaka'pamux) alongside co-curator Beth Carter, Body Language was first organized in 2018 by the Bill Reid Gallery of Northwest Coast Art, which is situated in the heart of downtown Vancouver on the unceded traditional territories of the xʷməθkʷəy̓əm (Musqueam), Sḵwx̱wú7mesh (Squamish), and səlilwətaɬ (Tsleil-Waututh) First Nations.
This exhibition takes an intimate look at historic and contemporary cultural tattooing from the perspectives of five contemporary Indigenous artists: Kaszas, Corey Bulpitt (Haida), Dean Hunt (Heiltsuk), Nahaan (Tlingit) and Nakkita Trimble (Nisga'a).
Body Language opened at Legacy Downtown on Jan. 13 with Kaszas, Nahaan and Trimble.
"I'm super excited this exhibition is continuing to live and become what it is at each place," Kaszas shared as part of his opening remarks to the artists' presentation.
"I would also state that this exhibition has been acknowledged and awarded for its outstanding achievement. And I'm always put forward as the curator of this exhibition. But the reality is that each of the artists were a part of the curatorial steering committee and it was important to acknowledge that, because neither Beth or I are from each of the communities that are represented, with the exception of my own."
Kaszas, who grew up in Salmon Arm outside of his people's traditional territory (Nlaka'pamux Nation), is also Hungarian and Métis, a teacher and scholar, and one of the founding members of the Earthline Tattoo Collective.
The question of what is important to you as an artist—what is important to include or exclude from your community and your culture? I would say the success of this exhibition is due to the knowledge of each of the artists who are part of this exhibition.

—Cultural tattoo artist and Body Language curator Dion Kaszas (Nlaka'pamux)
During the Jan. 13 talk, all three artists touched upon how the tattooing practices of skin stitching and hand poking have connected them to their respective cultures and personal identities.
This exhibition is important for Legacy programming because it provides space for the artists to talk about the revival of these ancient cultural tattooing practices and how these practices can provide healing to Indigenous People, especially to Indigenous youth through their reclamation. This exhibition has travelled to Haida Gwaii, Port Alberni, St. Albert and now to us in Victoria. We are grateful to Dion and Beth for curating such a beautiful exhibition and sending it out on the road for others to learn from.

—Lorilee Wastasecoot, Ininew (Cree) of Peguis First Nation, a UVic alumna and UVic curator of Indigenous art and engagement  
More about Wastasecoot's role at Legacy
UVic alumna: "I fell in love with filmmaking"
Currently based on the mainland, Youngman is an award-winning Cree-Métis director and screenwriter who was born and raised on Coast Salish territory.
This Ink Runs Deep features six Indigenous tattoo artists, including Kaszas and Trimble. Originally commissioned by CBC Arts and shot in January 2019, it opened at the Toronto International Film Festival (TIFF) in the fall of 2019.
"I think what connects all these artists is their love for their communities, their families and ultimately who they are as Indigenous People," says Youngman. "Tattoos are a beautiful way of symbolizing that and celebrate the growing pride that is happening across Canada as we reclaim these practices that were once taken away from us. So I'm really excited to have this film screen alongside the Body Language exhibit just so people can not only witness different tattoo methods but also hear about each of the artist's journey into discovering, practicing and sharing these art forms."
Youngman's films have been screened at a variety of festivals including TIFF, St. Louis International Film Festival, and the imagineNATIVE Film and Media Arts Festival.
After graduating from UVic nine years ago, Youngman secured a job with the BC government within an Indigenous health program aimed at wellness and upstream suicide prevention for youth. For more than three years, she worked on the program's online platform, which fortuitously involved video content.
"I took an interest in filming and editing, and went off with a camcorder and made some videos, and that's how I fell in love with filmmaking."
She taught herself the editing software. And that was it for her. She says she's never looked back—except to reflect how she got here from there.
"It's kind of a random path to filmmaking but it kind of makes sense," says Youngman. "I focused on psychology and sociology in my undergrad. The subject matter was really fascinating to me and I think I gained a really good understanding of people in terms of our complexities and why we do the things we do."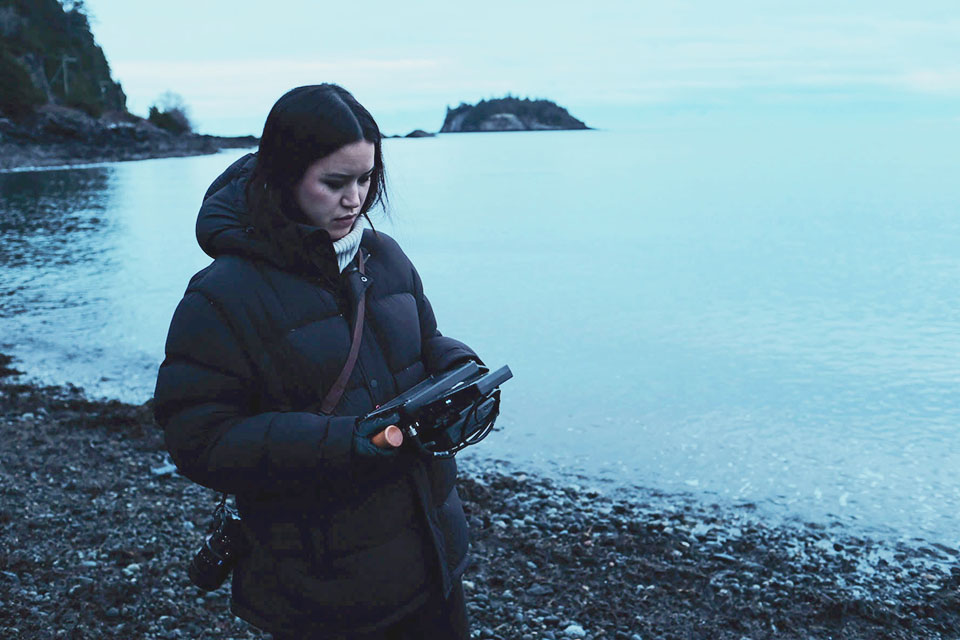 "And even in the feature film I'm currently directing, there is a bit of overlap because we're exploring topics like mob mentality. So, in a way, I feel that's connected to my undergrad. And I think that's partly why I chose to do the film, because I did gravitate towards those subject matters."
After working in public health, Youngman attended Vancouver Film School with a focus on 3D animation and visual effects, graduating in 2017. Right out of film school, she worked on Ant-man and the Wasp and Deadpool 2.
To be thrown into these huge Marvel films gave me a lot of technical skill which actually has proved to be helpful now in my directing career to be able to work with the effects department and know what's needed by artists. In a way, I feel it all came full circle in the end.

—UVic alumna Asia Youngman, an award-winning Cree-Métis director and screenwriter
This Ink Runs Deep garnered the "Best Director" and "Best Short Film" awards in 2021 at the Vancouver Short Film Festival and, just before the pandemic, Youngman took home "Best Short Documentary" at the 2019 Calgary International Film Festival.
Now a seasoned pro of numerous film and TV projects, Youngman is currently collaborating with ESPN on an upcoming feature film.
She's also partnering with Entertainment One to adapt for TV a novel by New York Times best-selling author Cynthia Leitich Smith of the Muscogee Creek Nation.
More about Youngman and her filmography: https://www.asiayoungman.com/
This Ink Runs Deep can be seen in Legacy's sidewalk gallery space along Broad Street and can also be viewed on the CBC network's YouTube channel.
Youngman's latest film, nx̌ax̌aitkʷ (na-haha-eet-ku), will be screened alongside This Ink Runs Deep at Legacy Downtown Feb. 12, where Youngman will host a Q&A session. (Please note, this event is already full to capacity.)
Addressing gaps in gender and cultural representation
Legacy staff have worked throughout the COVID-19 pandemic to continue to provide the public and campus community with safe and welcoming opportunities to engage their artistic curiosity and learn more about Canadian, Indigenous and international art.
This year, Legacy has many plans that see us working on major projects with three UVic faculties: Education, Social Sciences and Fine Arts.

—Mary Jo Hughes, director of Legacy Art Galleries
And in the seasons ahead, Legacy will keep moving forward in addressing gaps in gender and cultural representation in its collection and program plans.
Mary Jo Hughes, Legacy's director since 2012, who leaves her position next month for a move to Galiano Island to paint full-time and continue to teach museum studies, adds that "we will also be working with the Japanese Canadian community looking at the generational effects of internment and with the wider arts community on a project looking at global environmental issues around old-growth logging."
Legacy has three main sites for rotating exhibitions: Legacy Downtown, Legacy Maltwood and in First Peoples House. Our university also has more art on view in public spaces than any other Canadian university. At any one time, UVic has approximately 2,000 works of art installed from more than 19,000 pieces in the overall art collection.
UVic's art gallery spaces
View the gallery's safety plan
Questions? Contact Legacy by email or 250.721.6562
Legacy Downtown | 630 Yates Street
Legacy Maltwood | On campus
First Peoples House | On campus 
Photos
In this story
Keywords: Indigenous, art, community, alumni, resurgence
People: Lorilee Wastasecoot, Asia Youngman
Publication: The Ring