Reawakening cultural tattooing of the Northwest
- Tara Sharpe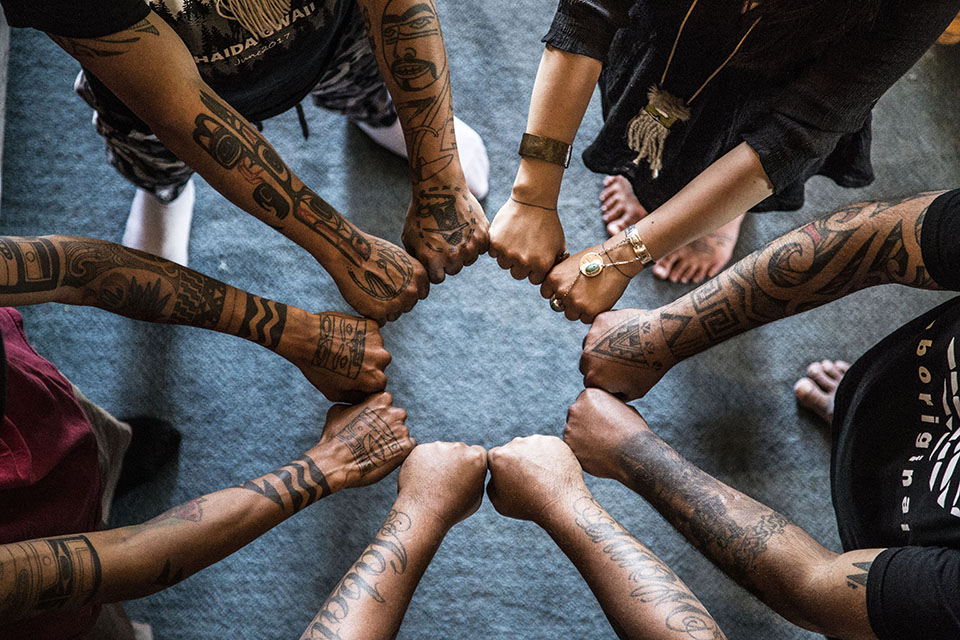 Ink marks paths through skin like rivers across the land. The indelible history of Indigenous tattooing, like the landscapes and waterways of traditional territories, can never be erased. Its significance reaches back through ancient time and ancestral connections, but its practice was banned in Canada in 1885 at the same time as the potlatch.
Today, a growing resurgence in Indigenous tattooing in BC is reclaiming and reviving traditional techniques, as well as traditional rights to be tattooed. Starting today through till April 9, visitors can find out more at UVic's public art gallery at 630 Yates Street in the core of downtown Victoria.
Body Language: Reawakening Cultural Tattooing of the Northwest opens today at Legacy Art Gallery Downtown. This visiting exhibition explores designs on skin—including piercings and adornment—and their relationship to traditional clothing, rock art, jewelry, basketry and weaving to provide healing, protection and a sense of cultural knowledge and belonging.
Caroline Riedel, curator of collections at Legacy Art Galleries, began the work months ago to bring Body Language to UVic's free downtown public gallery.
Also represented at Legacy Downtown as part of this programming is a new film by UVic alumna Asia Youngman, brought to the gallery by UVic's Curator of Indigenous Art and Engagement for Legacy Art Galleries, Lorilee Wastasecoot, Ininew (Cree) of Peguis First Nation, who is also a UVic alumna (BA '17).
The exhibition officially opens tomorrow evening with a panel discussion.
From the perspectives of five artists
Curated by Dion Kaszas (Nlaka'pamux), Body Language was first organized by the Bill Reid Gallery of Northwest Coast Art, which is situated in the heart of downtown Vancouver on the unceded traditional territories of the xʷməθkʷəy̓əm (Musqueam), Sḵwx̱wú7mesh (Squamish), and səlilwətaɬ (Tsleil-Waututh) First Nations.
Today, tattoos tell personal stories, create identity and a feeling of belonging. They can be intended to decorate, heal and protect, and are so much more than a trend.

—From the original exhibition's event listing (Bill Reid Gallery)
This exhibition takes an intimate look at historic and contemporary cultural tattooing from the perspectives of five contemporary Indigenous artists: Kaszas, Corey Bulpitt (Haida), Dean Hunt (Heiltsuk), Nahaan (Tlingit) and Nakkita Trimble (Nisga'a).
This exhibition is significant for Legacy programming because it provides a voice for Indigenous cultural tattoo practitioners and space to talk about how they have contributed to the resurgence and revitalization of this ancient practice and how it provides healing to Indigenous communities, especially for the youth.

—Lorilee Wastasecoot, Ininew (Cree) of Peguis First Nation, a UVic alumna and UVic curator of Indigenous art and engagement  
More about Wastasecoot's role at Legacy
A film by UVic alumna Asia Youngman
Youngman, a Cree-Métis director and screenwriter who was born and raised on Coast Salish territory, graduated from UVic in 2013 with a BA in psychology and sociology.
Youngman says her film, This Ink Runs Deep, features Indigenous tattoo artists across Canada who are "reviving ancestral traditions that disappeared during colonization. Through the film, we learn about the practices that were thought to be lost forever, and how their revival reflects a reawakening of Indigenous identity."
Her film can be viewed starting Jan. 24 in the "sidewalk gallery" space of the Legacy Window Gallery along Broad Street.
Panel discussion with three featured artists
The artists' talk—a panel discussion with Kaszas, Nahaan and Trimble—takes place tomorrow, Jan. 13, at 7 p.m. on Zoom. Registration is still open.
The three artists will share how their skin-stitch and hand-poke tattooing practices have connected them to their respective cultures and personal identities.
This event will be live captioned. For any questions or accessibility concerns, please contact legacy@uvic.ca.
To register: https://uvic.zoom.us/webinar/register/WN_w_lne99YQm6ZOXfkXtkaMw 
Addressing gaps in gender and cultural representation
Legacy staff have worked throughout the COVID-19 pandemic to continue to provide the public and campus community with safe and welcoming opportunities to engage their artistic curiosity and learn more about Canadian, Indigenous and international art.
This year, Legacy has many plans that see us working on major projects with three UVic faculties: Education, Social Sciences and Fine Arts.

—Mary Jo Hughes, director of Legacy Art Galleries
And in the seasons ahead, Legacy will keep moving forward in addressing gaps in gender and cultural representation in its collection and program plans.
Mary Jo Hughes, Legacy's director since 2012, who leaves her position next month for a move to Galiano Island to paint full-time and continue to teach museum studies, adds that "we will also be working with the Japanese Canadian community looking at the generational effects of internment and with the wider arts on a community project looking at global environmental issues around old-growth logging."
Legacy has three main sites for rotating exhibitions: Legacy Downtown, Legacy Maltwood and in First Peoples House. Our university also has more art on view in public spaces than any other Canadian university. At any one time, UVic has approximately 2,000 works of art installed from more than 19,000 pieces in the overall art collection.
UVic's art gallery spaces
View the gallery's safety plan
Questions? Contact Legacy by email or 250.721.6562
Legacy Downtown | 630 Yates Street
Legacy Maltwood | On campus
First Peoples House | On campus 
Photos
In this story
Keywords: Indigenous, art, community, alumni, resurgence
People: Lorilee Wastasecoot, Asia Youngman
Publication: The Ring