Training the next generation in classical studies
- Philip Cox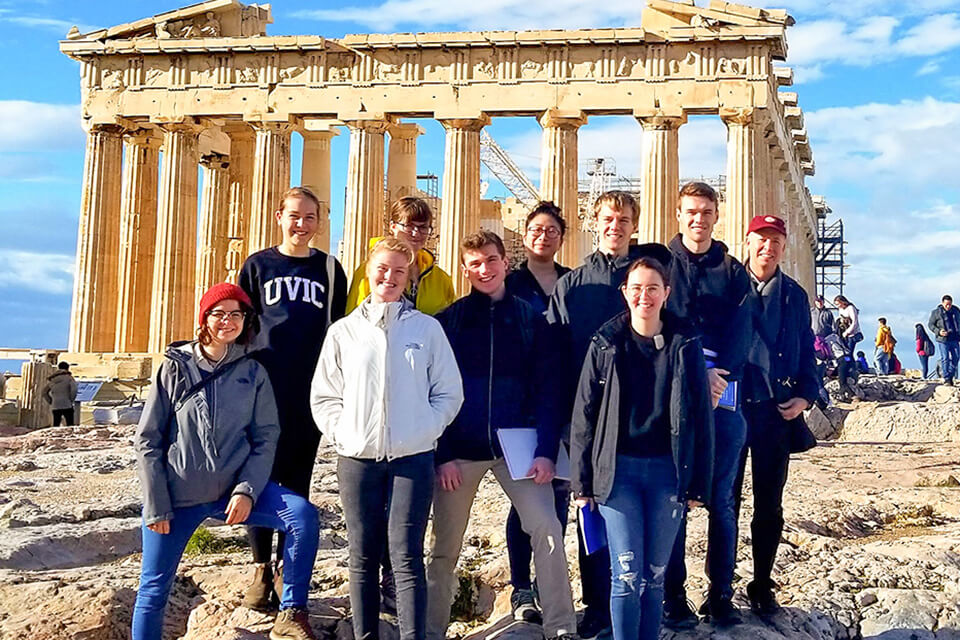 Along the edge of a small Greek village just one hour north of Athens lies a large stone wall that for more than 2,500 years has marked the approach to Eleon, an ancient town mentioned by Homer in the Iliad as one among those whose armies sailed for Troy.
Nearby, a team of researchers and students excavate and analyze the site with exacting care and precision, removing artifacts that have not seen the light of day for thousands of years: terracotta figurines and ceremonial pots dating back to the 5th century BCE; a copper dagger found among tombs buried one millennium before that.
Training this next generation of classical scholars is Brendan Burke, a professor in UVic's Department of Greek and Roman Studies, who this month begins a three-year term at the prestigious American School of Classical Studies at Athens (ASCSA) as the new Andrew W. Mellon Professor of Classical Studies.
There is no other position in the world like this one for North American-based Classicists. In many ways, this is the highest job to which a person in my field could aspire. For me, it is both a great honor and a great responsibility to take on.

—UVic scholar Brendan Burke, newly appointed as the next Andrew W. Mellon Professor of Classical Studies in Athens
Founded in 1881, the ASCSA is the oldest and largest American overseas research centre in the world. Made up of a consortium of nearly 190 affiliated North American colleges and universities, including UVic, the ASCSA provides graduate students and scholars a base for the advanced study of all aspects of Greek culture, from antiquity to the present day.
The Andrew W. Mellon Professor of Classical Studies is responsible for directing the ASCSA's academic program, training top graduate scholars from across North America through seminars and hands-on surveys of the art, archaeology, history and topography of Greece while advising students conducting research.
Each year, a maximum of 20 students from Canada and the US are admitted to the program following stringent entrance exams, making this one of the most sought-after programs of its kind in the world.
"The idea and goal of the program is —and has been, since 1881— to see as much of Greece and its ancient past as possible on the ground, so it involves a lot of traveling," Burke states. "I'm well-acquainted with the terrain, but am excited to learn more about it and make new discoveries with a very talented group of graduate students."
A mentor in his field
A member of UVic's Faculty of Humanities since 2003, Burke has honed his skills as a world-class mentor, instructor and researcher while leading excavations on site at ancient Eleon for the last decade through UVic's Department of Greek and Roman Studies' Semester in Greece and Study Abroad programs, which he also directs.
Burke first uncovered ancient Eleon, which is located near Arma in eastern Boeotia, Greece, in 2007 during a years-long surface survey of the region with a team of colleagues hailing from Australia, Europe and the USA.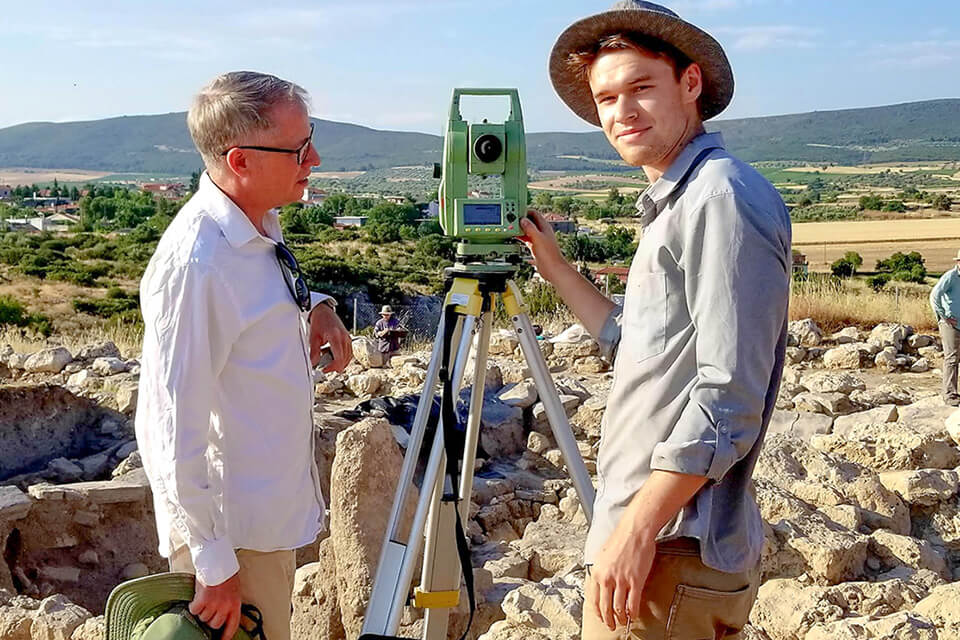 Several members from this group then formed the Eastern Boeotia Archaeological Project (EBAP) —an international collaboration for which Burke has acted as co-director since its inception, and which is jointly sponsored by the Ephorate of the Antiquities of Boeotia, based at the Archaeological Museum of Thebes, and the Canadian Institute in Greece— to collect, record and interpret artifacts unearthed at the site. (Read more about EBAP in the 2013 Ring story)
In close collaboration with the Canadian Institute in Greece, UVic's Semester in Greece and Study Abroad programs provide undergraduate and graduate students with a chance to earn academic credits while gaining hands-on, international experience in the field.
Under Burke's guidance, hundreds of UVic students have had the opportunity to learn about Greek history first-hand through these programs. Many of the student participants generate their own original research based upon materials found during active excavations at Eleon, which have frequently become the foundation of their masters' theses and doctoral dissertations.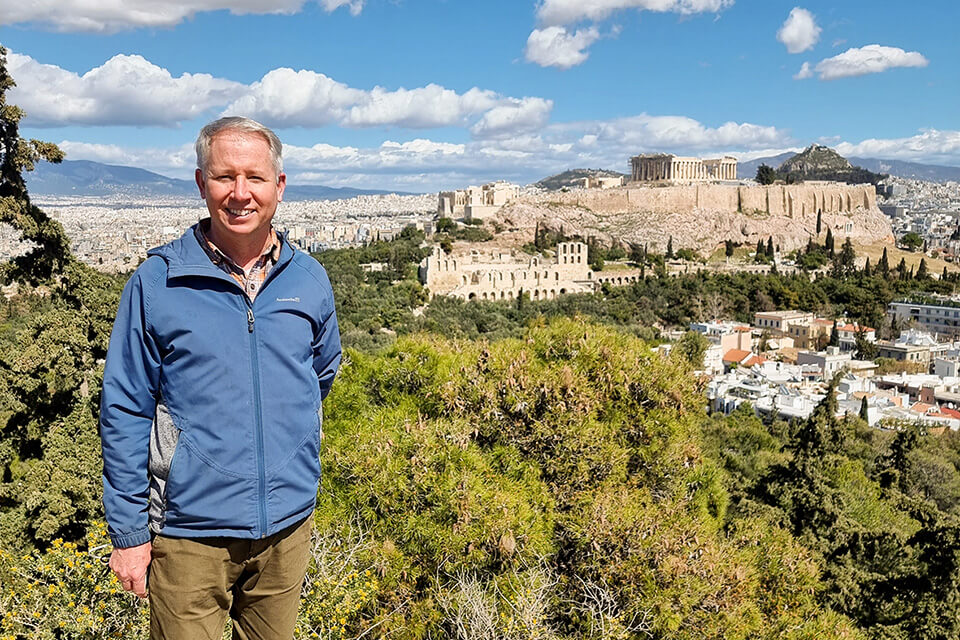 Now that Burke is the Andrew W. Mellon Professor of Classical Studies in Athens, the impact of his work will reach across continents, influencing generations of classicists around the world.
The Andrew W. Mellon Professorship is one of the most prestigious academic positions in classical archaeology in the world and Dr. Burke is most deserving of this great honour. We are very excited and proud that he has this tremendous opportunity to train the next generation of Classicists over the next three years.

—Annalee Lepp, UVic Dean of Humanities
Find out more
Photos
In this story
Keywords: field schools, international, archaeology, study abroad, co-op, graduate research, history, partnerships, research, teaching, sustainability, international, administrative
People: Brendan Burke