The healing power of music and connection
- Sarah Tarnopolsky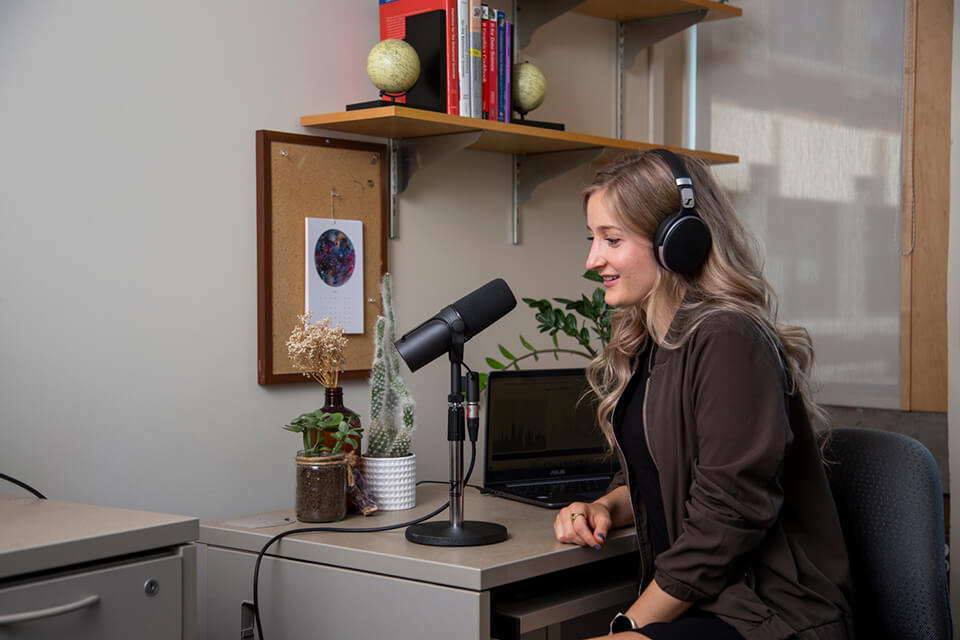 Master's student Cynthia McDowell fell in love with cognitive health research during her undergraduate degree. In 2019, she joined Stuart MacDonald's research lab and the UVic Institute on Aging and Lifelong Health, and became immersed in a rigorous study of Voices in Motion, a choir for people with dementia and their care partners.
McDowell is part of an interdisciplinary research team led by Debra Sheets (nursing) Stuart MacDonald (psychology) and Andre Smith (sociology) who are examining data from the choir collected over two years. The team's early findings implied that some of the negative symptoms associated with dementia were reduced through participation in the choir. They also observed that reducing negative mood was associated with increased cognitive function and, over time, results in slowing cognitive deterioration. There is currently no cure for dementia. The research supports that lifestyle interventions like this choir are needed to complement pharmaceutical treatments and support people with dementia in living well.
COVID-19 pivot and opportunity
In the spring of 2020, the COVID-19 pandemic forced the choir online. The new virtual social singing program gave individuals with dementia, and their care partners, a sense of purpose and social connection to counter the fear and loneliness associated with both the disease and the pandemic. It also allowed new international or remote members to join the choir.
After receiving the Pacific Blue Cross Health Benefits Society Scholarship in Digital Health, McDowell had the time and resources to shift the focus of her research and capture this unique time in history.
"I was so thrilled to have an opportunity to spend more time on this project," McDowell says. "If we can show that reducing isolation is beneficial for cognitive health for individuals living with dementia—even in an online format—imagine what we can do for the larger population."
Time to dive back in to the data
While it was ultimately not possible for McDowell to gather new data about the effects of the online format, she was able to dive back into the earlier data. She used novel, more complex, and robust statistical measures to gain a better understanding of participants' cognitive function throughout the time they attended the in-person choir. This helped her learn more about the relationship between cognitive function and psychosocial wellbeing.
Receiving the scholarship gave me encouragement, affirmation, and confidence to continue conducting meaningful research and pursue my academic and career goals.

—Cynthia McDowell
McDowell is already sharing the results of this research through two draft research papers and several national and international conferences. She is also committed to sharing the research at a community level, to help improve the quality of life for individuals with memory loss and their care partners. The scholarship allowed her to reallocate time from teaching and part-time employment to creating and engaging in community outreach strategies.
A dementia-friendly podcast, and city
One of these strategies is a podcast mini-series that shares intimate and first-hand stories about dementia and caregiving. The podcast is led by Debra Sheets, professor of Nursing and co-founder of Voices in Motion.
We gave microphones to persons with lived experience and their care partners to talk about things like vulnerability, isolation, stigma, caregiving challenges, living with memory loss, how to find joy and coping mechanisms. Our goal with this project is to reduce stigma around dementia. We also want to change the narrative of dementia and the way it is spoken about in the media. We're doing that by giving a voice to people with memory loss and their care partners.

—McDowell
In addition to the podcast (scheduled to be released in the fall of 2021), McDowell worked on another project spearheaded by Sheets—a grass-roots coalition that aims to create a more dementia-friendly Victoria. Through promoting inclusion and engagement, the coalition's vision is a community where people living with dementia feel valued and their quality of life is supported.
It means a lot to McDowell that her academic and community contributions are so aligned. "It is important to me that I not only pursue my academic ambitions and research goals, but also turn the research into clinical application and help targeted populations. Receiving this award has enabled me to do that."
Support for UVic initiatives
Photos
In this story
Keywords: Research, philanthropy, community, award, dementia, aging, graduate research, psychology, administrative, student life
People: Cynthia McDowell, Debra Sheets, Stuart MacDonald, Andre Smith