Recognizing a global journey of community-driven change
Education, Human and Social Development
- Tara Sharpe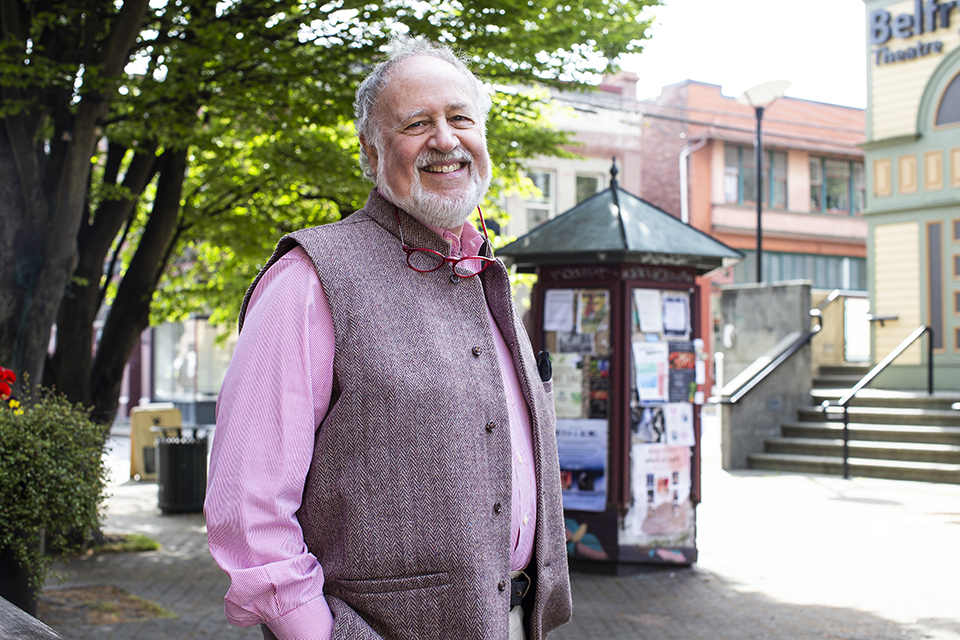 A professor of community development highly respected for his tireless dedication to people, social change and community-based research received a national award today from a visionary organization focused on effecting the type of real change to which he has devoted his entire academic life.
Community Based Research Canada presented UVic scholar Budd Hall with its 2021 Research Leadership Award at this year's virtual C2UExpo Mini Gathering and Award Gala.
Hall, the UNESCO Co-Chair in Community-Based Research and Social Responsibility in Higher Education at UVic's Centre for Global Studies and the Faculty of Human and Social Development, is being recognized for the impact of his accomplishments and contributions to community-based research, for his guidance on a host of successful initiatives and for shaping the organization into its current form.
According to CBRCanada, community-based research is an alternative research approach to traditional academic research.
To Hall, it's what he's devoted his entire career to building, nurturing and assisting others to support.
Hall has helped propel the movement of community-based research across Canada and around the world, and as a long-time ally of social justice movements, traditional knowledge keepers, grass-roots practitioners and many other partners, he has earned the respect of innumerable collaborators over the years.
Budd Hall is the model for this award. He has devoted his life to community-based knowledge, where he learned its depth of meaning working with Nyerere in Tanzania, Wangoola in Uganda, Tandon in India and people around the world. Budd came back home to Vancouver Island and had the courage to tell of his family's role in benefiting from the lands of the Halal't people. With his support, leadership and guidance, we were able to bring Indigenous knowledge to the very fabric of university learning. As the Elders would say, Budd leads from behind, he lifts the energy and supports people—staff, faculty, students—to carry out their dreams, bring their own knowledge systems to create and imagine ideas to serve the community. Congratulations, Budd for all your accomplishments to make the world a more just and respectful place to live.

—Dr. Lorna Wánosts'a7 Williams, UVic professor emerita of Indigenous education
Continually making a better world
Hall is known world-wide for his work in university-community engagement, international development, adult education and the field of participatory action research.
For more than 40 years, he has worked in Nigeria, Tanzania, Venezuela, Brazil, Chile, Germany, Thailand, Yemen, Uganda, England and the US. And he continues to address the vital importance of social responsibility in higher education through the ongoing sustainment of networks such as the Global Alliance of Community Engaged Research, which he helped establish, the National Co-ordinating Centre for Public Engagement in the UK and the Living Knowledge Network in Europe.
Most recently, Hall played a role in linking the norms for the United Nations' list of 17 Sustainable Development Goals (SDGs), published in 2015 by the UN, to the global community-based research movement.
"We believe that the attainment of the SDGs will be in part dependent on the capacity of local communities to co-create action-oriented knowledge based on the meaning of the SDGs to their lives, their cultures, their political contexts," Budd says. "Community-based participatory research is therefore a key element in building a bottom-up response to the SDGs."
UVic is among the world's top-100 performing universities in addressing nine of the 17 numbered UN SDGs, and in the top 200 universities overall. Read more on SDGs and UVic
Four decades of community collaboration
The impact of Dr. Hall's work on knowledge democracy and engaged scholarship is considerable. And the multitude of global networks that he has created is impressive. As a scholar, I have learned much from him and as the senior academic leader on international at UVic, I am so grateful for his advocacy, global outreach and incredible gift of bringing people together.

—Catherine Krull, UVic's Special Advisor, International
Hall, a professor emeritus (public administration) and former dean of education at UVic from 2002 to 2006, served as secretary-general of the International Council for Adult Education (based in Toronto) from 1979 to 1991 before coming to our university.
In addition to numerous affiliations and collaborations with international working groups, global networks, national associations and community movements, Hall has also worked closely with UNESCO and the United Nations since the 1972.
"It's no secret as to why these kinds of social-justice oriented innovations come about," Hall says. "It's because of people. Movements are people."
Hall is also a poet. And today he delivered verse in his own words during his acceptance speech—in typical fashion, turning the attention to someone other than himself—to honour the late Paulo Freire, an influential Brazilian philosopher and educator who was a personal inspiration to Hall, who notes that this year is the 100th anniversary of Freire's birth.
"Movements are not abstract sociological constructs. It's about people."

—Budd Hall, UNESCO Co-Chair and recipient of 2021 Research Leadership Award
Creating knowledge in all places
"We also need to find a way to provide more learning opportunities for the new generation," Hall explains.
Over the years, Hall has undertaken both theoretical and practical work in community-based research, often exploring critical pedagogy and working closely with the next generation to question what is entrenched or established and calling instead for new approaches.
"UVic, together with most of the universities in the world, is based upon a 550-year-old Eurocentric idea of the world, of how to understand the world, of what counts and how knowledge is constructed," he adds.
"If we think of Indigenous ways of knowing, where you can't separate the head and the heart, where you can't separate human from all other forms of life, where place is absolutely critical, where you wouldn't think of doing research just to add another chapter in a book that'll be read by nobody? Adding a course or adding four or five readings to everything else, as we know, isn't enough. It has to go deeper. We have to think about the very architecture of knowledge."
"It's a dialogue of equals. We've made a lot of progress but the vision, if you think about this as a knowledge democracy, is the recognition that knowledge is created in all places and that lived experiences are equal to knowledge produced in the academy."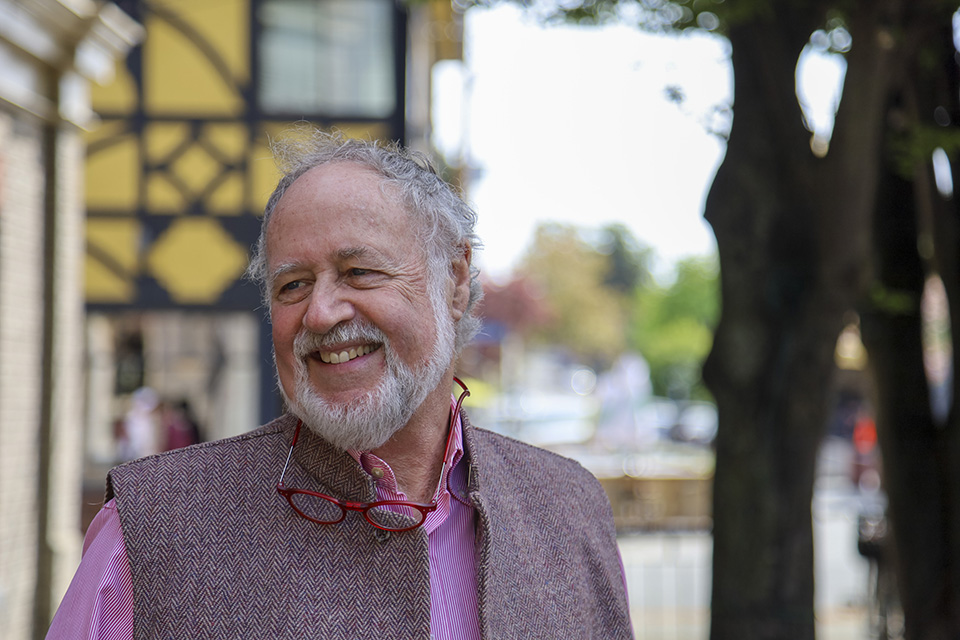 UNESCO, K4C and CUE at UVic
UVic has a long history and reputation of excellence in community-university engagement. And Hall has played a significant part in this effort for decades now.
In 2007, Hall was founding director at UVic of Canada's first office of community-based research on a university campus and, in 2008, coordinated CUExpo at UVic, the largest gathering focused on community-university engagement in Canada at the time.
Hall shares co-direction of the UNESCO position with his colleague and co-chair, Rajesh Tandon, a UVic honorary degree recipient and president of the Society for Participatory Research in Asia, based in New Delhi, India.
As a true champion of community-based research, the impact of Budd Hall's UNESCO Chair has been path-breaking in exploring innovative ways of engaging communities, making scholarly research relevant for multiple stakeholders and enlarging the impact that scholarly research can have. UVic's Centre for Global Studies has greatly benefitted from Budd's work and networks from around the world as they could guide us in understanding how global forces shape local realities and how in turn local communities can address global challenges in an impactful fashion.

—Oliver Schmidtke, director of UVic's Centre for Global Studies
In December 2017, Hall and Tandon launched a multi-partner global consortium, "Knowledge for Change" (K4C), to provide training and support for action through grass-roots field work and local community projects that focus on real-life problems such as sanitation and water pollution. Now into their second four-year UNESCO term, the duo continue the work which includes training young researchers at the local level.
There are now 23 K4C training hubs in 11 countries, from Sardinia in Italy and Penang in Malaysia to Havana in Cuba and Arusha in Tanzania.
The K4C hub in Canada is the Salish Sea Hub, a multi-sector partnership of the Victoria Native Friendship Centre, Victoria Foundation and UVic. Crystal Tremblay, UVic's Special Advisor on Community Engaged Scholarship, is academic lead of this initiative of the UNESCO Chair in Community-based Research.
The Salish Sea Hub partners with community organizations where students and community partners co-design and facilitate projects on a range of topics.
Once mentors are trained, they in turn train a younger generation of practitioners.
CUExpo 2003-2021
Today's C2UExpo is the seventh Canadian-led conference showcasing community-campus partnerships from around the world. The first, in 2003, was hosted by the University of Saskatchewan.
UVic hosted the third conference, CUExpo in 2008, at which the seed of an idea for CBRCanada was first germinated.
Find out more
Photos
In this story
Keywords: community, research, award, international, administrative, partnerships, UNESCO, public administration, Centre for Global Studies
People: Budd Hall
Publication: The Ring