Liquor and lockdown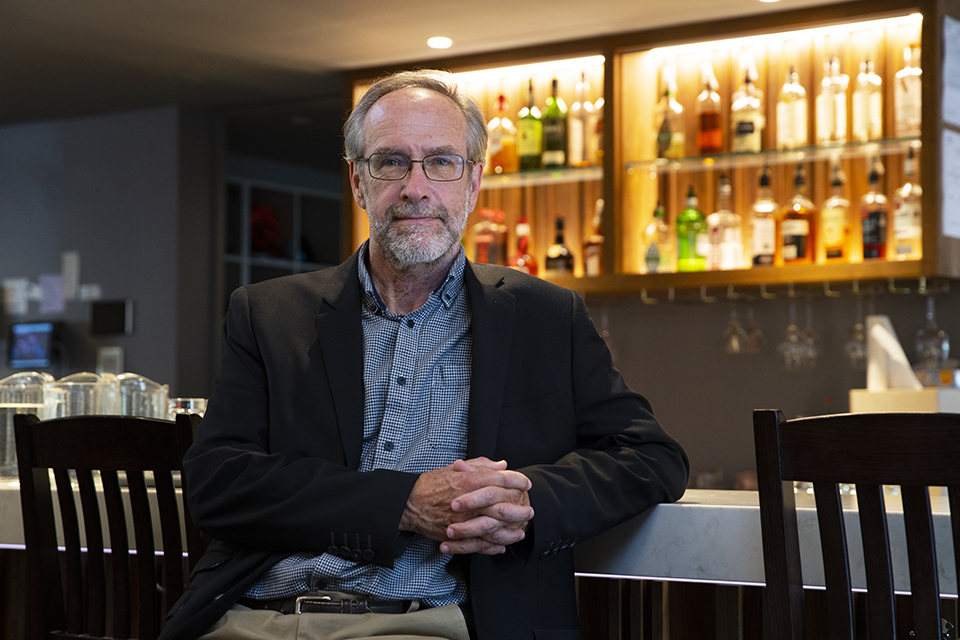 It's official: British Columbians have been drinking more alcohol during the COVID-19 pandemic, with private liquor store sales accounting for the bulk of the increase in consumption—and the biggest spikes happening during lockdown.
New analysis of BC alcohol sales data from UVic's Canadian Institute for Substance Use Research (CISUR) shows that, although increases in overall alcohol consumption were modest, there was a significant rise in alcohol purchased in liquor stores.  
Government vs. private alcohol sales
Private liquor stores saw per capita consumption rise 18.5 per cent in March-July 2020 (the last recent month for which data was available) compared to 2019. At government stores, consumption rose by about eight per cent. Last year, about half of all alcohol consumed in BC was purchased at a private liquor store, a number that has been rising steadily for the past two decades.
"We suspect part of this increase at private stores has to do with the fact they have been making alcohol more convenient to buy, by offering home delivery with a minimum order or listing its products on third-party delivery apps," says CISUR scientist Tim Stockwell, who led the analysis "Government stores are not using these services."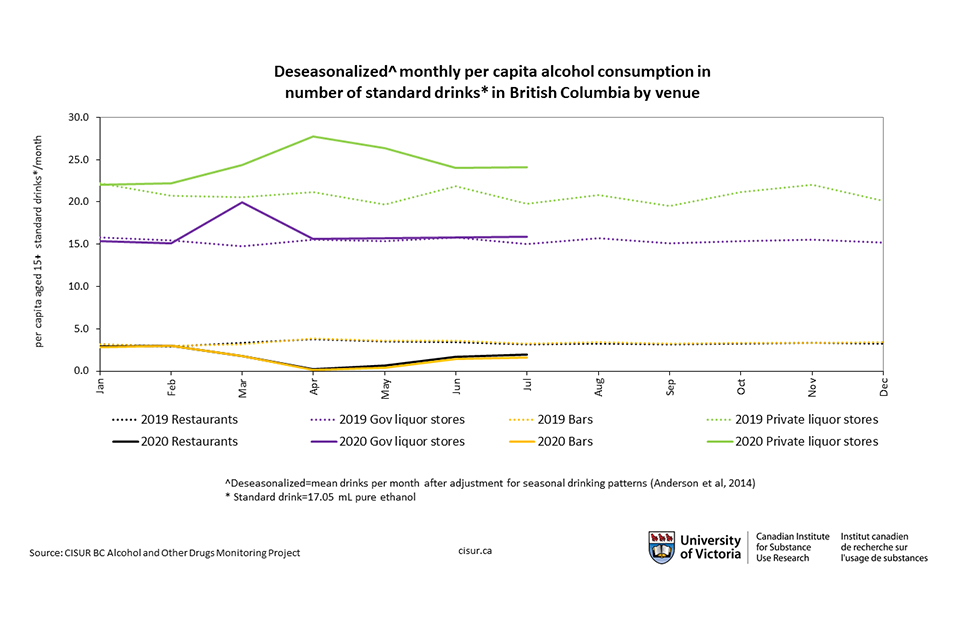 Drinking by the numbers
Drinks quaffed in bars and restaurants historically account for only around 15 per cent of all alcohol consumed in the province. Predictably, on-premise establishments saw sales decline to virtually nothing (<1 standard drink per capita) in April and May, as they were forced to close for in-person dining. In June and July, they rebounded to about half their 2019 amounts, when they were allowed to reopen. Still, the rise in off-premise consumption was much greater than the drop seen in bars and restaurants.
Researchers also did a week-to-week analysis factoring in phases of BC's Restart Plan. During Phase 1—which lasted from March 17 to May 18 and included strict lockdown measures—monthly alcohol sales rose from 42 to 45 standard drinks per month (per person aged 15 or older, including non-drinkers), over the same period in 2019.
"The spike was particularly high immediately after March's lockdown, where we saw sales jump 40 per cent the week after measures were introduced," says Stockwell. "The Phase 1 period saw the largest increase in consumption, with slight declines during Phase 2 and the beginning of Phase 3, which we suspect was partly due to fewer tourists in the province."
Impacts of increased drinking at home
In addition to the fact that alcohol is a carcinogen and responsible for over 18,000 deaths per year across Canada, the World Health Organization says that alcohol can weaken your immune system, and heavy use can increase the risk of acute respiratory distress system.
Drinking alcohol also makes you less able to concentrate on social distancing and hand hygiene, and it's impossible to wear a mask while drinking. It's become clear that alcohol and COVID are a pretty lethal combination, with each fueling the other. More drinking, including binge drinking in the home, contributes to domestic violence and child neglect.
—Tim Naimi, new CISUR director
Proposed policy changes
The researchers say that policy changes, both short- and long-term, could help curb alcohol consumption during the pandemic and afterwards.
We would like to see availability and the incentive to buy large quantities decreased by stores instating a conservative daily maximum purchasing limit for alcohol, and/or removing minimum delivery requirements. This is also an excellent time to look at longer-term, evidence-based policy changes such as a minimum price per standard drink, given alcohol's huge burden on our healthcare system. Even pre-COVID-19, alcohol causes over 700,000 emergency department visits and over 105,000 hospital stays every year in Canada.
— Tim Stockwell, former director and CISUR scientist
Researchers are currently building on this work in BC in partnership with the Public Health Agency of Canada, with a view to analyzing similar data across the country.
The analysis uses sales data from the BC Liquor Distribution Branch (which includes all sales to private and government liquor stores, as well as bars and restaurants) and population data from BC Stats to estimate per-capita consumption expressed as standard drinks.
Tim Stockwell (former director and CISUR scientist) and Tim Naimi (director, CISUR) are available for media interviews. To arrange an interview, contact Amanda Farrell-Low (CISUR communications at farlow@uvic.ca or 250-472-5445).
Photos
In this story