UVic project promotes safer, more prevalent hand washing
- Anne Tolson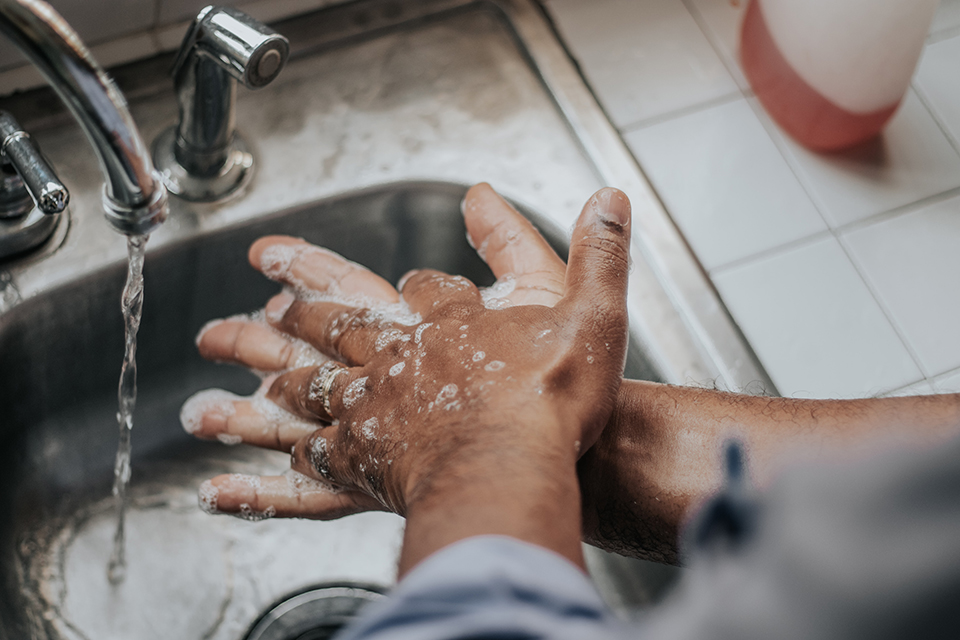 Wash basins made with COVID-19-resistant material may be popping up in malls and other crowded places, once the work of a UVic researcher and BC manufacturer is complete.
Civil Engineer Rishi Gupta and Valley Acrylic Bath have teamed up on a two-pronged project that involves developing an acrylic-based coating that repels the coronavirus, and then installing compact wash basin prototypes at the front doors of high-traffic public locations in Victoria and Vancouver. The longer-term aim is to manufacture hundreds of anti-viral basins that would be deployed strategically throughout BC and beyond.
There are a lot of ways of slowing down COVID-19, but the number one solution continues to be hand washing.
— Rishi Gupta, UVic associate professor and project lead
"Unfortunately, many surfaces, including wash basins, can become breeding grounds for pathogens," he said. "Our idea is to make wash basins in a different way and to install them strategically at exits or entrances in crowded public places."
Several weeks ago, the Natural Sciences and Engineering Research Council of Canada (NSERC) announced a COVID-related version of its Alliance Grant. The $50,000 grant, which was awarded to Gupta this month, promotes collaboration between industry and academia, in this case for projects that address the pandemic. Other members of the UVic team working on the project include biology Professor Asit Mazumder, engineering and science librarian Aditi Gupta, and Mohit Garg, an NSERC post-doctoral fellow.
New COVID-resistant coating
The new coating will be designed to reduce the tendency of the coronavirus's crown-like spikes from adhering to surfaces. Because vinyl-coated acrylic bath products, including wash basins, are already fairly hydrophobic, as well as being relatively inexpensive and lightweight, they will be used as a starting point for the new coating, which will be applied to surfaces as the final finish.
Gupta said the new coating will be modelled after nature's lotus leaf, which has self-cleaning properties due to its "ultra-hydrophobic" surface.
Whenever you look at the leaf of any lotus plant, it's always in pristine condition. Our new acrylic coating, like the lotus leaf, will be designed so that particles just fall off, they don't adhere to the surface.
— Rishi Gupta, UVic associate professor and project lead
Ultimately, the new coating could be used on a wide range of surfaces, for example door handles, shopping carts and high-use countertops in schools, hospitals and recreation facilities. The coating, in the form of a spray or paint, could also potentially be used for surfaces in existing facilities, such as washrooms.
Valley Acrylic, a Mission BC company that manufactures acrylic bath and kitchen fixtures, was a natural fit for the project, having worked on NSERC-funded projects with Gupta at UVic twice in the past. For those projects, COO Ravi Beech sought expertise in making the company's high-end products more environmentally sustainable and thus helping reach its zero-waste goal.
Together, the partners will investigate various additives and modifiers, changing the physical characteristics, at both the micro and nano scale, as well as the chemical characteristics of the acrylic surface in order to increase its ability to self-clean. Initial material testing will be carried out in Gupta's Facility for Innovative Materials and Infrastructure Monitoring (FIMIM) at UVic. This will be followed by exposing a range of possible coatings to pathogens under carefully regulated lab conditions in the biology department.
Portable wash basins for public spaces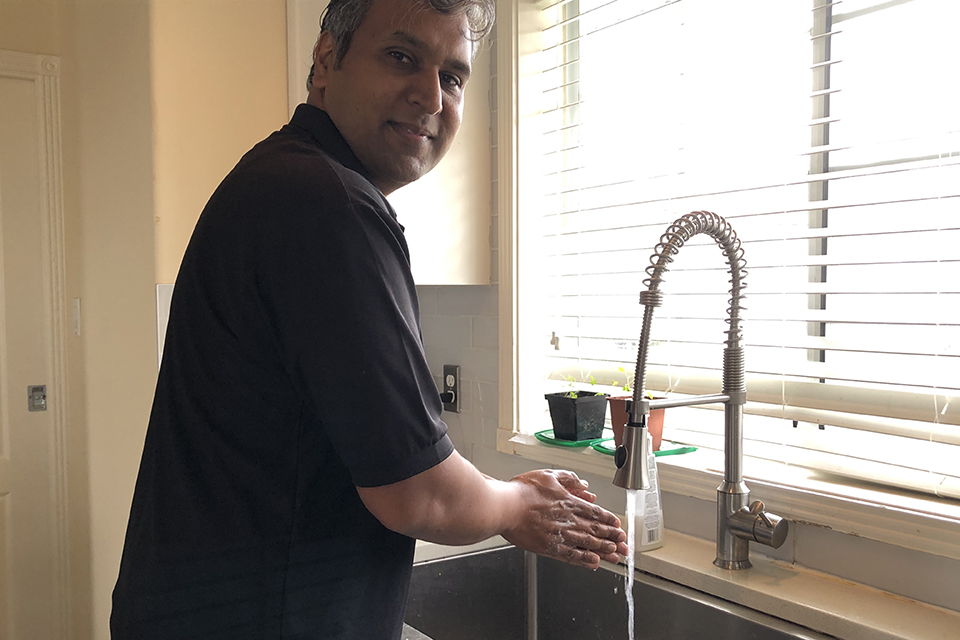 In addition to the creation of the new coating material, the project will also promote the deployment of compact portable wash basins in public places. The grant covers two prototype basins to be installed at locations in Victoria and Vancouver.
Gupta says he and Valley Acrylic will also be looking for other organizations interested in installing the anti-viral wash basins in high-traffic locations.
Valley Acrylic expects to rapidly commercialize the new product line, which will be manufactured in Mission. The company's initial capacity will be 10 to 20 units per day, with anticipated capability to scale up to 100 per day quickly.
Unlike hand sanitizer, water is very unlikely to be in short supply, said Gupta. However, it must be readily available and provided from a clean source.
"There are a limited number of wash basins available in public spaces, especially at the critical entry and exit locations," he said. "We need to be more effective in giving people access to hand washing, especially as they are leaving a crowded place."
Photos
In this story
Keywords: COVID, health, research, award, industry partnerships, Research Accelerator Fund
People: Rishi Gupta
Publication: The Ring