Give us a sign
Humanities, Continuing Studies
- Stephanie Harrington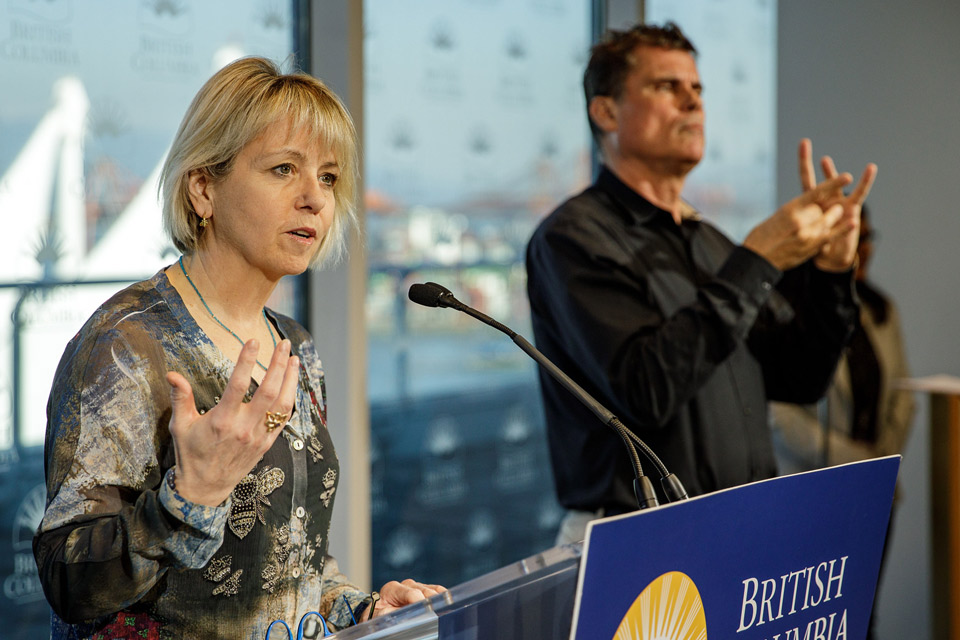 ASL instructor Nigel Howard has been front-and-centre in BC for his work interpreting during the coronavirus pandemic
Nigel Howard is sheepish when you mention his fan clubs.
Since the American Sign Language (ASL) interpreter and instructor at the University of Victoria started interpreting for the BC government's daily COVID-19 updates, several social media pages have sprung up in appreciation, the largest of which has 3,700 followers.
"It has been a big surprise and very unintentional. I'm here to provide a professional service," Howard says in a telephone interview through fellow interpreter Sara MacFayden.
"My goal is that everything the speaker is trying to deliver to the people of BC is accessible to deaf people who are ASL users."
Howard emphasizes that teamwork is essential. During the daily updates, Howard relies on his co-interpreter, MacFayden, whose first language is English, to accurately sign spoken information from government officials to Howard.
It's then the job of Howard, who was born deaf and whose first language is ASL, to use visual grammar and tone to convey a culturally and linguistically nuanced interpretation to ASL users who are deaf throughout BC. 
While many fans are enamoured by his animated interpreting and facial expressions, Howard says it's important to understand that Deaf people experience the world visually.
That's a big difference between us and hearing people. Hearing people live a more audio-based life. Deaf people's communication with each other is from one visually orientated person to another.
— Nigel Howard, ASL interpreter and UVic instructor
Born in Vancouver, Howard studied psychology at UBC and travelled to England for graduate studies at the University of Bristol's Centre for Deaf Studies. A deaf colleague coaxed Howard into enrolling in a course for ASL instructors. Howard has been teaching for the 30 years since, including as faculty at Douglas College for 24 years and in linguistics at UBC.
In 2009, Howard started teaching ASL courses at UVic. Last year, the university celebrated ten years of offering the popular courses, which are delivered by UVic's Department of Linguistics in partnership with Continuing Studies.
Close to 1,900 students have completed ASL courses over the years, and Howard hopes that UVic will one day offer them as a minor.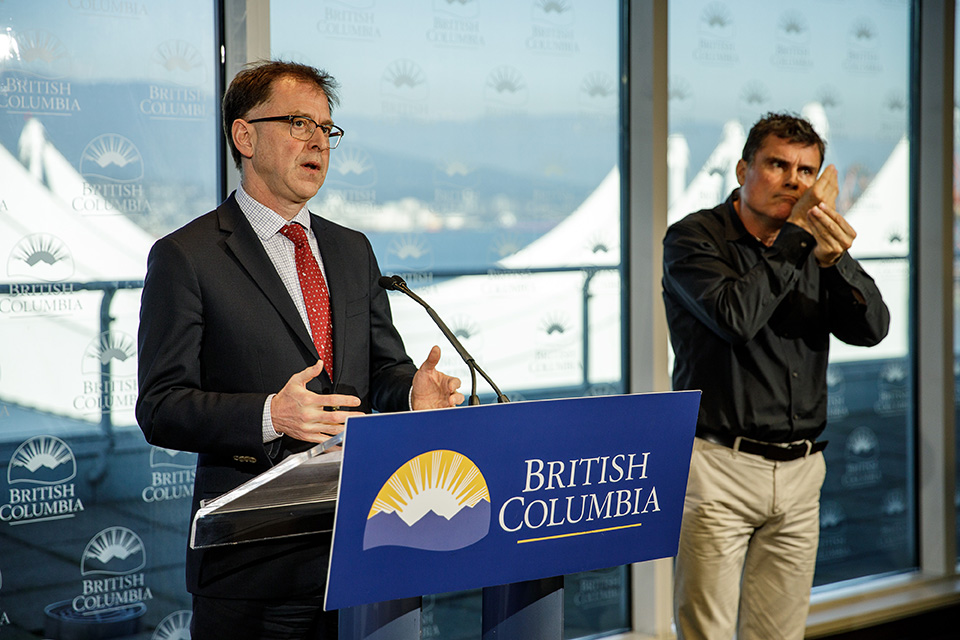 ASL course coordinator Sandra Kirkham said Howard and fellow instructor Tim Lane are known for creating a strong sense of community in the classroom.
"Nigel's enthusiasm, and positivity in the classroom, is infectious," Kirkham says.
Besides teaching at UVic, Howard has served as the deaf interpreter for plays at the Phoenix Theatre, starting with The Wind in the Willows in 2007. He usually interprets for at least one play each season—except that time he was called away to interpret for the Vancouver Olympics' closing ceremonies—and has extensive experience in theatre across North America.
A strong advocate for his community who also has interpreted in court and medical settings, Howard wants to dispel the myth that people who are Deaf are deficient because they cannot hear.
"I want to do my part to educate people that deaf people are a linguistic and cultural minority. We are not inferior in any way to other people," he says.
Next time you see Howard's interpreting, remember you are watching a person fighting for a language he believes deserves better recognition.
"People need a language that is accessible to them in order to develop an identity as a human being," he says. "Language is what connects us to the world and to other people."
Photos
In this story
Keywords: COVID, accessibility, languages and linguistics
People: Nigel Howard
Publication: The Ring