Heads of Mission visit UVic for BC tour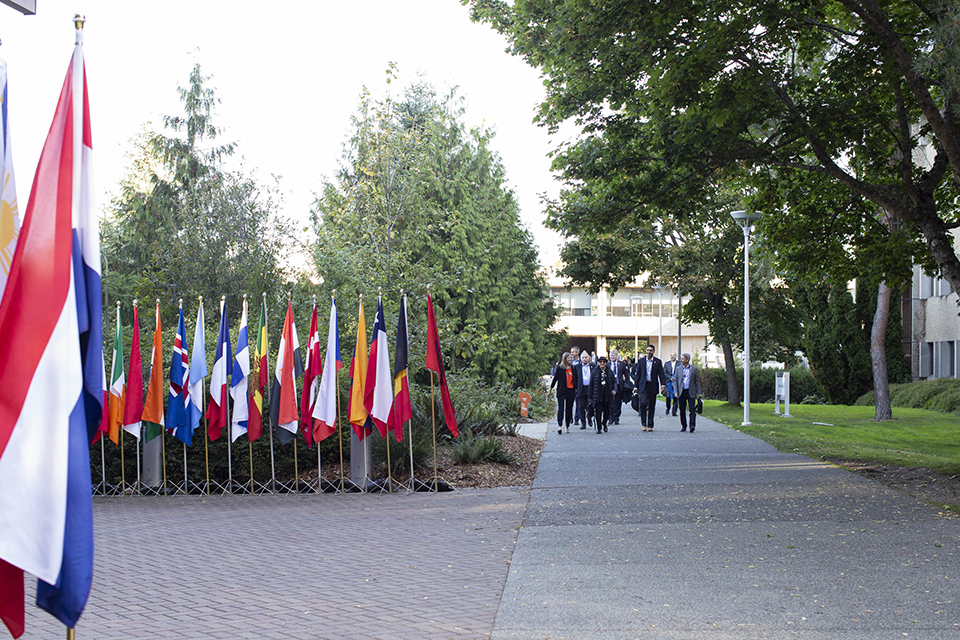 Dozens of international flags flew above the path leading to First Peoples House from the University Centre on Sept. 30. The University of Victoria, in the biggest such event ever for our institution, hosted 51 ambassadors, high commissioners and consuls general from 47 countries around the world—from Ethiopia, Ireland and Iceland to Guatemala, Poland and the Philippines.
The Heads of Mission tour of BC was planned in collaboration between the Governments of British Columbia and Canada to showcase our country as a mature economy.
The UVic visit provided an opportunity for the university to advance its reputation and to emphasize UVic's focus on internationalization, clean energy and oceans, as well as highlight the university's ongoing commitment to Indigenizing the academy.
A significant day on campus for BC tour
It was also Orange Shirt Day. Upon arrival that morning, the international visitors would have observed multiple orange shirts being worn by many on campus that day in the spirit of hope and reconciliation to show respect for residential school survivors and their families. 
The Heads of Mission were also greeted at the entrance to First Peoples House by UVic students handing each dignitary a handmade cedar rose made by Lucy George from the Songhees Nation.
The visit officially opened in the Ceremonial Hall with a Welcome to the Territory by Songhees Elder Dr. Skip Dick.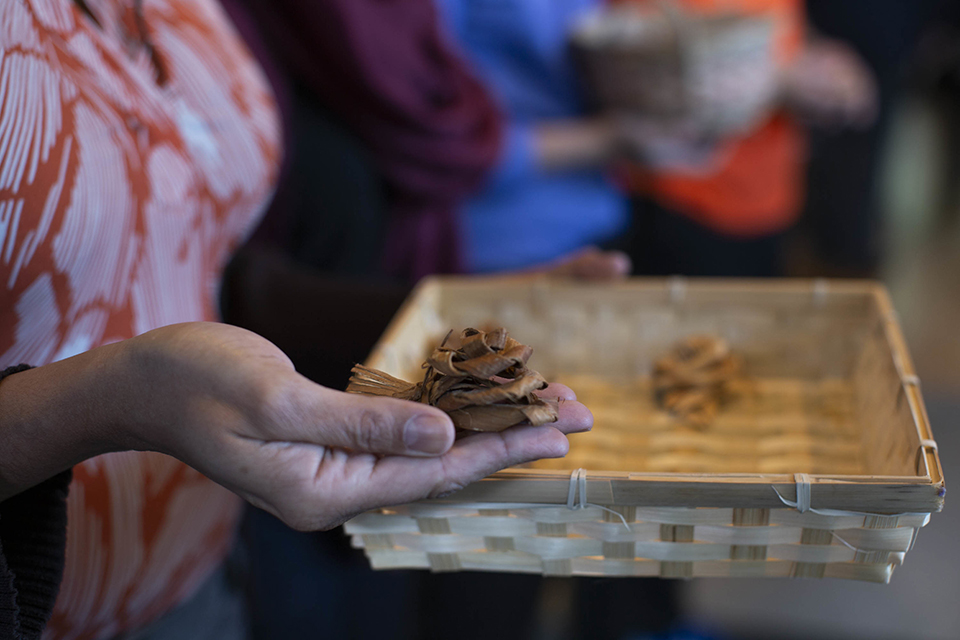 In his opening remarks, President and Vice-Chancellor Jamie Cassels also spoke to UVic's international connections and how the university is ranked number one in North America for international research collaboration.
Through our programs of education and research, we are training the next generation of global citizens and tackling the world's most challenging problems such as environmental and social sustainability, climate change, technological change, health and social justice. These issues are not confined by borders and we look forward to exploring new ideas and opportunities for international collaboration.

— UVic President and Vice-Chancellor Jamie Cassels
One of the day's first activities was a panel discussion on the world's first Indigenous law program—UVic's new four-year JD/JID degree program, officially launched in the same location one year earlier.
The discussion was led by four panelists: Susan Breau, dean of UVic Law; Sarah Morales, acting director of the JD/JID program; second-year JD/JID student Beth Fox; and Canada Research Chair in Indigenous Law John Borrows—one of Canada's foremost legal scholars, who co-developed the JD/JID program with fellow faculty member Val Napoleon.
Focus on international research collaboration
Later that morning, the Heads of Mission travelled by bus to UVic's Ocean-Climate Building at Queenswood, the new research and technology site jointly funded by the provincial and federal governments, for the visitors to experience firsthand how collaboration is so vital in furthering UVic's research and development of technology related to data, oceans and climate science.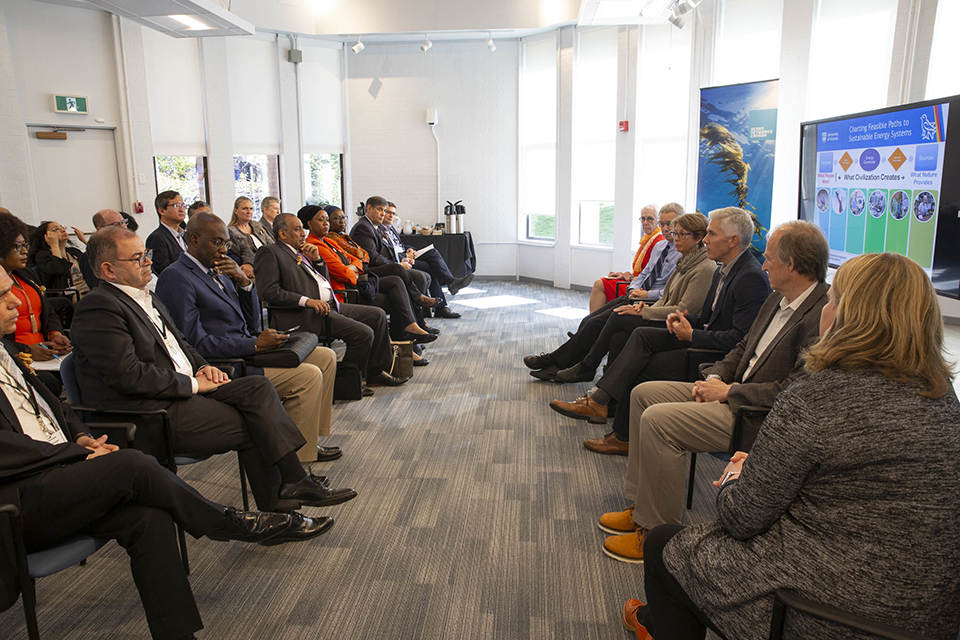 The UVic complex at Queenswood is home to Ocean Networks Canada (ONC), a UVic initiative and the anchor group in the building. Also showcased in the morning activities were: UVic's Pacific Climate Impacts Consortium (PCIC); School of Earth and Ocean Sciences; Institute for Integrated Energy Systems (IESVic); and the UVic-led Pacific Institute for Climate Solutions (PICS).
Various collaborations were also part of the presentations including: between ONC and BC Ferries; for ONC's early earthquake warning system; and between ONC and Indigenous communities in better understanding what is happening in our oceans.
The international group of visitors then proceeded to engagements elsewhere in Greater Victoria before finishing the day at UVic at an evening reception hosted by the university.
Find out more
Photos
In this story