President's Extraordinary Service Awards 2017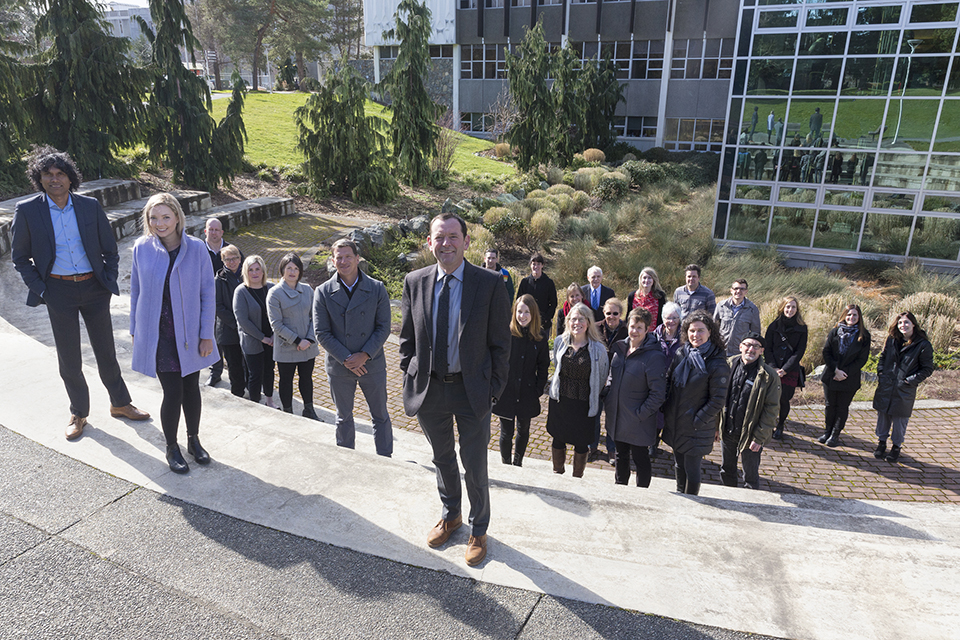 The President's Extraordinary Service Awards celebrate the outstanding contributions of our people. This year, 15 nominations—representing 38 people (10 individuals and five teams)—were received from across campus in the five award categories.
I sincerely congratulate each of the nominees on their extraordinary service and dedication to UVic. It's always such a pleasure for me to celebrate our staff and faculty. Year after year I'm impressed by the quality of the submissions for these awards. Each of this year's nominees is deserving of our thanks and our recognition.
—UVic President Jamie Cassels
Congratulations to all of the 2017 nominees. This year we celebrate four individuals and one team as award recipients.
Joyce Gutensohn (Academic Advising Centre), Cultivator Award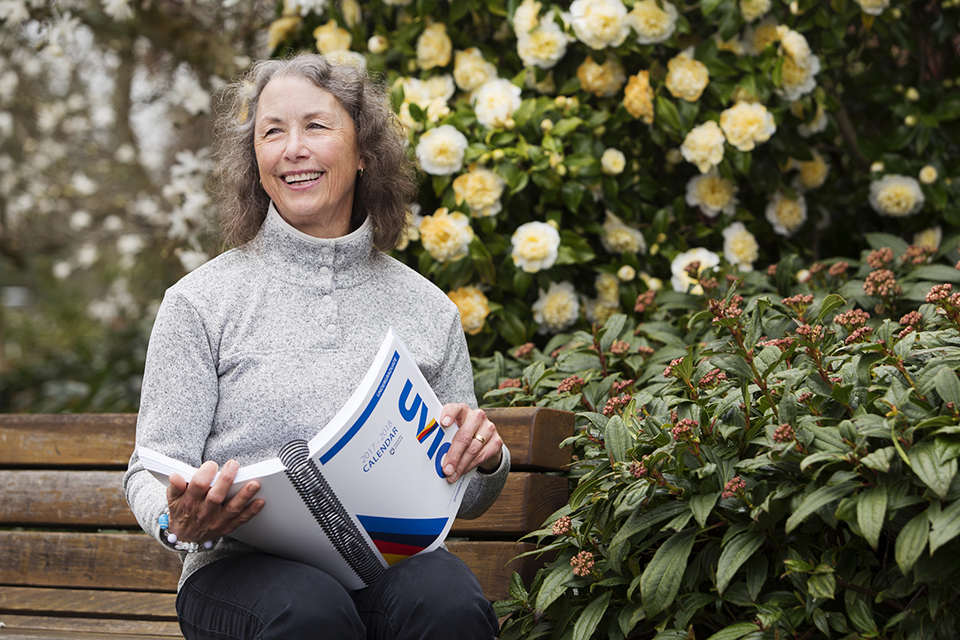 Joyce Gutensohn's work to cultivate and deepen the understanding of academic advising at UVic transcends official titles, positions or role descriptions. In her 30-year career as an "astute academic adviser and an expert contributor to curriculum review," Gutensohn has had an "invisible yet significant impact on students, staff and faculty," says former registrar Lauren Charlton.
As academic advising consultant and a mentor and leader in the Academic Advising Centre, Gutensohn's efforts to create reliable, easy-to-understand resources have empowered students to thrive at UVic. The new tools and procedures she's developed have improved the delivery and effectiveness of services offered by the Academic Advising Centre, the Office of the Registrar and the faculties of humanities, science and social science.
"Joyce continues to be a teacher, mentor and valued member of the academic advising community at UVic," says Robin Hicks, associate dean (academic) in the Faculty of Science. "Future generations of advisers will use Joyce's work as a strong foundation from which to build their own practice."
Brittany Halverson-Duncan (Department of Mathematics and Statistics), Connector Award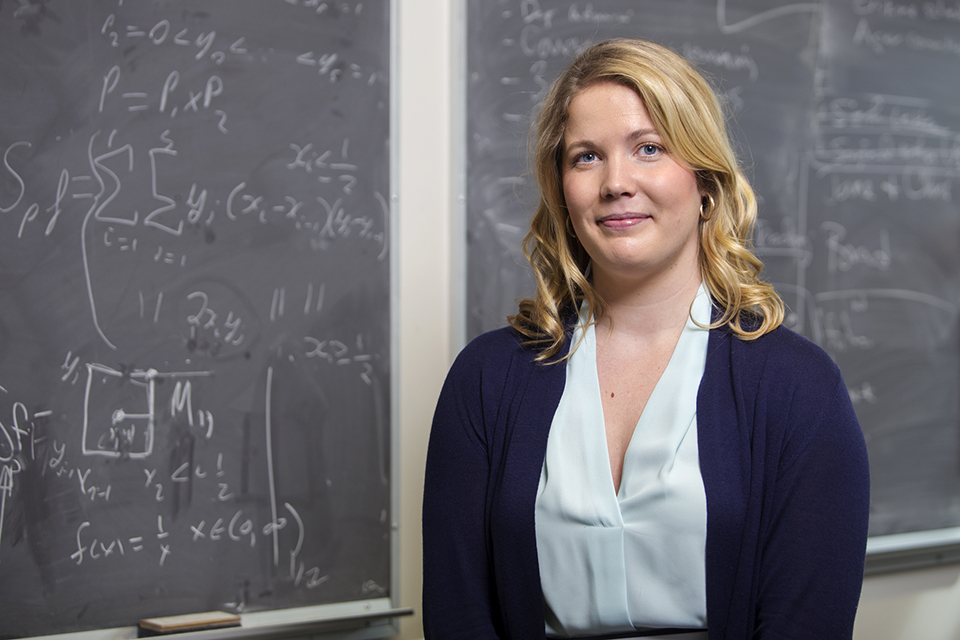 In the two years that Brittany Halverson- Duncan has been a senior lab instructor, she's connected the Department of Mathematics and Statistics with communities on and off campus.
Thanks to her dedication, a pilot tutoring program at First Peoples House has quickly developed a loyal following. "Brittany's gentle approach allows her to find ways to build trust with the students in a respectful and non-judgmental way," says Crystal Seibold in Indigenous Academic and Community Engagement.
Off campus, Halverson-Duncan is building partnerships to establish community mathematics and statistics help centres. Working with the WSÁNEC´ School Board's Saanich Adult Education Centre, she's helping Indigenous Education Language Keepers upgrade their math courses. And she's working with the Victoria Native Friendship Centre to assist carpentry students with the math portion of their program.
"Brittany saw an opportunity to have a lasting impact on the way all of us in the department engage with Indigenous students, how we welcome them into our learning community, and how we foster intercultural understanding," says mathematician Kieka Mynhardt.
Neil Honkanen (Department of Physics and Astronomy), Collaborator Award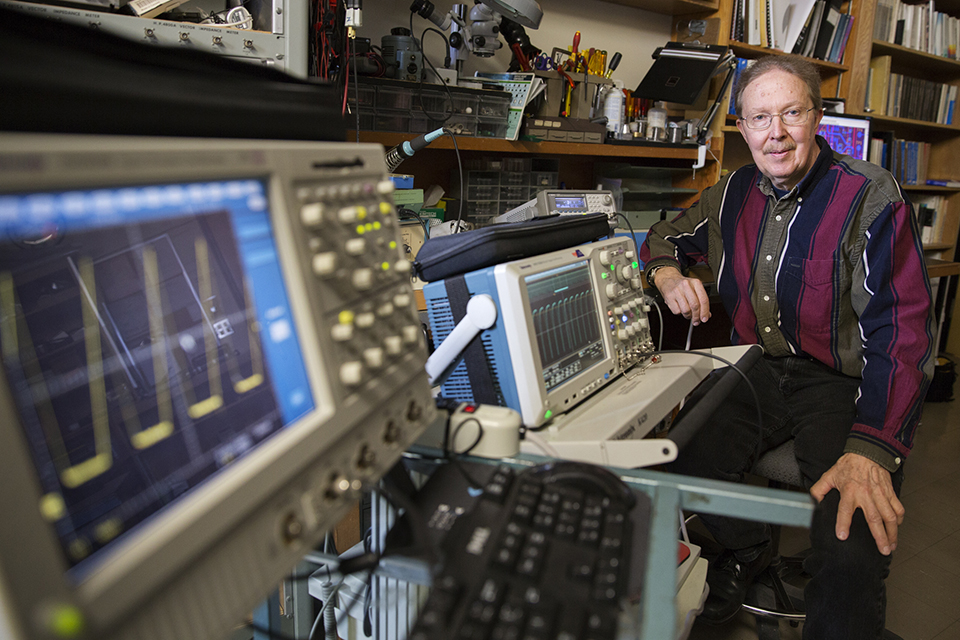 When the new telescope was mounted on the roof of the Bob Wright Centre, it quickly became apparent that there was a problem with viewing. So the department turned to electronics shop supervisor Neil Honkanen. He and his team spent days running between the Wright and Elliott domes, carefully monitoring and comparing temperatures within both structures. From their meticulous data, they proved that the unpainted Wright dome had temperature issues that required a permanent solution. This is just one example of Honkanen's commitment, resourcefulness and ability to trouble-shoot.
Over his 36 years in the electronics shop and 12 years as supervisor, Honkanen has gone above and beyond to provide invaluable service across campus—from assisting Facilities Management with a failing lighting system, to developing demonstrations for undergraduates, to designing and fabricating electronics for international particle physics collaborations.
"His whole approach encourages people to work together," says physicist Michael Roney. Although Honkanen is retiring in April, his leadership will ensure the electronics shop stays in excellent hands.
Carolyn Swayze (Faculty of Graduate Studies), Innovator Award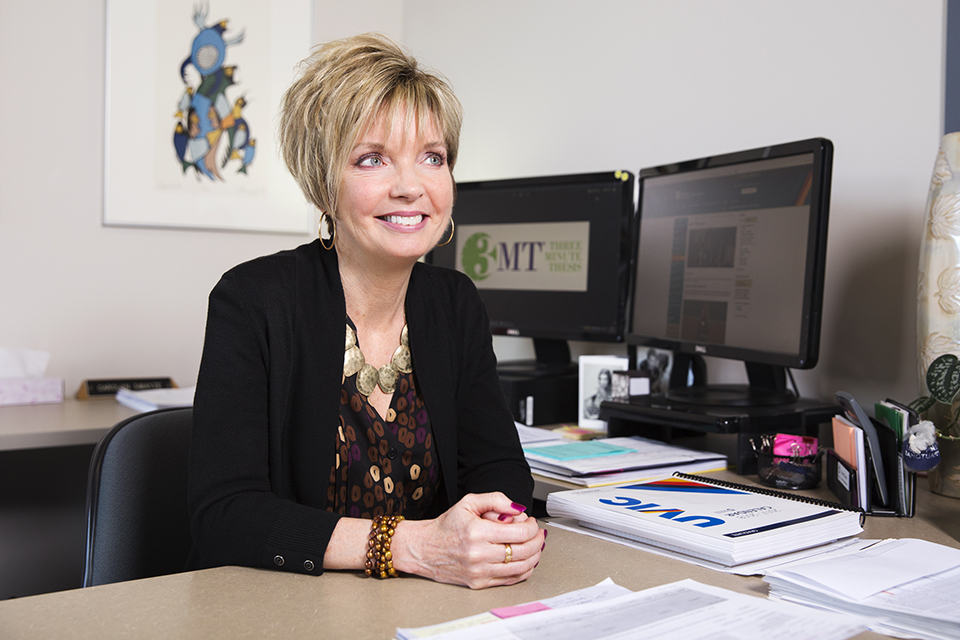 If you're looking for Carolyn Swayze in February, you'll likely find her behind the standing-room-only crowd at the finals of the annual Three Minute Thesis (3MT) competition. You might also find her chairing the graduate curriculum review committee, supporting more than 100 graduate advisors and secretaries, coordinating new program submissions, fielding student requests, and managing the online presence for the Faculty of Graduate Studies.
"Carolyn does the job of two or three people and does it with seemingly boundless energy and enthusiasm," says Stephen Evans, acting dean of graduate studies.
Combining a seemingly superhuman ability to meticulously manage multiple projects with almost 30 years of graduate studies experience, Swayze has built 3MT into a flagship event for the university. "Carolyn is an innovative thinker and a problem solver," says David Capson, former dean of graduate studies. "3MT is over and above the expectations of her role and it happens because of her talent, experience and energy."
Legacy Art Galleries team, Navigator Award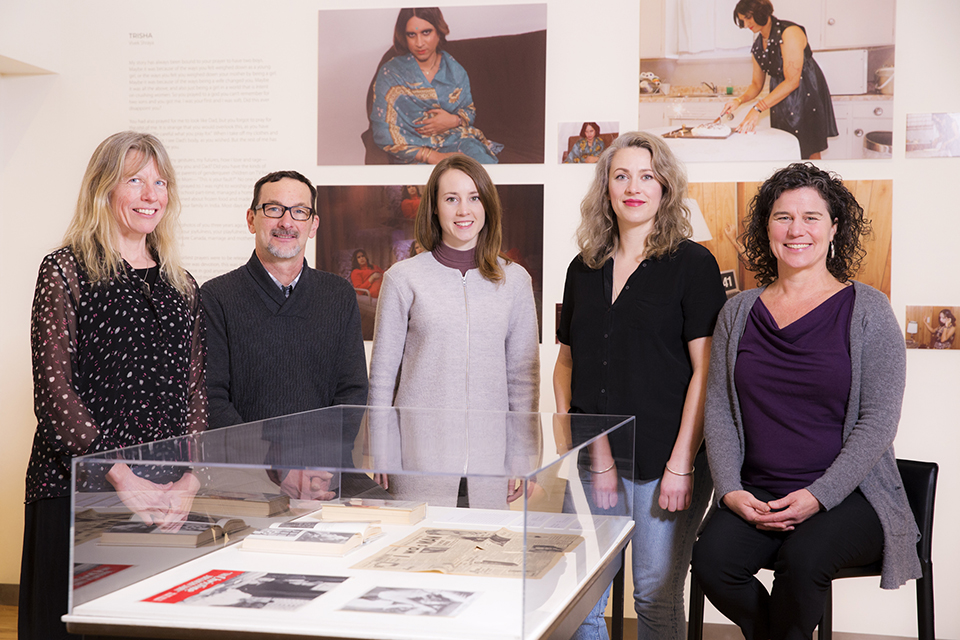 The team at Legacy Art Galleries consistently demonstrates excellent navigation through their powerful exhibition program that engages through creativity, and guides community and academic audiences through important contemporary issues.
In 2017, Mary Jo Hughes, Caroline Riedel, Gillian Booth, Roger Huffman, Katie Hughes and Emerald Johnstone- Bedell developed and facilitated a program primarily at Legacy Downtown that explored challenging aspects of Canadian history.
Some of these exhibitions included: a look at resurgence through children's residential and day schools art curated by anthropology professor Andrea Walsh; the first major focus on Ellen Neel, the first woman pole carver, curated by Williams Legacy Chair Carolyn Butler Palmer; and a transformative photo project by Lindsay Delaronde, which dismantled negative stereotypes of Indigenous women.
As part of the necessary emotional preparation for these exhibitions, the Legacy team worked with Coast Salish elders. Walsh says, "This is not the typical role of a gallery and its staff, to become so integrally involved in such social justice work based on reconciliation through academic activism."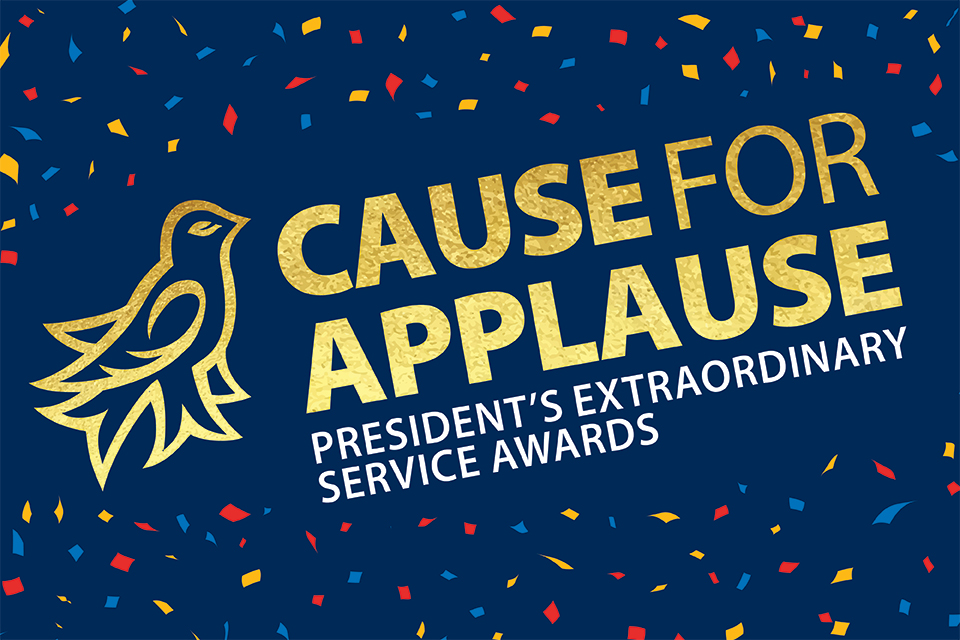 Photos
In this story