In memoriam: David Chuenyan Lai
- Grace Wong Sneddon and Reeta Tremblay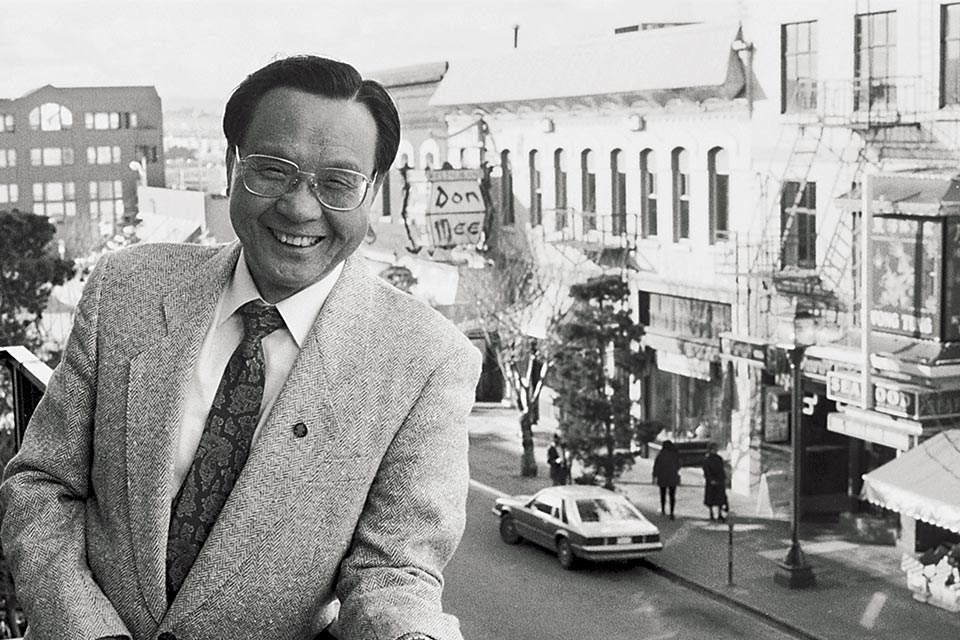 Remembering "the father of Canadian Chinatowns"
When David Chuenyan Lai died on June 15 after a prolonged illness, British Columbia lost an outstanding citizen who had been a role model to colleagues, civic leaders and ordinary citizens, and who, through his example, encouraged us all to have have the courage to take risks in striving to enrich and improve the lives of all Canadians.
Lai was, among other things, professor emeritus of geography and adjunct professor of Pacific and Asian studies at the University of Victoria.
Throughout his life, he was a well-known promoter of multiculturalism and an explorer of the early Chinese community history in British Columbia, in particular Victoria.
Confronted with the overt discrimination against the Chinese population when he first came to Victoria in 1968, which meant being unable to find a suitable accommodation for him and his wife, Lai went on to distinguish himself as a renowned expert on the history of Chinese Canadians, the development of Canadian Chinatowns and ethnic groups in British Columbia.
Through his scholarly work and community engagement, he demonstrated an outstanding vision in preserving the history and culture of Chinese Canadians and more than 40 Chinatowns across Canada. He was awarded the Order of Canada, the Gabrielle Léger Award of the Heritage Canada Foundation, the Heritage Award of the B.C. government, a Victoria Leadership Award and was made an honorary citizen of the City of Victoria.
Lai was born in 1937 in Hong Kong. He received his PhD from the London School of Economics. After teaching for five years in Hong Kong, he accepted a teaching position as an assistant professor in the department of geography at UVic in 1968, where his teaching career was to span more than 35 years. Conducting research and writing about Victoria's Chinatown quickly became his lifelong passion.
Early in his career at UVic, he was asked to provide a piece on Chinatown for a seminar on urban problems in Victoria. At that time, Chinatown had many abandoned and crumbling buildings.
When Lai set out to do research for the project, he discovered there were no available archives or statistics, so he went to the Chinese community members for his research and started his mission to document the history of Victoria's Chinatown.
In 1979, he wrote a report called The Future of Victoria's Chinatown: A Survey of Views and Opinion, which led to the City of Victoria's initiative to restore the buildings and heritage of Chinatown.
In 1981, the current Gate of Harmonious Interest was erected under Lai's leadership. He intervened in the destruction of the old immigration house on Dallas Road to take plaster pieces of the walls on which were written Chinese poetry. These are some of the most important artifacts in BC's history and are now on loan to the Royal Ontario Museum.
Certainly, the buildings and artifacts that have been saved or built through his efforts enrich the lives of Victorians. More generally, it is only through Lai's incredible efforts that significant historical records have survived and that generations of Victorians will be able to know this important part of our rich history.
It would not be an exaggeration to state that through his preservation efforts, Victoria's Chinatown continues to have a massive impact on tourism. Even after his retirement from the university, as professor emeritus, he encouraged his younger colleagues to become involved with the Arrivals project at the Royal BC Museum.
The exhibits for the Centre for Arrivals project presented the experience of migrant communities by recreating intercultural BC history through their own diverse lenses, and underscored the migrant arrivals' contribution to the history, culture and development of BC.
The Victoria Foundation was an avid supporter of Lai's persistent efforts in preserving the Chinese history and culture in Victoria. In 2011, it provided financial support for the Chinese Canadian History Project Council at Simon Fraser University's David Lam Centre, with a mandate to develop educational materials for use by schools, community organizations and the tourism industry.
The foundation was also instrumental in assisting Lai in the production of a new document providing an account of Victoria's oldest Chinatown as part of a national chronological overview of Chinese Canadian history.
Lai's research interests and community involvement inspired many others to become engaged in understanding and promoting Victoria's cultural landscape. We remain indebted to him for enriching and improving the lives of all Canadians, especially the lives of Victorians, through his work in preserving and celebrating our shared history.
Authors Grace Wong Sneddon and Reeta Tremblay are respectively the chair of the board of the Victoria Foundation and an adjunct faculty at UVic, and a professor in the Department of Political Science. They are working on a book on citizenship and the marginalizataion of the Chinese community during the early formation of BC.
Other contributions
After retirement from the Department of Geography, Lai stayed closely involved with UVic's Institute on Aging and Lifelong Health (formerly COAG), where a scholarship was established in his name to support graduate student research in the area of aging.
Working with the Royal BC Museum, Lai produced a video about the experiences of Chinese immigrants to Canada in Victoria's former Immigration Building. 
A memorial gathering is planned for Aug. 5, 2018.
Photos
In this story
Keywords: in memoriam, history, immigration, human rights, community, geography
People: David Chuenyan Lai