Learning on the land, for the land
- Sarah Tarnopolsky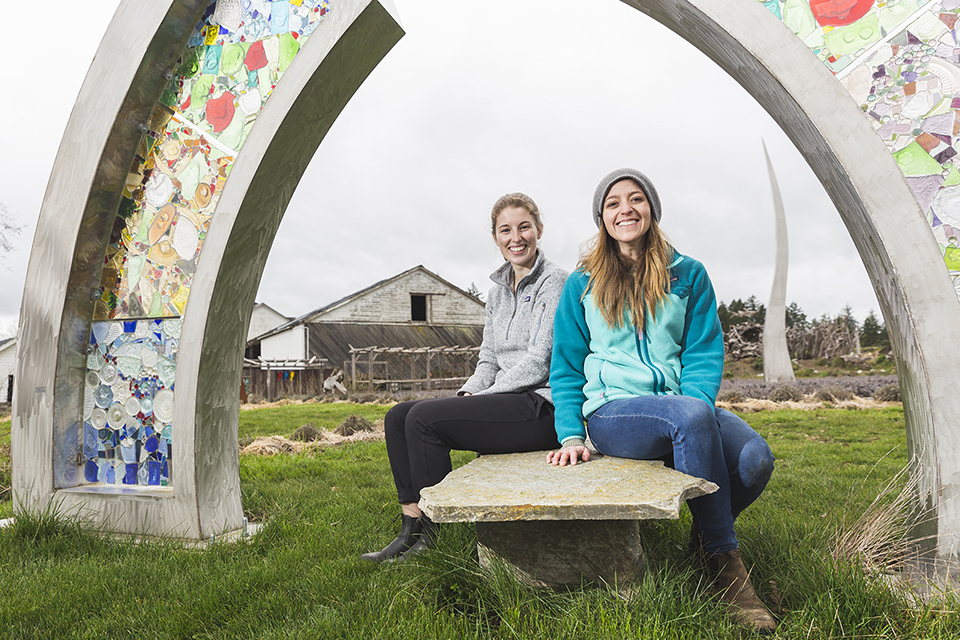 Donor funding helps students make lasting change for a healthier planet
After completing UVic's Northern Europe Sustainability field school, Riley Thackray was keen to apply her knowledge and enthusiasm to a local project. The Stephens Family Undergraduate Research Award in Organic & Sustainable Food Systems gave her the means to expand the scope of her project from a rain catchment system to a water conservation initiative, providing lasting benefits to community partner Woodwynn Farms.
Thackray and fellow geography student Rheanna Neilson worked with the 193-acre organic farm and therapeutic community to employ rainwater harvesting in its Peace Garden. On a site visit, the students noticed an unutilized cistern at the top of the garden and set out to place a catchment system on top of it. After failing to find existing examples of a similar free-standing system, they designed a new system by trial and error, and hand built it with materials from a local hardware store.
12 hours of volunteer time per week and 50-80% of water saved
1,300 UVic community engagement initiatives in 85 countries
6,500+ students participate in community-engaged learning at UVic each year
Expanding the scope of the project
Thackray's original proposal for the research award included the creation of a video to share the project with fellow students and other community organizations. In a stroke of good fortune, local video production company Media One offered to create a video in partnership with Shaw TV. This left Thackray with some extra budget to extend the scope of their work on the farm.
Staff and volunteers on the farm cited water resiliency as an issue throughout farm operations. Volunteers would spend 12–24 hours per week watering the Peace Garden in the summer. So Thackray and Neilson proposed implementing an irrigation system for the lavender- and sage-lined walking labyrinth.
With limited knowledge of drip irrigation systems, they approached local business Site One Landscape Supply for advice and equipment. Experts at Site One coached the students while letting them figure out the system plans for themselves—another dynamic learning opportunity for Thackray and Neilson.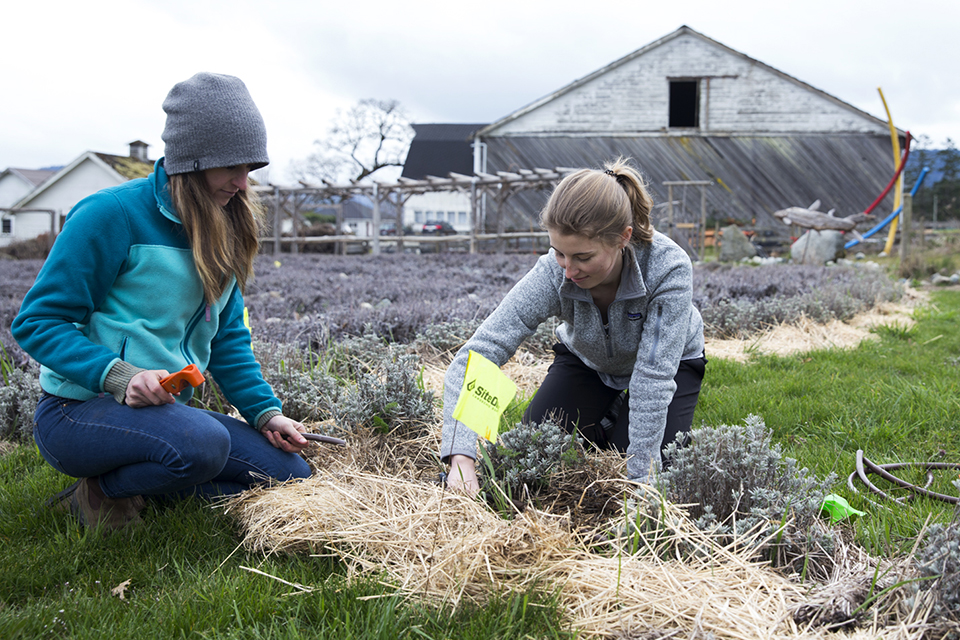 Both initiatives would save the farm precious water and volunteer resources, increasing the non-profit's capacity for its organic horticultural production activities.
I wish all students could have this opportunity. We got to work collaboratively with a community partner to actually create something that's going to benefit people, all the while learning skills that we will need in the workplace—communication, budgeting, problem-solving, leadership—things you can't learn in a lecture. I feel like I'm a step ahead of some students because I was able to do this project.
—Riley Thackray, UVic geography and environmental studies student
Road blocks add layers to learning experience
While working on the project, Thackray and Neilson met and ate dinner with volunteers and participants of the therapeutic program, and gained insight into Woodwynn's holistic approach to addressing issues of homelessness and addictions.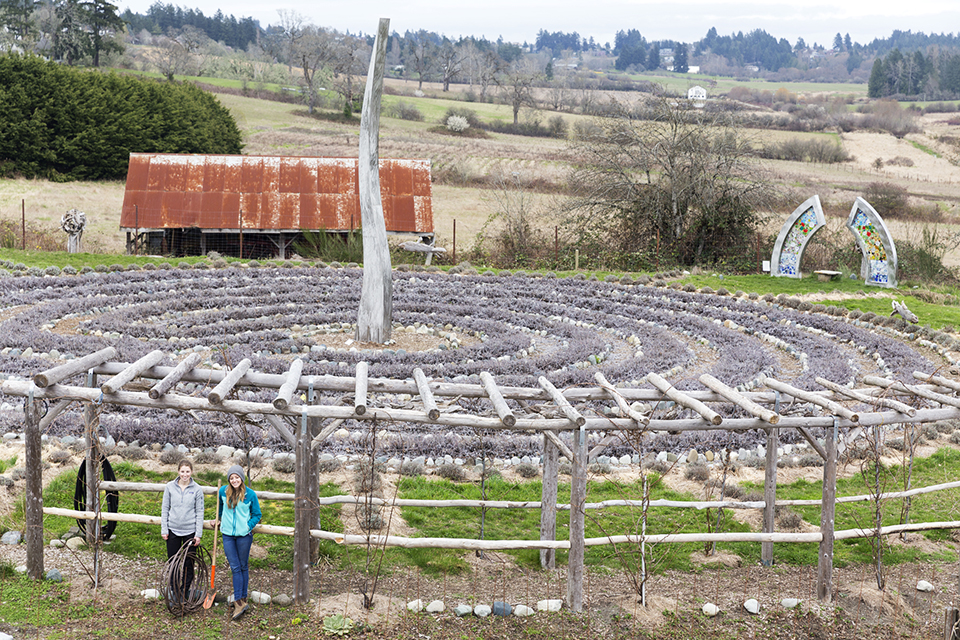 With the remaining project budget they intended to expand the irrigation system through the fruit trees and berry bushes, eliminating the need for hand watering in the Peace Garden completely. But external road blocks shut down their project. In the spring of 2018, the farm closed and the Creating Homefulness Society began organizing the sale of the property. The crisis added a layer of complexity to their learning experience.
"I struggle to put into words what this project meant to me," says Thackray. "Especially how everything unfolded at the end of the semester. It was frustrating and emotional. But it also opened my eyes to what I might do career-wise. I now know I want to be involved in positive change, and use the skills I've acquired to find my role within it."
As students we have a lot of energy and we really want to get out there and do things. The grant gave us the capacity to bring in more people, bring in equipment and help the farm meet their needs.
—Rheanna Neilson, UVic geography student
The Stephens family, founders and owners of Nature's Path Organic Foods, are committed to supporting sustainable, organic, non-GMO food movements in their business practices. Through their gift to UVic, they are helping other organizations create sustainable food systems while at the same time, enabling passionate students to learn how to be future leaders in their field.
Support for UVic initiatives
Photos
In this story
Keywords: philanthropy, student life, sustainability, field schools, volunteering, geography, environmental studies, agriculture
People: Riley Thackray, Rheanna Neilson