At your service: BCom grad discovers new purpose in service management career
Peter B. Gustavson School of Business
- Sasha Milam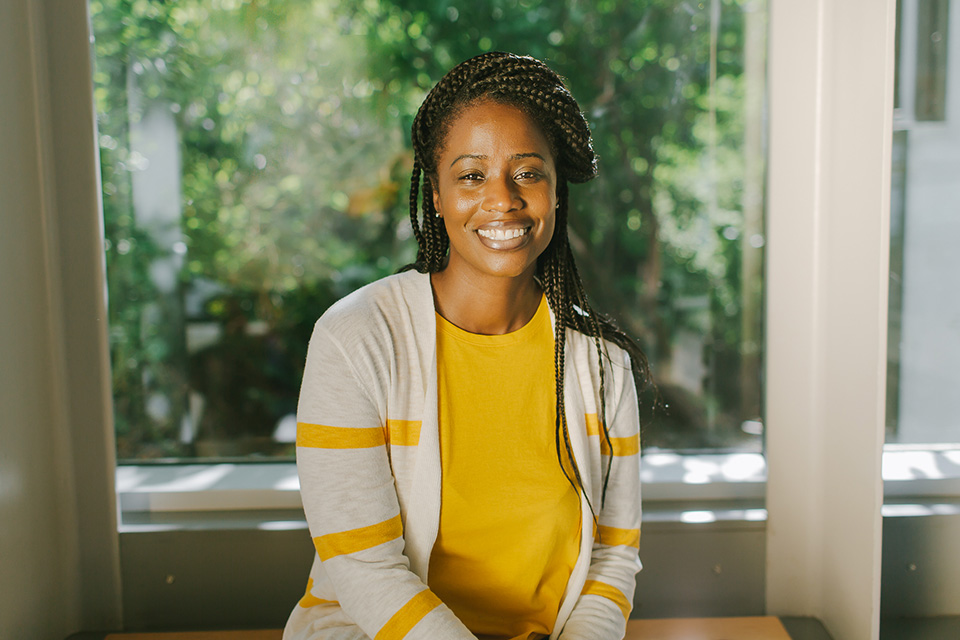 Tamika Rodney, BCom '18, was completing a hospitality management diploma at Southern Alberta Institute of Technology when a fateful need for caffeine and some eye-catching island photos conspired to redirect her toward UVic's Peter B. Gustavson School of Business, and a complete life change—though she didn't realize it at the time.
"The Gustavson BCom recruiter just happened to be set up in the building where I had class, right next to the Tim Horton's—so naturally, I had to walk right by because I was definitely getting tea," laughs Rodney. "I was caught by these stunning photos of the island. I had to stop and learn more."
And what she learned in that stop clicked for her. Rodney was finishing her two-year certificate and realized a bachelor's degree would be an advantage when applying for jobs in the future.
As a mature student with a family to support, I couldn't afford to spend another four years to school. With Gustavson's two-plus-two structure I wouldn't have to do that. It just made perfect sense that in four years I would end up with a hospitality diploma and a business degree.
—Tamika Rodney, commerce graduate
In practice, the two-plus-two format means that BCom students spend their first two years completing pre-requisites and exploring elective coursework. In third year, they enter the intensive "core" year of the business program that immerses tight-knit cohorts of students in foundational business courses. Students like Rodney, who have completed two years in a qualifying hospitality diploma program, can enter directly into third year.
"Gustavson was the only program I applied to," says Rodney. "I'm not the student who went looking for the school; I really feel like the school found me."
Fall 2016 saw Rodney and her young son packing up and relocating to Victoria. It was a significant lifestyle adjustment; born and raised in Alberta, Rodney loves that in Victoria, her son can ride his bike everywhere and spend most of the year outdoors. The fit with Gustavson proved to be similarly felicitous.
"In retrospect, I didn't do the full research one should do, but it wasn't long after I arrived at Gustavson that I realized my instinct had been right: this was the school for me."
A big part of this fit was due to Rodney's own industry experience. She had spent 12 years with ATB Financial, starting in the call centre and working her way to a credit underwriter position before going back to school.
"Because I had work experience prior to Gustavson, I knew the opportunities that were available to me as a student were things I would never get my hands on if I weren't in this type of program," she says. "Things like access to co-op positions with organizations like Tesla, Blackberry and the government, no less, to networking opportunities, professional development courses—these were incredible opportunities that I fully appreciated, knowing what I did of the world outside school."
Having completing two co-op terms with the Department of National Defense, Rodney began a full-time position as a project coordinator with BCI this September. As she pointed out herself, none of these roles are in the hospitality industry. When asked what caused the shift in her career trajectory, Rodney answers without hesitation: the business operations class during her core term and service management specialization.
"I took the service management specialization assuming I was going to pursue a career in hospitality, because as soon as you say service, you naturally think hospitality," says Rodney. "But that turned out to be the biggest, most wonderful shock: the service management specialization showed me that service management wasn't just hospitality. It was business operations, HR and marketing and how these should be strategically aligned in industries such as healthcare, manufacturing, and yes, hospitality.
"I just remember when we started talking process mapping and continuous improvement—all the things I love to do and had worked on unofficially in my past work experience—I had that 'aha' moment of 'There's a career in this?!'"
Although still fascinated by how service management principles can optimize hospitality experiences, Rodney's attention was caught by the discovery that operations itself was a career. By embracing every opportunity that the BCom program sent her way and applying her own industry knowledge to her new understanding of theory, she struck onto a path that incorporates her passion for service management in a context she couldn't have imagined when she started her BCom journey.
"The BCom office, the school, they have given me so many opportunities," says Rodney. "From co-op and personal branding guidance, to putting my name forward to attend the networking event that ultimately got me my job at BCI—they have been incredible in supporting my journey."
Photos
In this story
Keywords: business, convocation, student life, alumni
People: Tamika Rodney
Publication: The Ring