Report reveals 'new homeless reality' in Metro Vancouver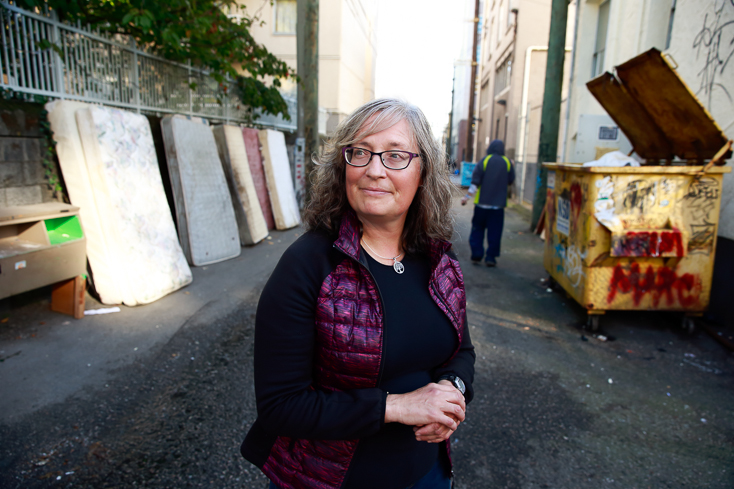 Data from a new report released today by Union Gospel Mission suggests Metro Vancouver is entering a 'new reality' in its struggle against homelessness, where unaffordability is driving people onto the streets, creating backlogs in shelters, and preventing others from entering services like addiction recovery. The report, co-authored by the University of Victoria's Dr. Bernie Pauly and Union Gospel Mission (UGM), also suggests homelessness is increasingly beyond an individual's control.
"This report shows unaffordability is tipping the scales on homelessness like never before," says UGM's Jeremy Hunka. "It is both pushing people into homelessness and preventing others from exiting homelessness. It's a double edged sword."
The report entitled No Vacancy: Affordability and Homelessness in Vancouver uses information acquired from government agencies and other sources to examine key structural factors contributing to homelessness. These include rental housing vacancy, supply and cost; income and cost of living; and social housing supply and demand.
Among the key findings:
Vacancy rates for most affordable rental units are below 1% across Metro Vancouver. In the City of Vancouver, vacancy rates for bachelor units renting at less than $750/month plummeted from 1.3% in 2014 to 0.1% in 2015. Since 2010, supply of these units dropped more than half from 1,728 to 843.
While there are 42,171 permanent subsidized housing units in Metro Vancouver and new units have been added yearly, 10,278 households remain on BC's Housing Registry, seeking suitable housing.
Between 2010 and 2015, the average rental price of bachelor units in Metro Vancouver increased by 16%. Basic social assistance remains unchanged in 9 years.
The number of people housed by BC Housing Homelessness Outreach Programs in Metro Vancouver has increased by 12% over 5 years, to 4796* people housed in 2015/16. Rent supplements have more than doubled since 2011/2012.
Shelter occupancy across Metro Vancouver is at 97%.
The percentage of women in Metro Vancouver shelters grew from 28% to 32% over the past 5 years. The number of senior applicants on BC's Housing Registry has increased 38%.
"The question is not whether we are doing something but whether we are doing enough," says report coauthor Dr. Bernie Pauly of UVIC. "When we look at the current numbers of people who are homeless, the answer is no. Sadly, this makes the job of moving off the streets difficult."
"The crisis means we have to work harder to help fewer people," says Hunka. "Guests who are otherwise ready to leave UGM shelter or recovery are forced to stay longer as they search for scarce housing. This backlog prevents us from taking new guests into some programs. As a result, we've found housing for 36% fewer people this year over last while shelter turnaways have increased 25%. Numbers are going in the wrong direction and affordability is a major contributor."
The report, being released during Homelessness Action Week, can be found along with a video and data supplement at http://ugm.ca/affordability.
About Union Gospel Mission
Union Gospel Mission has been feeding hope and changing lives of men, women, youth, and children for more than 75 years. Through its seven locations in Metro Vancouver and the city of Mission, UGM provides emergency shelter, meals, safe housing, alcohol and drug recovery, career development counseling and education to those struggling with poverty, homelessness and addiction. The heart of the mission is to demonstrate God's transforming love, ease the burden of the most vulnerable, rebuild lives and offer dignity to those who feel cast aside. To learn more, visit www.ugm.ca.
About UVic's Centre for Addictions Research
The Centre for Addictions Research of BC (CARBC) at the University of Victoria is a network of individuals and groups dedicated to the study of substance use and addiction in support of community-wide efforts to promote health and reduce harm. Our research is used to inform a broad range of projects, reports, publications and initiatives aimed at providing all people in BC and beyond with access to happier, healthier lives, whether using substances or not. To learn more, visit www.uvic.ca/research/centres/carbc/.
A media kit containing high-resolution photos of Bernie Pauly will be available to media at this Dropbox link.
-- 30 --
Photos
Media contacts
For UGM-related questions -- Jeremy Hunka (UGM Senior Public Relations Specialist) at 604-996-1417 or jhunka@ugm.ca
Suzanne Ahearne (University Communications + Marketing) at 250-721-6139 or sahearne@uvic.ca
In this story
Keywords: homelessness, Canadian Institute for Substance Use Research
People: Bernie Pauly, Geoff Cross