Newly named building a tribute to a legacy
- Tara Sharpe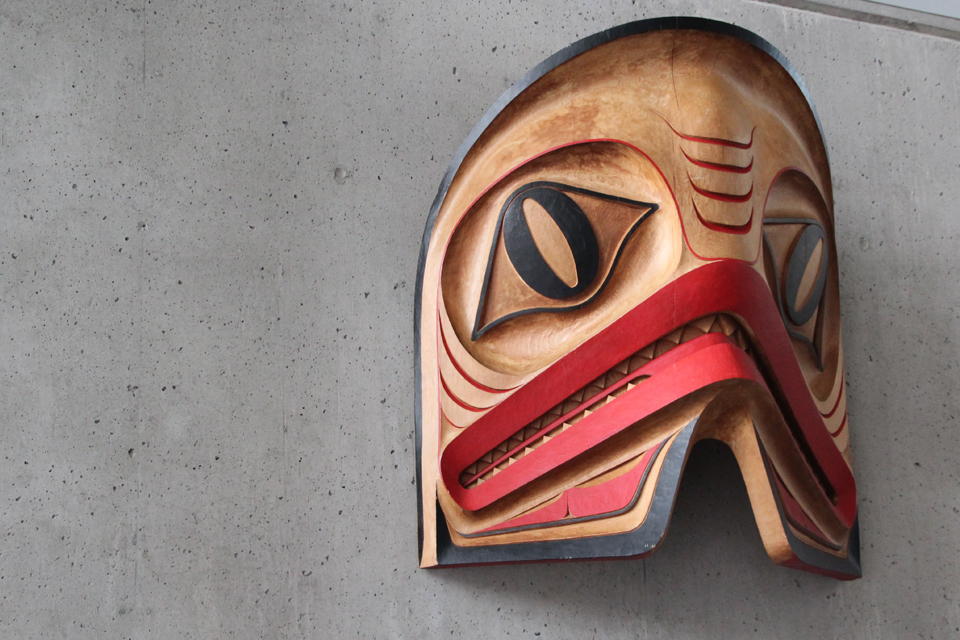 The Michael Williams Building, officially renamed in November 2016 after being known as the Administrative Services Building since it opened in 2008, now stands as tribute to the legacy and generosity of the late Michael Williams, devoted local philanthropist, heritage property developer and patron of the arts.
UVic was the main beneficiary of the Williams estate and his transformative gift remains the single largest donation from an individual in the university's history.
The official proceedings began Nov. 17 with a welcome to the territory by Skip Dick (Songhees) and a prayer from May Sam (Coast Salish, Tsartlip) and concluded with the unveiling of the new sign outside, followed by a ceremonial blessing of song, drumming and dance by the Copper Maker Dancers with Chief Calvin Hunt and his family.
From Jan. 9-15, Shaw TV will broadcast a special documentary video on the Williams naming ceremony. The event was also featured in a front-page article in the Times Colonist newspaper. Read more about Williams and his legacy in the Nov. 17 news release and backgrounder.
Cultivating a creative advantage for students and researchers
President Jamie Cassels said in his remarks to the assembled gathering of approximately 100 people including friends of Williams that he was "reminded what a generous, insightful, forward-thinking man [Williams] was." His legacy "will only amplify further over time."
Hjalmer Wenstob (Tlehpik), a Nuu-chah-nulth artist from the Tla-o-qui-aht Nation who is currently an MFA student in UVic's Department of Visual Arts, was also a member of the platform party and spoke of how his grandfather knew Williams.
Earlier this year, Wenstob was featured in the exhibition Emerging Through the Fog: Tsa-qwa-supp and Tlehpik – Together (which combined prints of Art Thompson (Tsa-qwa-supp) with contemporary interactive carvings by Wenstob) at Legacy Art Gallery Downtown.
Wenstob recounted how, for the exhibit, Thompson and his grandfather "separated by time came back together…and I think Michael was there too."
A legacy to support the academic mission
Williams passed away in November 2000 while en route to London. His estate had a net value at the time of $17 million, primarily in the form of real and personal property including Swans Hotel & Brewpub as one of nine downtown heritage properties, an oceanfront home and a 1,000-piece fine art and antique collection of Northwest Coast Indigenous and contemporary art from the Pacific Northwest region including major works by Jack Shadbolt, James Gordaneer, Myfanwy Pavelic, Robert Davidson, Roy Henry Vickers and Susan Point.
This remarkable legacy continues to provide a revenue stream to fund initiatives and support the university's academic mission. For instance, as a reflection of Williams' keen interest in marine ecology, UVic used proceeds from the estate toward construction of a new building at the Bamfield Marine Sciences Centre in 2004 and the purchase of the Vancouver Island Technology Park in 2005 and, in 2008, created the Williams Legacy Chair in Modern and Contemporary Art of the Pacific Northwest.
Williams Legacy Chair Carolyn Butler-Palmer remarked during her speech that she'd been "deeply moved with what I've learned, working with communities here to carry forward the Michael Williams name and legacy for future generations. It is truly the next generation—our students—who are the true vectors of Michael Williams' values. Through the work of our students, the legacies of Michael Williams live on in the world."
The Williams art collection also continues to serve as an important point of entry for students to develop a critical curatorial process and has also strengthened community access to university programs, activities, facilities and knowledge. Pieces from the collection can now be found throughout the Michael Williams Building—including Shark (Dogfish) by Robert Davidson (Haida), of carved and painted red cedar (see photo below)—as well as in public spaces on campus, in Swans Hotel and in the university's downtown public art gallery.
'A publican and a public man, a visionary and a Victorian'
Williams was born in 1930 in the county of Shropshire, England. His connections to Victoria reach even further back in time: his maternal grandfather was a stone mason who journeyed from England to help complete the Parliament Buildings and the Empress at the turn of the last century.
Williams himself moved to BC early on, relocating from the farming region of Shropshire to the sheep ranches of the Okanagan in 1950 at age 20, then settling in Victoria in the late 1950s to work as a dog trainer and run a kennel in Langford—with his sheep dogs and flock of sheep a regular fixture at Victoria's spring parade. In 1977, Williams began redirecting his career with a vision of preserving the character of heritage buildings in downtown Victoria while also adding a contemporary flare with bright colour schemes and windowboxes.
He was a one-of-a-kind visionary. A businessman with an outspoken sense of social justice, he was also a quiet philanthropist. Every month, he donated $1,000 to the Open Door ministry and he often gave sandwiches from his restaurant to people living on the street, many of whom knew him by name.
Although he dropped out of school at age 14, Williams believed in the importance of universities, teaching and research. An honorary degree was granted to him by UVic in 1990 in recognition of his leadership in preserving and renewing Victoria's Old Town district.
The citation noted he was "at once a businessman, developer and heritage conservationist…a publican and a public man, a visionary and a Victorian."
About the building
The university's executive team and other administrative offices are housed within the Michael Williams Building, which is situated between the Continuing Studies Building and parking lot 4 adjacent to Ring Road. The building was designed by CEI Neilson Architecture Planning Interiors and completed in October 2008.
Photos
In this story
Keywords: administrative