President's Distinguished Service Awards
- Joanne McGachie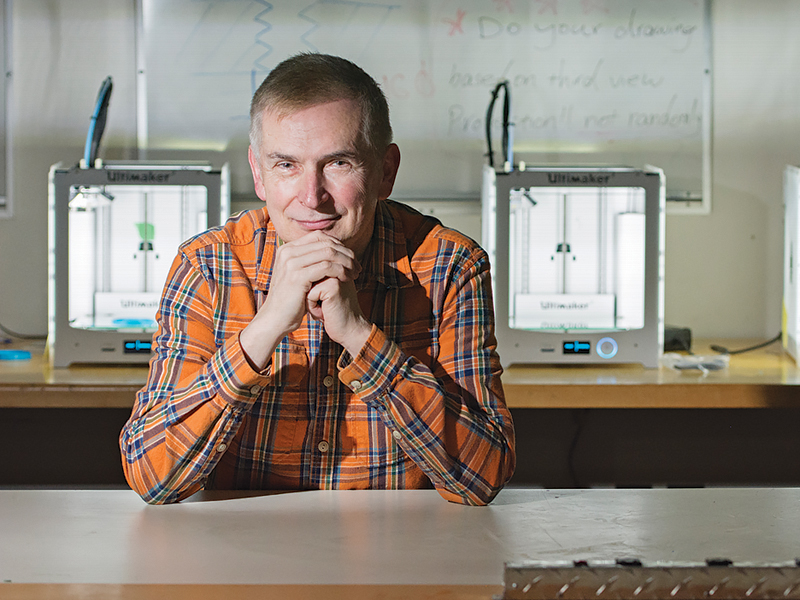 Celebrating exceptional staff
The celebration of this year's President's Distinguished Service Award recipients, hosted by President Jamie Cassels, took place Feb. 25 at the University Club. Before the recipients were named, Valerie Kuehne, UVic's acting vice-president academic and provost, recognized and congratulated all those who had been nominated.
"This year there were 18 nominations for individual awards and five nominations for the Team Award for Innovation," she said. "Some of you have told me that just being nominated by your peers is an honour in itself. I ask you now to take a moment and bask in the knowledge that your colleagues indeed think a great deal of you. One thing that strikes me about all our award nominees is that their colleagues notice their profound and deep commitment to their work at the University of Victoria."
"I'm delighted to celebrate the 2014 PDSA recipients and nominees," said President Cassels. "As always, it was very challenging to select our award recipients—all of the nominees were deserving of recognition. This really is a tribute to the calibre of UVic staff and their many achievements."
This year, two recipients were selected for the Excellence in Service Award: Arthur Makosinski (mechanical engineering) and Russell Robb (physics and astronomy). Marilyn Cossaro (ONECard office) was presented with the Award for Excellence in Leadership; and Lawrence Lu (janitorial services) received the First Five Years—Outstanding Contribution Award. The Team Award for Innovation was presented to UVic's Climate Insights 101 team.
AWARD FOR EXCELLENCE IN SERVICE
Arthur Makosinski, Mechanical Engineering
Arthur Makosinski is the Laboratory Manager in Mechanical Engineering, and is one of the founding members of that department with over 20 years of service. He supports the daily operation of all teaching and research labs, generates and maintains the course schedules, leads the technical support staff, and much more.
His contributions go well beyond the daily job requirements; Makosinski is committed to the excellence of the learning and teaching environment, and to the experience and safety of the students in his labs. He is a problem-solver who designs and fabricates custom lab equipment that has saved a great deal of money and helped develop our highly-regarded mechanical engineering department.
Makosinski is seen as the "wise council" of the department, who gives his time and expertise willingly to anyone who seeks it.
Russell Robb, Department of Physics and Astronomy
Russell Robb has been a valued member of the Department of Physics and Astronomy for 32 years, in the dual capacity of Senior Scientific Assistant and Senior Lab Instructor in Astronomy. However, his contributions have extended far beyond his job description, to become an integral part of the department's teaching and public outreach programs.
Playing a multifaceted role as course instructor, laboratory coordinator and manager of the campus telescope facilities has put Robb in daily contact with students, faculty, staff, postdoctoral fellows and researchers. His expertise and high standards, combined with his enthusiasm and approachability, have greatly contributed to UVic's highly productive learning and research environment.
Robb's passion for astronomy and his dedication to the students and their learning experiences have led to his mentorship of countless grads and undergrads. He has inspired and engaged them, encouraged and taught them with tireless enthusiasm and endless patience.
Robb has also actively promoted outreach activities to the broader community, organizing and hosting Astronomy Open Houses and tours of the telescope facilities. These hugely popular activities are a significant commitment for Robb, since they run weekly, rain or shine, 11 months out of the year.
"Russ has shown remarkable dedication to UVic and to his role," said physics and astronomy chair Dr. Adam Ritz. "His work ethic, leadership, vision and commitment, combined with his remarkable range of contributions, make him most deserving of the President's Distinguished Service Award, Excellence in Service."
AWARD FOR EXCELLENCE IN LEADERSHIP
Marilyn Cossaro, ONECard Office
Marilyn Cossaro has overseen the university's Photo ID Centre since 2006, and for the last four years has been the driving force behind the research, development and implementation of the ONECard program.
This was no small task. From the very start of the process to find a new campus-wide solution for ID cards, Cossaro played a key role in determining the requirements for a new system. She was then involved in every aspect of its implementation, including its design, process updates, revised meal plan structures, new functionalities for account management and communication of the changes to the campus. All of this while putting in countless hours learning a brand new system, training staff, relocating the ONECard office and overseeing the production and distribution of more than 26,000 new ONECards to all our students, staff, faculty and alumni.
"All of this is a testament to Marilyn's leadership skills and dedication, and the results speak for themselves," said Jim Forbes of student services. "Students and staff experienced a smooth transition to the new, comprehensive, highly-integrated system that has earned UVic the reputation as a pioneer and example for other campuses all across North America."
AWARD FOR FIRST FIVE YEARS—OUTSTANDING CONTRIBUTION
Lawrence Lu, Janitorial Services
Lawrence Lu came to UVic in 2010, from a senior leadership role in the hospitality industry. He brought with him a keen understanding of what motivates people to do their best work and achieve success for the entire team.
Facilities Management has a departmental vision and core values statement that says: "As stewards of the campus, we foster and enrich an inviting and functional environment that welcomes and supports all who come here." Lu has brought this vision to life in ways that have been inspirational and motivating for the entire department.
In his relatively short time on campus, Lawrence has distinguished himself as a leader, a mentor and a dedicated team-builder. His staff know he can be counted on to treat them with equity, dignity, respect, and humour. Nella Garman from Human Resources noted: "Lawrence has a firm but fair management style, exercised with a collaborative, collegial and considerate approach that has garnered the respect of the many individuals he interacts with across campus."
TEAM AWARD FOR INNOVATION
The Climate Insights 101 team: Pacific Institute for Climate Solutions, Pacific Climate Impacts Consortium, School of Earth and Ocean Sciences
This dynamic group of individuals developed, over the span of four years, a trilogy of online educational products entitled Climate Insights 101—a suite of interactive and animated, free online courses designed to address three critical and essential questions facing humanity today: What is causing global warming? How can we slow climate change? And how can society adapt?
Designed to bridge the gap between scientists and the general society, these courses have online users in more than 170 countries, including educators and students from middle school to university levels, municipal and provincial governments, industries, non-government organizations and the media.
Launched as a complete series just a few months ago, Climate Insights 101 is already being recognized worldwide for its scientific integrity; its unique and appealing approach to climate change science, mitigation and adaption; and the depth and breadth of its content and resources.
"Vision, tenacity and an unwavering commitment to a top-quality product were key attributes displayed by the entire team behind the creation of these courses; all of whom went above and beyond their own job responsibilities over the past four years, to bring this project to life," said President Cassels.
The creation of Climate Insights 101 has further contributed to UVic's reputation as one of Canada's leading research-intensive universities. It is a world-class product of which UVic can be justly proud.
Photos
In this story
Keywords: award, staff, mechanical engineering, physics and astronomy, ONECard, facilities, Pacific Institute for Climate Solutions, Earth and ocean sciences
People: Arthur Makosinski, Russell Robb, Marilyn Cossaro, Lawrence Lu