Unite to Change with United Way
- Brock Hurley, UVic United Way campaign assistant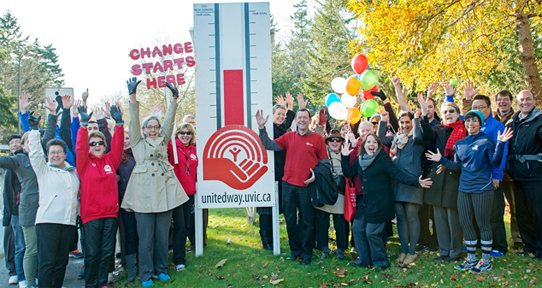 It's that time of year again. United Way Greater Victoria's annual fundraising campaign is underway and this year the charitable organization has set its fundraising goal at $6 million. United Way counts on the support of the Greater Victoria community to reach its goal each year.
UVic is a proud supporter of the United Way, and this year, the fundraising goal of the UVic campaign has been set at $250,000. The UVic campaign kick-off will take place October 6 in the lobby of the University Centre from 11:30 a.m. to 1:30 p.m. Everyone is invited to come enjoy some refreshments and chat with representatives from United Way Greater Victoria and UVic's United Way campaign committee.
The President's Walk will take place at noon on Oct. 6, beginning and ending at the kick-off event at the University Centre. The entire UVic community is invited to join President Jamie Cassels in a walk around Ring Road to support United Way.
Pledge forms are moving online for the 2014 campaign. UVic employees will receive an email notifying them of the changes to the donation system and directing them to the new online pledge form. This new system will make supporting United Way much easier. For more information about how to donate, please visit www.uvic.ca/unitedway/donate.
"United Way funds a number of vital services in our community, and our campus fundraising efforts contribute significantly to these services every year," says 2014 UVic campaign chair Kane Kilbey. "I encourage the entire UVic community to join us at our kick-off and President's Walk, and to pledge whatever support you can. Every dollar goes a long way towards making positive change in the lives of people in our community. Help us reach our goal of a quarter million dollars this year!"
The 2014 campaign will feature several fundraising events. These events are a fun way to support the United Way and get a break from busy campus life. Events include the Plasma Car Races on Oct. 28, the UVic Libraries Book Sale on Nov. 18-20, and our newly minted Winter Artisans Market (formerly the Hearts and Hands Craft Fair) on Nov. 25-26, amongst others.
For information about all of our events, including event details and times, keep your eyes open for our event posters around campus and on the campus digital screens. United Way Greater Victoria is the largest non-government funder in the Capital Regional District. Since 1937, UWGV has invested over $140 million into building stronger, healthier local communities. United Way ensures that a strong network of services exists throughout the region. United Way works with community partners to ensure that your donated dollars have the greatest influence in the lives of our citizens.
For more information about United Way Greater Victoria, please visit www.uwgv.ca. Visit the UVic United Way website at www.uvic.ca/unitedway and follow the campaign on Twitter @UVicUnitedWay, and on Facebook at www.facebook.com/uvicunitedway.
Call for donations: UVic Libraries Book Sale

The 2014 UVic Libraries Book Sale for United Way is taking place in the Michèle Pujol Room in the SUB Nov. 18 to 20, 9 a.m. to 6 p.m. each day.
 
Following the official kick-off of the UVic campaign on Oct. 6, donations of good quality used books, CDs and DVDs will be accepted until Nov. 7 at the Loan Desk, Research Help Desk or Mail Room (9:30 a.m.-2:30 p.m., Monday-Friday) at the Mearns Centre for Learning/McPherson Library only. A Community Donation Drive Day will also take place in Parking Lot B (between the library and the Bob Wright Centre, off Ring Road) on Saturday, Nov. 8 from 9 a.m. to noon.
 
Books only please! Dictionaries, encyclopedias, magazines, textbooks, journals, audio cassettes, VHS tapes, typewriters, stereos and audio equipment will not be accepted.
Photos
In this story
Keywords: fundraiser, community, United Way
People: Kane Kilbey