Campus construction update: Facilities and projects poised to improve campus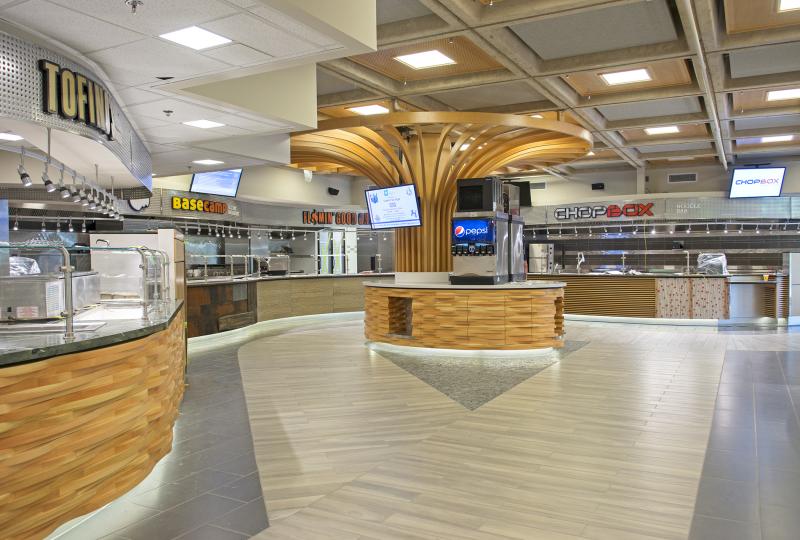 As the semester opens, a wide range of construction activities dot the campus, but four major projects stand out. Though temporary fences and construction work can be a minor inconvenience, these projects are also part of how the university is delivering on the promise of a better learning environment.
New transit hub and expanded bus service
New bus bays on the north side of the Student Union Building, mirroring the over-capacity bays in front of the Bookstore, began operation on Sept. 2-not coincidentally, the same date BC Transit rolled out expanded bus service across the region. The transit hub expansion, a partnership between UVic, BC Transit, provincial government and the transit commission, improves bus capacity at peak times and supports future service expansions. It is a key component of the university's sustainable transportation efforts to decrease vehicle traffic and encourage alternative methods to get to campus-and cements UVic's role as a transit hub for the Greater Victoria region.
This fall's service improvements include:
Increased service hours on routes 4 (Hillside), 12 (University Heights) and 39 (UVic/Royal Roads)
Route 15x now extends past the downtown into Esquimalt, providing express service to Royal Jubiliee Hospital, Camosun Landsdowne campus and UVic.
Late night bus service on Friday and Saturday has been added to the 15x, 27, 28, and 50, in addition to the 4, 6 and 14.
For convenience, the two exchanges are organized so that all of the downtown buses are on one side, and the McKenzie/Gordon Head buses are on the other.
BC Transit anticipates additional service improvements will be added in January 2015.
Mystic Market open mid-September
The University Centre cafeteria expansion and renovation is near completion and expected to open mid-September. If you've been wondering what's been going on behind the scenes for the last eight months, the wait is almost over.
Mystic Market will feature eight unique, self-branded food kiosks as well as a general store for pre-packaged foods and quick convenience items. With a modern, market style layout and West Coast-inspired design and d&e#180;cor, Mystic Market will set a new standard in campus dining, creating a truly unique dining experience.
The project will see a shift from the centre's older cafeteria-style model to a more open environment with varied seating options. Food will be cooked on demand, freshly prepared on the spot. A separate self-serve market area will feature organic, fair-trade coffee and teas, freshly made grab-and-go items and locally produced retail foods.
The new kiosks will offer everything from West Coast grill items to Asian wok stir-fries to all-day breakfasts, grilled paninis and hot-off-the-press pizza and pasta. Or cool down with fresh Island-made gelato in a variety of flavours. The facility will serve a range of vegetarian and vegan offerings, as well as nut-free, gluten-free and dairy-free options.
The Mystic Market name pays homage to Mystic Vale, a protected natural woodland on campus. West Coast elements featured in the new dining facility include live ferns, a waterfall and a living wall. Design materials also reflect the West Coast, with lots of cedar and flat polished stones to evoke the seashore. These elements are tied together in several West Coast inspired food kiosks, as well as a retail market, or 'General Store' as it's been named, which will have a rustic feel reminiscent of small beachside grocers.
The facility will feature local, organic and free-trade ingredients and products whenever possible. Mystic Market will also be the first zero Waste facility on campus.
For streamlined service Mystic Market will be accepting ONECard and cash only.
Visit uvic.ca/food for hours and maps of other Food Service locations.
Take a tour of CARSA-online
It's clear that UVic's new Centre for Athletics, Recreation and Special Abilities (CARSA) will be an improvement over existing facilities. And after many months of construction, the extent of that improvement is becoming more and more apparent now that building activities are in their final months.
Visitors to the facility have immediately been impressed by how open, expansive and full of light it will be. The sheer size of the structure helps, with floor space equivalent to the area of three football fields. That doesn't include the vertical terrain-the climbing wall with 370 square metres of bouldering and climbing space and a centrepiece of the building.
Don Chow, manager of recreation for Athletics and Recreation, has been eagerly anticipating the opportunities CARSA will provide. "Our current students and employees are going to thrive in this new facility, and it will be a huge asset for recruiting and retaining students. It will be a world-class facility that everyone at UVic can be proud of."
A video tour of the new facility-looking ahead to Spring 2015 completion from its rapidly changing state this summer-is available on the CARSA website at uvic.ca/carsa.
Continuing Studies expansion
If you're finding it difficult to take your favourite turf-based shortcut around the Continuing Studies building this month, you should know that this project will also serve a higher (education) purpose. The Continuing Studies addition and renovations will provide approximately 15,000 square feet of new space, including a central atrium for student gathering, 11 classrooms for the English Language Centre, three language labs and a number of other office and classroom improvements. The new addition is scheduled to open in January 2016, but you don't need to wait that long to imagine how new space might improve the campus experience for students visiting UVic through the ELC-just jump ahead to this ELC feature article.
Photos
In this story
Keywords: student life, transportation, athletics, campus