UVic in the News: Top 10 of 2013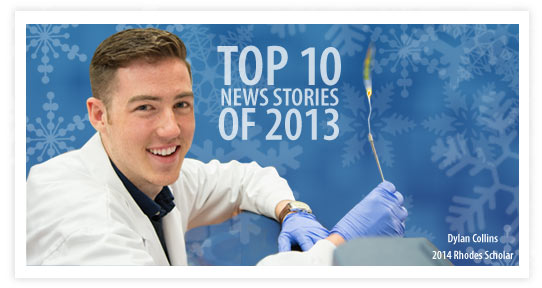 As UVic looks ahead to 2014, the university is also celebrating a year of compelling news about UVic's people, projects, ideas and research.
Seaweed, dwarf galaxies and an iPad app for 'the birds and the bees' are some of the many captivating subjects for stories about UVic over the past 12 months. Here are just 10.

2014 Rhodes Scholar heads next to England
Biochemistry student Dylan Collins, who hails from a tiny village on the northeast coast of Haida Gwaii and interned in Kenya to improve access to health care in a rural region, will head to Oxford University next fall—as the newest Rhodes Scholar from UVic. The university has produced seven Rhodes winners in the last 12 years, including last year too.
Seaweed has strong potential as biofuel
Kayakers poke their way through it. It's a main ingredient in sushi. And now BC has significant potential to turn seaweed into a sustainable and viable bioenergy industry, according to a new study by a UVic mechanical engineering student.
Shakespeare's 'Big Books'
In the fall of 2013, British Columbians for the first time had an opportunity to view in one place all four Shakespeare Folios, hot off the 17th-century printing press and showcased at UVic's downtown art gallery.
Birds, bees and very apt apps
Parents need never dread again the inevitable question of where babies come from, thanks to a unique iPad app developed by a UVic psychologist.
Congress 2013 a resounding success
One of Canada's leading musical icons, Buffy Sainte-Marie, and a rare wooly-mammoth tusk estimated to be 40,000 years old were just two of the many reasons not to miss Congress of the Humanities and Social Sciences in June 2013. It drew approximately 7,800 delegates, hundreds of volunteers and thousands of community members to the UVic campus.
Gamer gets back in the game with CanAssist
A tech-savvy and accomplished video gamer in Victoria, who could no longer play with his hands by the time he was 19, is now 'back in the game' with the help of CanAssist and a custom-designed video game interface that he controls by a tube held in his mouth.
Celebrating CARSA's foundation for future
UVic and members of the community officially marked the start of construction for UVic's new Centre for Athletics, Recreation and Special Abilities (CARSA) in a ceremony in May 2013 celebrating the spirit of collaboration and momentum behind this new facility.
Return of artwork by residential school survivors
The return of paintings created by children during the residential schools years of 1959-1966 was honored at a traditional Nuu-chah-nulth feast and ceremony where survivors, families and community members came together to witness the works of art and find healing and reconciliation. The research project was led through UVic's anthropology department.
Unprecedented study investigates aging
The largest study on health and aging ever undertaken in Canada is gathering momentum in Victoria, with researchers from UVic's Centre on Aging overseeing data collected every three years from 3,000 Victoria residents.
Ring around Andromeda challenges galactic ideas
A surprising discovery about dwarf galaxies orbiting the much larger Andromeda galaxy suggests that conventional ideas regarding the formation of galaxies like our own Milky Way are missing something fundamental. The new international study was co-authored by a UVic astrophysicist and based on data collected as part of a project led by a UVic adjunct assistant professor.
Read more about UVic in The Ring and stay tuned to UVic's campus news page for new stories as they happen.
 
Photos
In this story
Keywords: top stories, campus