Isshoni: paintings of the New Denver internment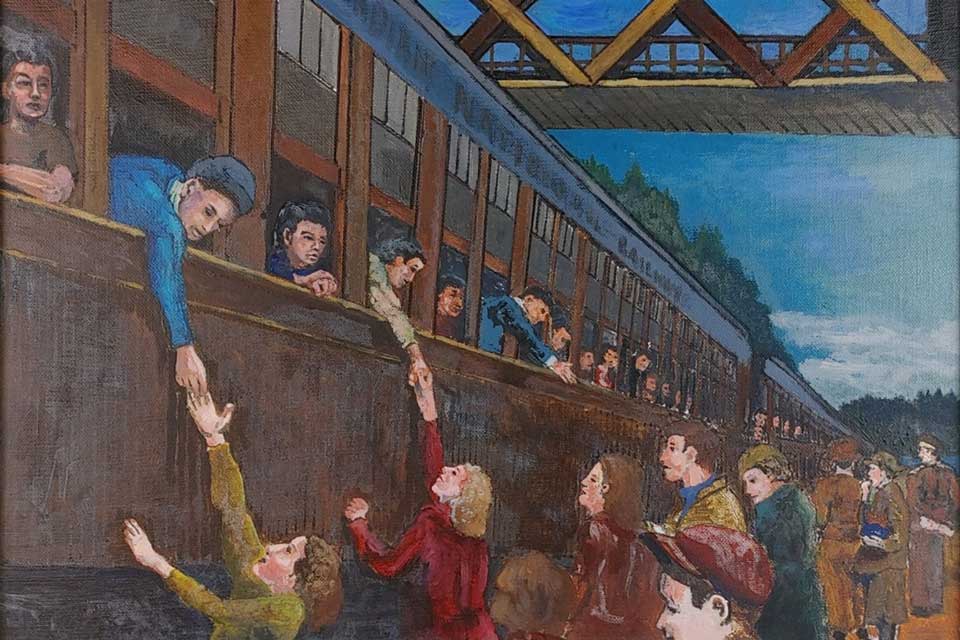 Paintings of internment carry the echo of three generations
A new exhibition opening April 22 at UVic's Legacy Art Gallery Downtown focuses on Japanese Canadian identity, community and family. 
Isshoni: Henry Shimizu's Paintings of New Denver Internment centres the voices of three generations—issei (first generation) pioneers who came to Canada from Japan in the late 1800s, nisei (second generation) and sansei (third generation)—to provide deep insights into the intergenerational trauma of the forced uprooting and internment of Japanese Canadians during the Second World War.
The artist who produced these evocative paintings is also a UVic honorary degree recipient.
Dr. Henry Shimizu was born in Prince Rupert in 1928. In 1942, he was one of 21,460 Japanese Canadians involuntarily relocated from BC's coast and interned during the war—with homes, farms, businesses and priceless personal belongings dispossessed as the direct result of racist legislation and a sustained federal campaign by the Canadian government. Shimizu was only a teenager at the time.
When Shimizu and his family were released after years of confinement in the Slocan Valley from an internment camp consisting of 16 dozen wood shacks (with only one outhouse for every 50 persons), they moved to Edmonton—leaving BC behind, where his father had owned the New Dominion Hotel in Prince Rupert before the war. 
Later, as a renowned plastic surgeon and clinical professor at the University of Alberta Hospital, Shimizu enjoyed a long and distinguished career in medicine, training new generations of medical practitioners.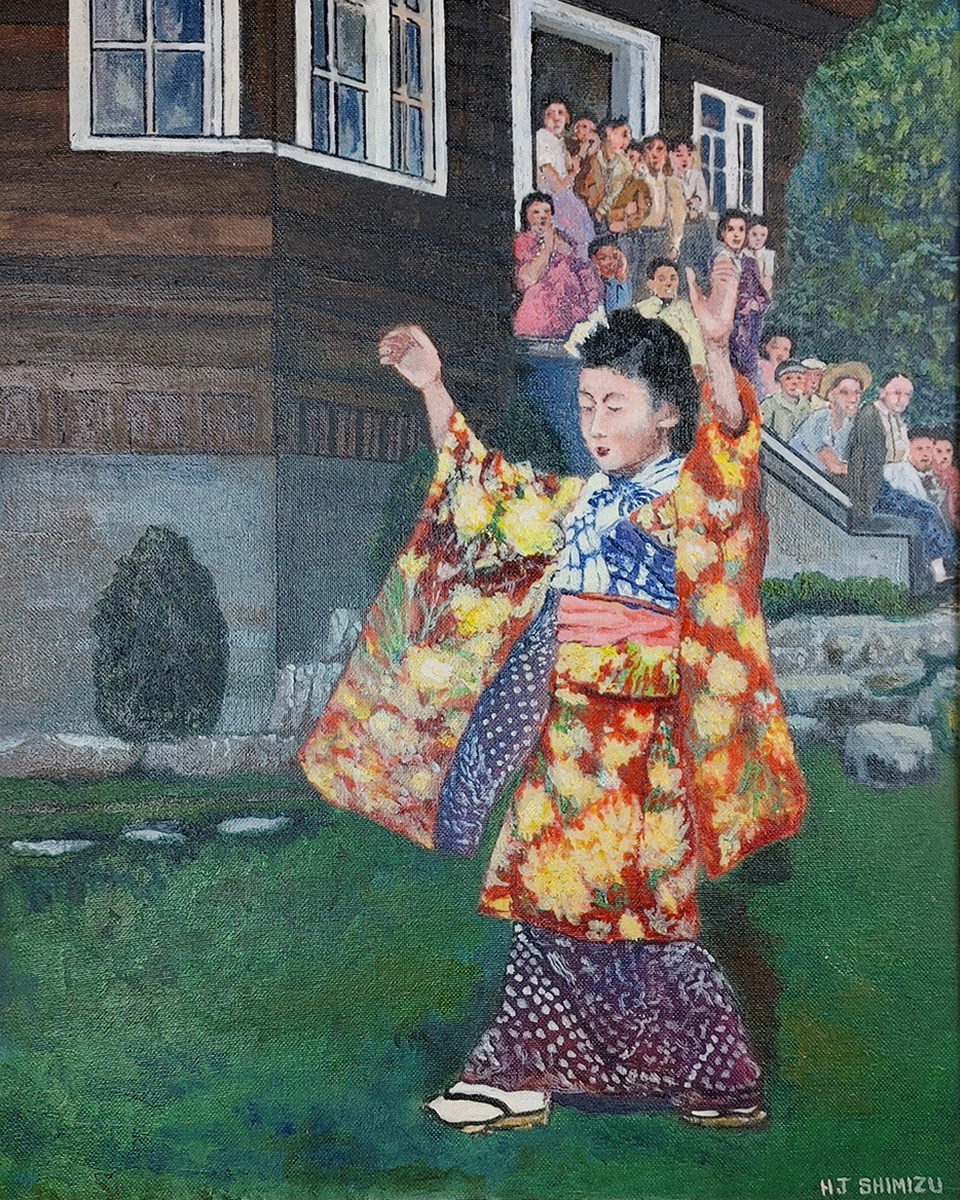 Recapturing historical wrongs, on canvas
It was while completing his plastic surgery residency in the 1960s that Shimizu first discovered his talent for art. 
Nearly 40 years later, he had gathered to reminisce with friends who had also been interned in the village of New Denver, and he decided to begin capturing his recollections on canvas. It was 1999. 
By 2002, he had produced 27 oil paintings, which were subsequently shown at the Edmonton Japanese Canadian Cultural Centre—six decades after the Shimizu family was forced to leave Prince Rupert.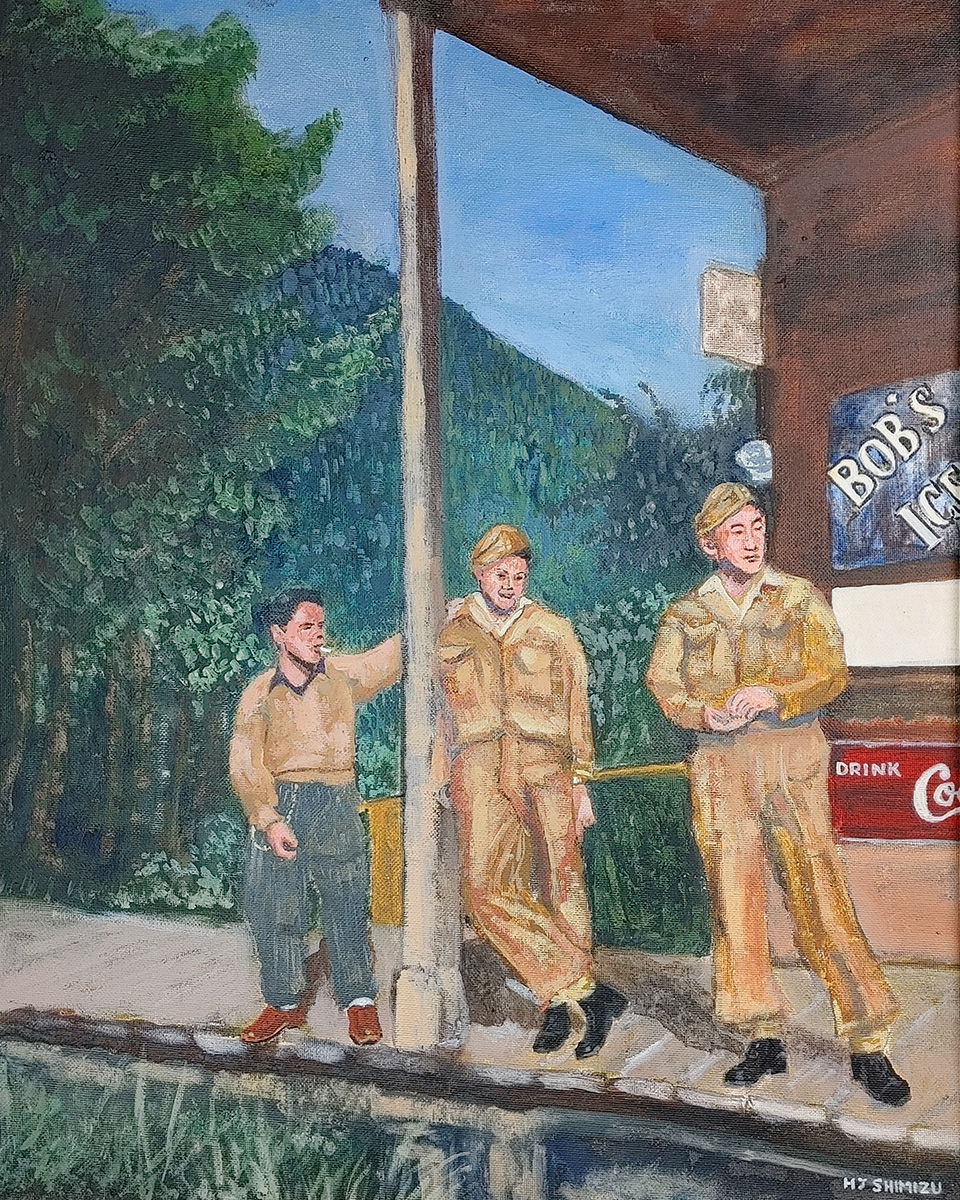 Shimizu received the Order of Canada in 2004 and, in 2012, his Honorary Doctor of Laws from UVic. Among other notable appointments and voluntary contributions to the community, he also served as chairman of the redress committee for Japanese internment.
Shimizu lives in Victoria and is the author and illustrator of Images of Internment: A Bitter-Sweet Memoir in Words and Images.
Exhibition officially opens with public lecture
The new exhibition runs through June 18 at UVic's free downtown art gallery and officially opens with a UVic Lansdowne Lecture April 23 at 7 p.m. at Legacy Downtown, 630 Yates St.
Award-winning visual artist Bryce Kanbara will deliver the lecture, "Japanese Canadians in the arts: 'Did you think it'd come true?'" about Japanese Canadian artists, issues of identity and intergenerational relationships, with opening remarks by the exhibition's curator Samantha Marsh.
Marsh is a mixed-race yonsei cultural worker and independent curator based in Vancouver. Since completing her master's in museum studies from the University of Glasgow, she has worked with the Powell Street Festival Society and the Japanese Canadian community to create intercultural and intergenerational programs, events and initiatives.
Kanbara, a painter, sculptor, and printmaker who received the Governor General's Award in 2021, is the proprietor of you me gallery in Hamilton, Ontario. 
Find out more
This season marks the 80th anniversary of the forced displacement, internment and dispossession of Japanese Canadians from the coastal regions of British Columbia.
UVic is home to the multimillion-dollar, research and public history project, Landscapes of Injustice, on the untold stories of the forced dispossession and displacement of Japanese Canadians. Led by our university and based at UVic's Centre for Asia-Pacific Initiatives, it involves 15 other partner institutions and is one of the largest humanities-based research projects in Canada today.
Legacy has three main sites for rotating exhibitions: Legacy Downtown, Legacy Maltwood and in First Peoples House. UVic also has more art on view in public spaces than any other Canadian university. At any one time, UVic has approximately 2,000 works of art installed from more than 19,000 pieces in the overall art collection.
Questions? Contact Legacy by email or 250.721.6562.
Photos
In this story