A tradition of courtesy and respect, rekindled
- Jody Paterson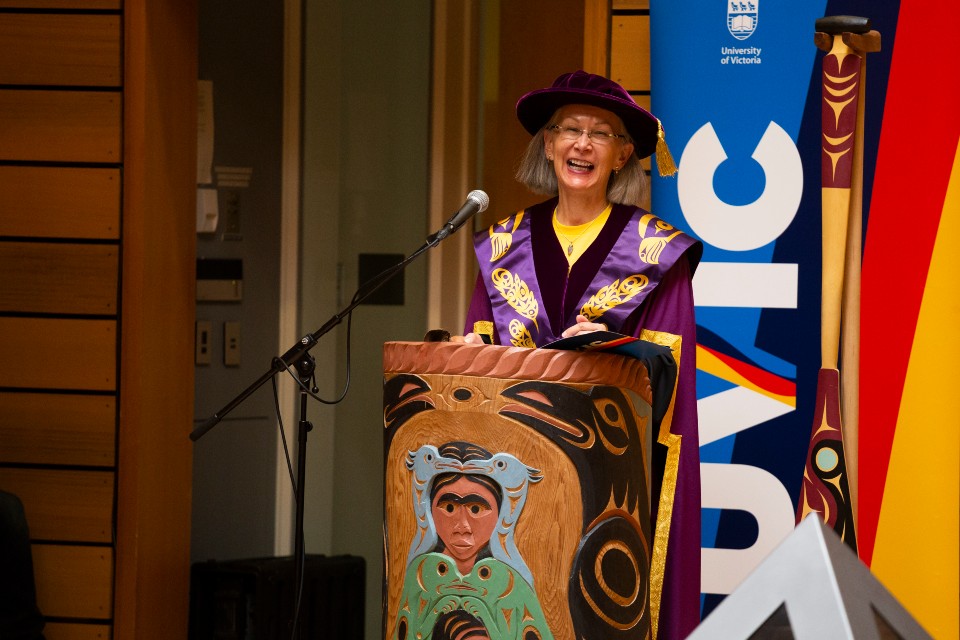 Installation ceremony for new UVic Chancellor guided by Coast Salish traditions
Many of those who gathered on a recent day for the installation of the University of Victoria's 12th chancellor had never been part of a Coast Salish welcoming ceremony before.
Tsartlip Elder Al Sam walked them through the process with much care at the ceremony in UVic's First Peoples House, as renowned legal scholar and judge Marion Buller became the first chancellor in UVic history to ask permission from local First Nations to work on the territory at her April 13 installation. Sam wanted people to understand the Coast Salish protocols guiding the event.
"For the Coast Salish, these ceremonies would be done in our Big House, and we'd have dirt floors and fires burning at either end," Sam told the audience.
"My late father Sammy Sam did a lot of this, but always within our own culture, in our own Big House. My dad always said, 'Don't you ever say no to anybody—if somebody needs your voice, you give it to them.' So I've been doing that now for three decades."
University protocols re-imagined 
The installation of a university chancellor is typically steeped in British tradition. The oath of office is administered by the Queen's representative—in this case, BC Lt. Gov. Janet Austin. The orator brings the voice of the university senate. The regalia that the chancellor receives carries the colours and symbols unique to the university.
All of that took place at Buller's installation, but within the context of a traditional Coast Salish welcoming ceremony.
Sam's grand-nephew and elected Songhees Councillor Norman Garry Sam represented the Songhees First Nation throughout the ceremony. Songhees Elder May Sam gave a moving Coast Salish blessing that extended to everyone in the room.
Four witnesses from other First Nations—including Buller's brother Edward—were called upon to carry word of the ceremony and the particulars of Coast Salish protocols back to their home communities. Throughout the event, Indigenous speakers began their comments in the languages of their own nations.
Buller's regalia –in the purple and gold of a UVic chancellor—was draped on her by outgoing chancellor Shelagh Rogers and Songhees Councillor Norman Garry Sam. Her regalia is adorned with a supernatural eagle and four feathers to represent Buller's Cree heritage, and her own Mistawasis Nêhiyawak First Nation.
Last September, UVic President Kevin Hall became the first university president in Canada to ask permission from local First Nations to work on the territory at his installation. Buller—an influential Indigenous legal scholar and long-time advocate for Indigenous issues and rights—was eager to follow Coast Salish protocols at her own installation.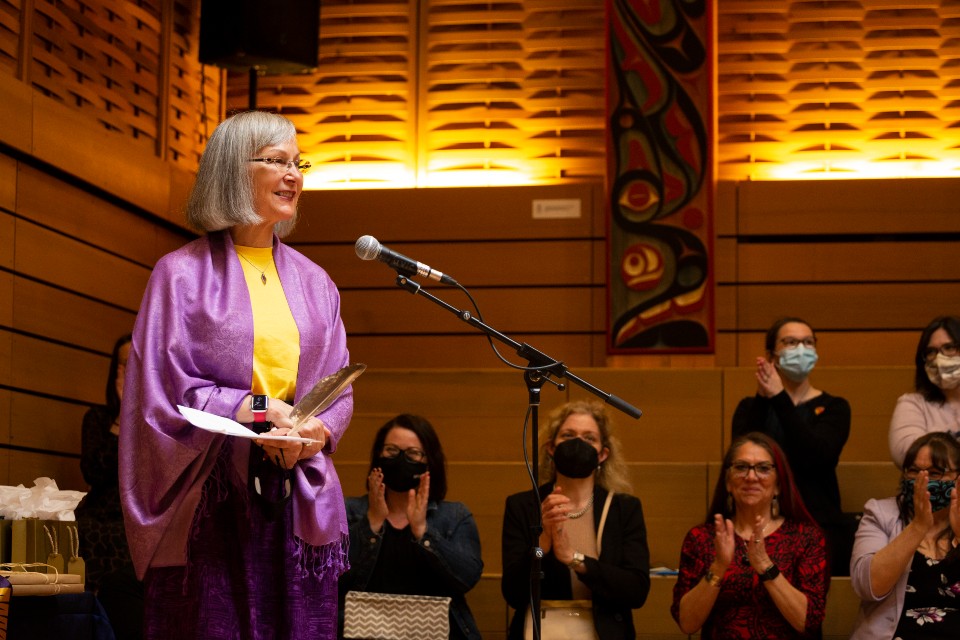 A fearless approach to academic policy
Buller became BC's first female First Nations judge when appointed in 1994, just seven years after graduating from UVic with her law degree. She went on to found and lead BC's Indigenous Court, a criminal sentencing court based on Indigenous principles of restorative justice.
After retiring as a provincial court judge in 2016, Buller was appointed chief commissioner of the National Inquiry into Missing and Murdered Indigenous Women and Girls, whose powerful final report is reshaping thinking and policy in Canada and around the world.
"With your permission, I will work here with a good mind, a good heart, and what I hope will be a very generous spirit," Buller said to the Coast Salish leaders presiding at the ceremony. She was briefly overcome by emotion as she followed her own First Nation protocol in naming all her relations.
The difficult and inspiring work of leading the inquiry into missing and murdered Indigenous women and girls will inform her work as chancellor, Buller told the audience.
"That hope for change, and the willingness to work for it, is what has brought me here today. I've never been interested in what is easy, but what is good, just and right. I want to see academic policy guided by a full and fearless understanding of our history."

 —UVic Chancellor Marion Buller
A new era of installations
UVic anthropologist Rob Hancock was master of ceremonies for the event. He identified his Cree-Métis heritage in his address and highlighted the profound impact of Buller's work on the lives of Indigenous People.
"She is perhaps too modest about her many accomplishments, but here are two examples: as Chief Commissioner, Marion called out the Canadian government for committing genocide against Indigenous People. She established and then presided in the first Indigenous Courts. She has changed the lives of many of our people—and for the better."
Lawyer and UVic Board of Governors appointee Merle Alexander was one of the four Indigenous witnesses at the ceremony, and spoke of his pride at having seen two university leaders follow Indigenous protocol at their installations.
"I see this as an uplifting of Indigenous legal orders in Canada," said Alexander. "It brings honour to UVic to abide by the legal system that was here before us. I will take that home."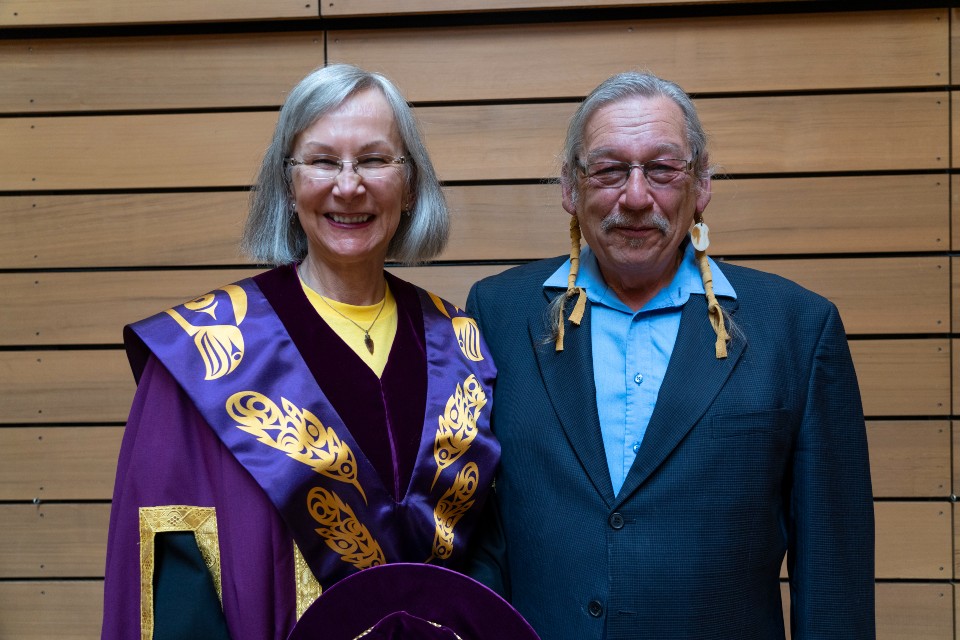 Photos
Videos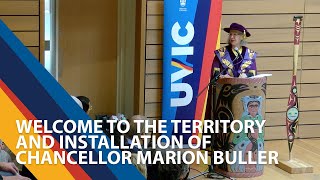 In this story
Keywords: indigenous, administrative, student life
People: Marion Buller, Myrna Crossley