Welcome to the territory and installation ceremony for UVic president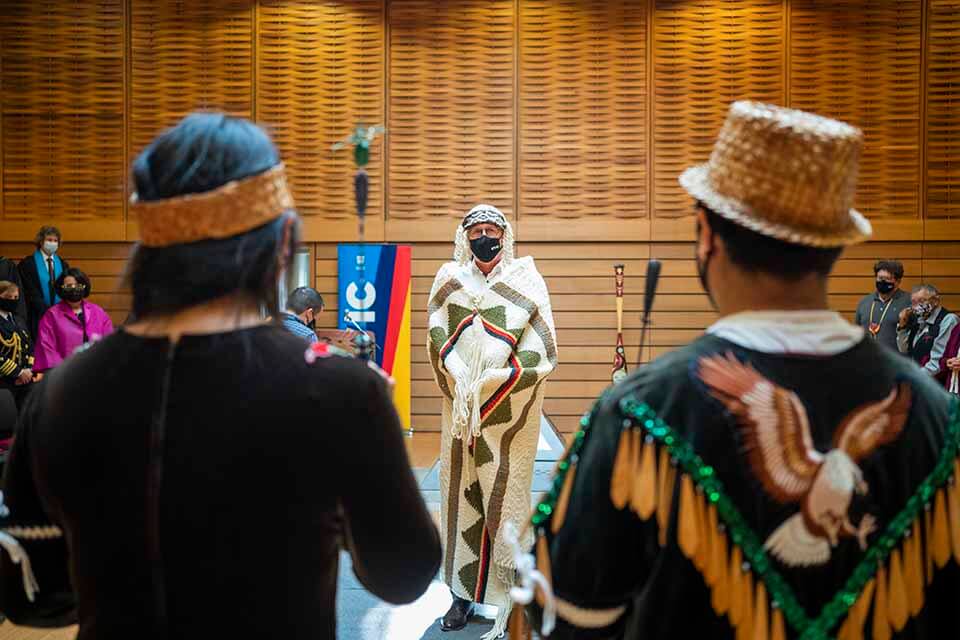 "On behalf of our Elders and this community, permission is respectfully granted."
And with those words from Songhees Nations Chief Ron Sam, history was made. Kevin Hall became the first president of the University of Victoria to formally seek permission to work on the territory of local First Nations before officially taking office.
The moving ceremony and installation at UVic's First Peoples House was a significant departure from the usual presidential installment. It followed Coast Salish protocols for welcoming a new guest to the territory.
Acting in the role of Speaker, Tsartlip Elder Al Sam opened the ceremony by calling on selected individuals to act as witnesses from those in attendance. In Coast Salish protocol, witnesses are responsible for observing a ceremony and reporting back to their own communities. 
Before asking permission to work on lək̓ʷəŋən territories, Hall was blanketed in what is referred to as a Nobility Blanket or a Chiefly Robe made for the occasion by Songhees weaver Myrna Crossley.
Blankets are an important item of significance in Coast Salish cultures, and this blanketing was guided by the protocols of the lək̓ʷəŋən and W̱SÁNEĆ peoples. The blanket is intended to wrap the president with all the teachings, experiences and strength he will need for his future at UVic, in honour of his achievements and to provide security in his journey.
Rob Hancock, interim co-executive director in the UVic Office of Indigenous Academic and Community Engagement (IACE), spoke on behalf of Hall to formally request permission to work on the territory. Hall was welcomed to lək̓ʷəŋən territory by Elder Dr. Skip Dick and Chief Ron Sam from the Songhees First Nation. Hall then took his Oath of Office and was installed as the eighth president of the University of Victoria by Lt. Gov. Janet Austin.
I was absolutely humbled by the whole experience. The ceremony felt like such an important step in decolonizing our institution. After the tragedy of the confirmation of thousands of graves at the sites of residential schools over the last few months, no one can continue at a snail's pace any longer when it comes to truth and reconciliation.

—Kevin Hall, UVic president and vice-chancellor
In 2014, Hall asked permission to work on the territory of the Worimi and Awabakal Peoples in Australia after being appointed vice-president at the University of Newcastle. He'd been determined to do the same at UVic after becoming president 10 months ago, which led to the inclusion of Coast Salish protocols in the installation proceedings.
The roots of the welcoming ceremony date back to times when canoe pullers from elsewhere were the most common visitors on a Nation's territory, Songhees Nation Elder Dr. Skip Dick told the audience of about 40 gathered for the ceremony and installation.
"Our ancestors had the long house in the harbour," said Dick. "In those days, the canoe pullers needed to be rested, fed, and leave with enough supplies to carry on with their journey."
"In our times, we are reaching out to young people to help them stay connected. They're learning, and making sure our communities are being helped because of that. Back in the 1970s, we had four of our people going to university. Now, there are thousands across Canada."
Songhees Chief Ron Sam was visibly moved by Hall's request to work on lək̓ʷəŋən territory. Rising in the final minutes of the ceremony, Sam reiterated his earlier praise of Hall for having reached out to First Nations and respected the protocols of Coast Salish traditional territories.
"It's not always easy to stand with our people," Sam told Hall and those gathered to witness the ceremony. "Courageous sir, I lift my hands to you for taking that step."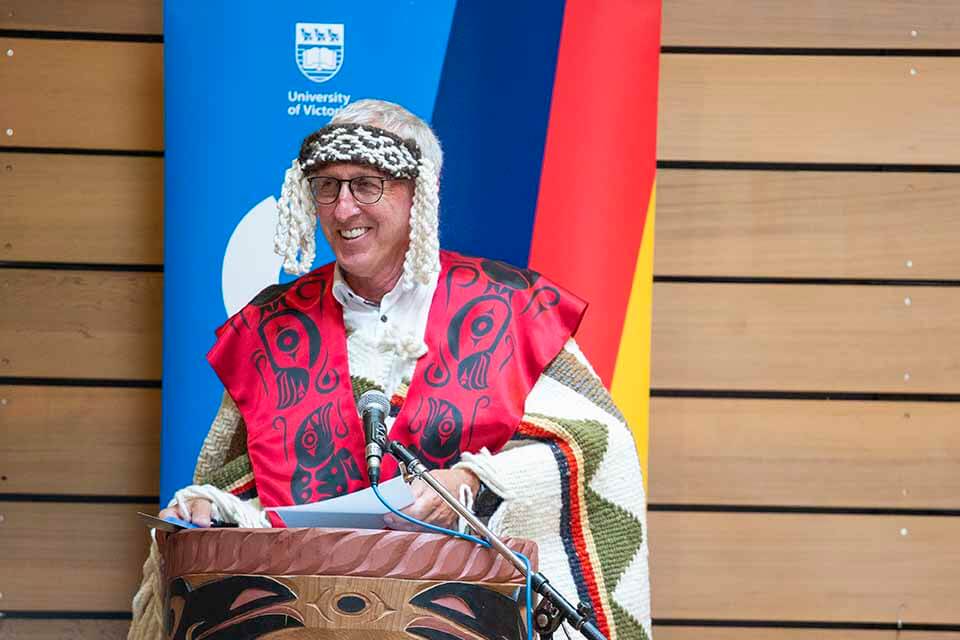 In his speech to the gathering, Hall told of his own background as the child of working-class Britons who moved to Canada specifically so that their four children would have educational opportunities that they had been denied. But he quickly noted that socio-economic status notwithstanding, he was fully aware of just how much privilege he had enjoyed throughout his life.
"My promise is that I'm going to use that privilege to drive meaningful and necessary change—to drive truth, respect and reconciliation; to combat racism here on the campus and the region; and to ensure that all members of our community feel included, and have increased access to education."
The tragic revelations this year of unmarked graves of Indigenous children on the sites of a number of former residential schools cannot be ignored, said Hall.
"UVic's flags were lowered in May, and will remain lowered until further notice in honour of the thousands of children who died," said Hall. "UVic must acknowledge our role in perpetuating colonial violence. In the words of Dr. Skip Dick that he recently put to our own students, will you be part of the problem, or part of the solution?"
Lt. Gov. Austin thanked the UVic selection committee for finding "an exemplar" in Hall.
"When I think of the role of the university, I'm reminded of [William Butler] Yeats's reflection that education is not the filling of a pail, it is the lighting of a fire. Dr. Hall, I see that fire in you," said Austin. "I see that drive and that inspiration—to do better, to be better, to make things better."
UVic Chancellor Shelagh Rogers, a participant in the ceremony, later described the 90-minute event as powerful, moving, and "right." She deeply appreciated Hall's acknowledgement of the role that educational institutions have played in perpetuating colonization and systemic racism.
"The request for permission to work in the Indigenous territories the university stands on is not only historic, it is right," said Rogers after the ceremony. "I'm proud that the first such request was granted on the territories of the Songhees, Esquimalt and W̱SÁNEĆ peoples, and came from the incoming president of the University of Victoria. It was an honour to witness this ceremony."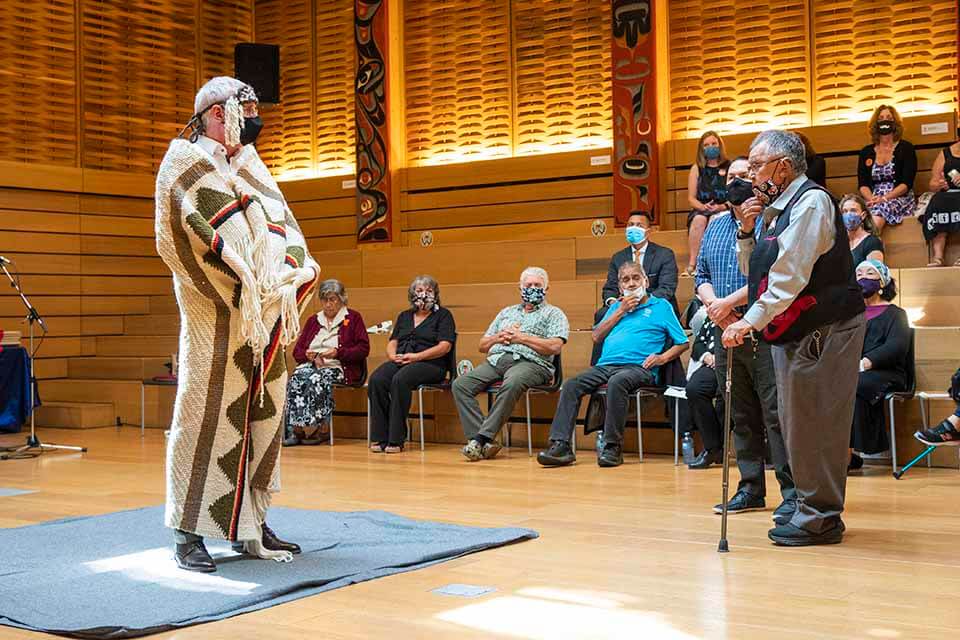 Hall said after the ceremony that he was "overwhelmed" by the surprise gift of a striking red and black hood for his official regalia. It was created for the installation by Ay Lelum of the Good House of Design and master Coast Salish artist and Snuneymuxw First Nation hereditary chief William Good, Tseskinakhen, and designer Sandra Good, Thul Te Lada. 
The custom design features a supernatural eagle for vision and wisdom, a salmon representing the continuity of the life cycle, and smooth waters to represent smooth tenure for Hall.
These symbols have been designed specifically for Kevin to give him the power and wisdom that he will need to do his job. Incorporating traditional Coast Salish art and history connects UVic to the traditional territories of the Coast Salish Peoples, the land, the water, the air, and to the life cycles of the ancient knowledge of the past being brought into the future.

—Rob Hancock, interim co-executive director of UVic IACE
Unlike the traditional hoods given to university presidents, Hall's hood will remain with him wherever his journey takes him. Traditionally, UVic holds onto its past presidents' hoods and robes so that they're ready to be donned again anytime a past president attends a UVic convocation ceremony.
Hall praised local First Nations, IACE, and Associate Vice President Indigenous Qwul'sih'yah'maht Robina Thomas for the work they did to ensure Coast Salish protocols were observed.
"This ceremony meant so much to me," said Hall. "My hope is that this is how we will install our chancellors and presidents from now on."
Watch the full virtual ceremony or watch the highlights below.
Photos
In this story