September 2023 Updates
National Truth and Reconciliation Week & Orange Shirt Day

Kundoqk, Jacquie Green, associate professor in the School of Social Work and director of Indigenous Academic & Community Engagement (IACE) introduces ʔetal nəwəl | ÁTOL,NEUEL, a transformative cornerstone of UVic's strategic plan.

This National Truth and Reconciliation Week (Sept. 25-30), a number of events take place on-campus. 
UVic community will be gathering in the Quad on Friday, Sept. 29, 11:45 a.m. - 1:30 p.m. This is an opportunity to come together to listen, learn and share. All are welcome. We encourage you to wear an orange shirt as a visible symbol of our awareness of, and commitment to, redressing the historical and ongoing harms of colonization and the residential school system.

Please note that the university will be closed on Monday, Oct. 2 to mark the National Day for Truth and Reconciliation, a federal holiday to honour the lost children and survivors of residential schools, their families and communities.

Dr. Jaehee Yi's update: Bright IDEAS workshop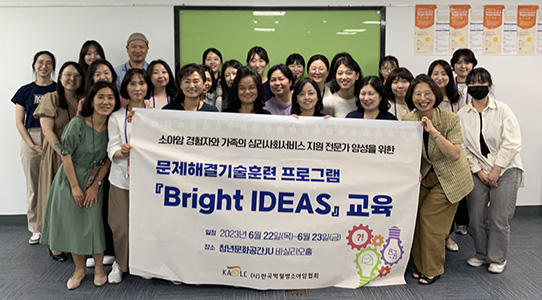 I was invited by Korean Association for Children with Leukemia and Cancer to do a training workshop on June 22 and 23, 2023 for childhood cancer survivors and psychosocial oncology service providers on Bright IDEAS. Bright IDEAS is problem solving educational program based on the framework of Identifying the problem; Define the problem; Evaluate options; Act; and See. Bright IDEAS Korean version translated and published by me in 2016 has been widely used. Through this workshop, a community was built among people working with individuals and families affected by cancer and their relationships will continue to the future.
Jaehee Yi, MSW, PhD, RSW
Professor
Dr. Bruce Wallace featured on CBC News
CBC News coverage for International Overdose Awareness Day 2023 featured access to safe supply as well as Dr. Bruce Wallace's involvement in the University of Victoria's drug checking project "Substance". This project provides confidential testing of a sample to determine the main active ingredients, and also to idenfity unexpected drugs and the presence of fentanyl. Drug checking hopefully reduces some instances of drug poisoning and provides data to support further harm reduction initiatives. Bruce says that there is not enough access to harm-reduction services during the worsening overdose crisis.
Prescribed fentanyl helps this man manage his addiction. Experts want more access to safe supply (August 31, 2023. CBC News)
BIPOC Student Support Circle
The School of Social Work BIPOC Student Support Circle has been working together since 2020 as an online safe space for BIPOC undergraduate students to connect, build relationships, and discuss their experiences in the program. The Circle has been grounded in relational work that centers the sharing of stories, peer support, and a space in which students can discuss their unique experiences without repercussion. It has also been one that is flexible, low pressure, and that has shifted away from a structure that embodies colonial processes. Rather, there has been discussions of shared accountabilities and shared values that have helped guide circle activities and meeting times together.
Watch this video to learn about how we respectfully work together in designing, planning and implementing our circle work. We welcome you to join us!
The BIPOC Student Support Circle is one of the student groups funded by the University of Victoria Students' Society. To connect with the BIPOC circle, please email socw@uvic.ca.
Opportunities for BSW student initiatives
The University of Victoria has wonderful Students' Society (UVSS) that supports undergraduate students to organize and run student clubs and course unions. Funds are available for student groups. If any BSW students are interested in taking a lead, please find information about UVic clubs and course unions on the UVSS CLUBS & COURSE UNIONS page.
MSW students can explore opportunities to get involved in UVic Graduate Students' Society.