Dive into the past. Shape the future.
An understanding of history is crucial. We need to understand the paths that brought societies to where they are today. History gives us the tools to reflect on who we are, where we have come from, and where we might go. Exploring the past is also exciting and intellectually challenging, particularly when you work with our great researchers and teachers.
Dr. John Lutz
Chair, Department of History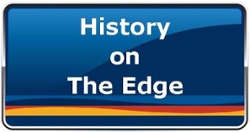 1 day ago
Reminder! "Careers after Grad school in History" workshop TODAY!
1 Like
UVic History Department shared Unwritten Histories's post.
3 days ago
Unwritten Histories
New Blog Post: Women's History Month in Canada: Recommended Readings http://www.unwrittenhistories.com/womens-history-month-in-canada-recommended-readings/
4 Likes
4 days ago
Cafe Historique on Monday October 31 6:30 - 8:30pm - "The US Election in Perspective: A Roundtable Discussion" The ongoing US presidential campaign has unfolded like none other in recent memory—with the personalities, pasts and proclamations of both candidates providing observers with continual fodder for discussion, debate and, all too often, derision. But there are also perspectives not yet covered in the public discourse, which can help us better understand this historic election in broader contexts. A diverse group of UVic historians and political scientists will address these perspectives, as well as audience questions. Dr Janni Aragon, Political Science Dr Neilesh Bose, History Dr Michael J. Prince, Human and Social Development Dr Andrew Wender, History and Political Science Hermann's Jazz Club, 753 View St., Victoria Tickets here: https://www.eventbrite.ca/e/the-us-election-in-perspective-a-roundtable-discussion-tickets-28609786642
The US Election in Perspective: A Roun...
The US Election in Perspective: A Roundtable Discussion Sponsored by Café Historique and the Political Science Department at UVic The ongoing presidential campaign in the United States has unfolded like none other in recent memory, with the personalities, pasts, and proclamations of the candidates p...
1 Like
See more of UVic History Department on Facebook
UVic History faculty on Canadian History for TRU Open Learning
REMINDER! Careers after Graduate School in History workshop is TODAY! 3-5pm in CLE A308. Guest Speakers: Robert "Lucky" Budd & Monica Perry

RT @LandscapesInjus: Will be a fascinating talk this Thurs at 5.30pm at #uvic for the first lecture in the Global South Colloquium series @…