Dive into the past. Shape the future.
An understanding of history is crucial. We need to understand the paths that brought societies to where they are today. History gives us the tools to reflect on who we are, where we have come from, and where we might go. Exploring the past is also exciting and intellectually challenging, particularly when you work with our great researchers and teachers.
Dr. John Lutz
Chair, Department of History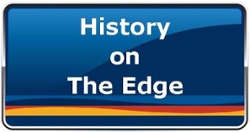 UVic History Department shared The History Undergraduate Society - THUGS's event.
2 days ago
This is tomorrow! Hope to see you there!
1 Like
UVic History Department shared an event.
3 days ago
Cafe Historique tonight!
The Somme: Canada's Forgotten Battle
The Battle of the Somme exemplifies the futility and staggering losses of trench warfare in the First World War. This British offensive against German lines, begun in the summer of 1916, lasted five months and killed or wounded 1.2 million men, including more than 24,000 from the Canadian Corps. Although this...
4 days ago
Congratulations Merna!
Local historian honoured by Governor G...
Oak Bay's Merna Forster has been honoured with the Pierre Berton Award for popularizing Canadian history. In a ceremony at Rideau Hall, Gov-Gen. David Johnston presented Forster with a medal and . . .
6 Likes
See more of UVic History Department on Facebook
UVic History faculty on Canadian History for TRU Open Learning